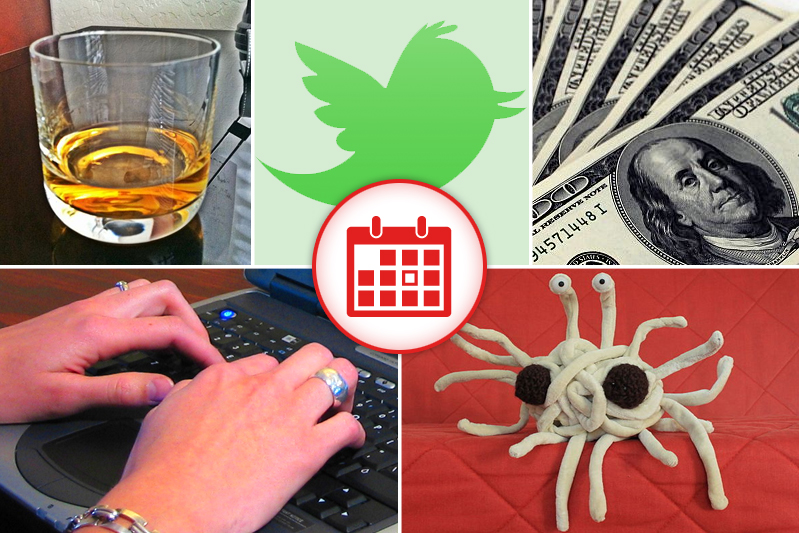 1. Alcoholics May Soon Be Able To Slowly Kill Themselves Hangover-Free
Can you imagine how great it would be to get drunk, say terrible hurtful things to your loved ones and then take a pill so that you're sober enough to fully understand the monstrosity of your actions? Or to drink yourself into a state of near-suicide at night but still wake up the next morning with a clear enough head to go back to your soul-crushing job? Well, a neuropsychopharmacologistat — which is not just a bunch of letters that came out when I drunkenly mashed my fist against the keyboard — at Imperial College, London thinks those fantastical scenarios might just be in our near future. He's currently seeking funding to make his neurotransmitter-targeting alcohol surrogates a reality. Seems unlikely they'll be on the market in time for holidays, huh?
If I drank as little alcohol as I tell my doctor I?d weigh as little as I tell the people at the DMV when I renew my driver?s license.

— Bryan Donaldson (@TheNardvark) November 6, 2013

2. Twitter IPO Bestows 1,600 New Insufferable Rich Asshats Upon San Francisco
One of the best side effects of Twitter going public is that there are now more than a thousand brand new millionaires in the United States. And, luckily for the people of San Francisco, they're getting pretty much all of them! That's right, it's going to be gourmet caviar-flavored Rice-A-Roni* for all! Or at least for 1,600 Twitter employees. This will be great for the city, as it will likely see an increase in rents, pleasant old homes being torn down to make way for new McMansions and poor people getting pushed out of the town limits. And it will obviously be good for the nouveau riche employees because — as will surely not be contradicted two or three stories down — a sudden influx of wealth always always always brings happiness.
The Twitter IPO is going to make beanie babies look like a sound investment.

— Julius Sharpe (@juliussharpe) November 7, 2013
*That's something that San Franciscans actually eat, isn't it?

3. Executives Watching Porn Leading Cause Of Venereal Diseases In Computers
There's a good chance that the trojan horse that shut down your company computer network for two days and lead to the IT department blocking Reddit and Facebook for some reason might have got in there via your boss's computer. A new study shows that 40% of security professionals reported finding malware infecting the computer of a member of their company's senior leadership as a result of porn surfing. Yelling at employees for making mistakes is a stressful job. It makes sense that they would have to blow off steam.
I've no sympathy for the perverts who got a computer virus opening the file "Betty White Sex Tape" & also how do you get rid of it?

— Danny Zuker (@DannyZuker) January 24, 2012

4. Atheists Now Free To Waste Their Time In Church Just Like Religious People
Waking up early on a Sunday morning and getting dressed when you totally don't have to isn't just for mindless god-fearing sheep anymore. Now it's also for mindless godless sheep, too! Many atheists — more specifically, many of those kinds of atheists, you know which ones I mean — are starting to attend the "atheist mega-churches" which are currently touring the country, while decent atheists stay home and in bed. In case you're wondering which of your atheist friends are joining the congregation, don't worry, they'll be telling you any minute now. 
"So you're a pothead AND an atheist?" (Instantly falls asleep, snores, barfs, chokes on barf, dies, still happy to avoid the conversation)

— Kyle Kinane (@kylekinane) October 4, 2013

5. Powerball Winner Living The Dream Life Of Lawsuits And Failed Relationships
Life as a multi-millionaire is all that New Jersey bodega owner Pedro Quezada hoped it would be, assuming the $338 million winner was hoping that he'd be forced to pay tens of thousands of dollars he owed in unpaid child support, that his ten-year relations with his child's mother would fall apart and that he'd enter in a law suit in the hopes of greedily holding on to every last penny of his winnings.