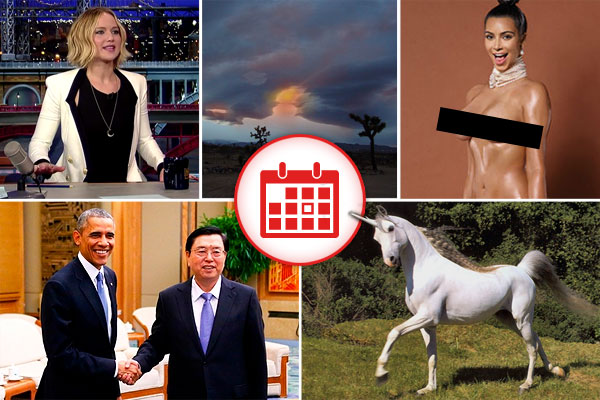 1. U.S. And China Strike Historic Accord To Destroy Earth At Slightly Slower Rate
President Barack Obama and Chinese President Xi Jinping—leaders of the two biggest pollution-creating nations in the world—have agreed to act as though they will cut carbon emissions by 28 percent over the course of the next 11 years, with the obvious assumption that by the time 2025 rolls around, people will have forgotten this ever happened or we'll all be underwater.
The United States and China have reached a climate deal. We now owe China the climate.

— Warren Holstein (@WarrenHolstein) November 12, 2014
Sure, the U.S./China climate deal might help ensure the survival of the very planet we live on, but what's in it for us?

— Frank Conniff (@FrankConniff) November 12, 2014

2. Rumors Of Kim Kardashian's Nakedness Were Greatly Underexaggerated
It's getting increasingly difficult to not see Kim Kardashian naked these days. In addition to the shimmering butt featured in Paper Magazine's cover photo that broke the Internet the other day, we're now seeing the full photo collection from the new issue, featuring all the greased-up body parts of Kim Kardashian that were previously denied to us. 
Oh, cool! We get to talk about the front half of Kim Kardashian's body today!

— Dan Wilbur (@DanWilbur) November 13, 2014
What Tila Tequila was to MySpace, Kim Kardashian is to the USA.

— kelly oxford (@kellyoxford) November 12, 2014

3. Jennifer Lawrence Hijacks David Letterman's Show With Her Jennifer Lawrence-ness
Actress and universally beloved human being Jennifer Lawrence worked her magic on David Letterman during her appearance on the Late Show last night. What was supposed to be a simple promotional spot somehow devolved into the two walking off the show together and Lawrence claiming Letterman's desk as her own.
Everything Jennifer Lawrence does is like, so brave.

— Mark Leggett (@markleggett) September 4, 2014

4. The Unicorns You've Spent Your Life Waiting For Are Here, And They're Boring As Shit
Unicorns—or, disappointingly, deer with their antlers fused together to form a single front-facing horn—have now been observed in both Washington state and Slovenia. A researcher from the Mississippi State University's Deer Lab has stated that it's "difficult to identify the particular cause of a particular buck's (or doe's) abnormality without a detailed dissection or necropsy." We're thinking it's probably some kind of a deformed Pegasus.
"No one believed in us!" - unicorn football team coach

— John Moe (@johnmoe) August 21, 2014

5. Chinese Nerds Hack Into U.S. Weather System To Access Sensitive Information About Our Barometric Pressure
Hackers in China appear to have hacked into the National Oceanic and Atmospheric Administration and the National Weather Service's computer systems, causing cybersecurity teams to work quickly at sealing off important information about U.S. cumulous clouds and Santa Ana winds. This is probably a big deal in actuality, even if it sounds silly. So, I guess be concerned?
"Hail, Hydra." -Winter weather forecast at Marvel

— Shawn Garrett (@ShawnGarrett) November 4, 2014

(by Dennis DiClaudio)