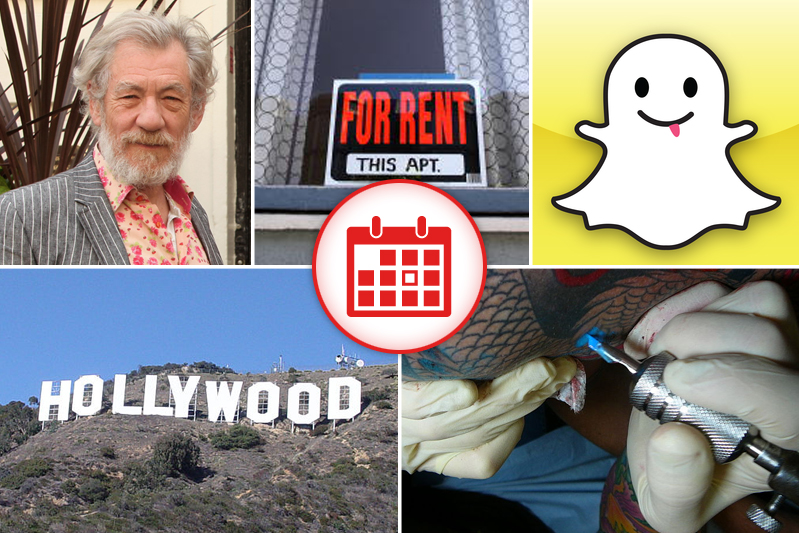 1. Snapchat Rejects $3 Billion Offer To Get Ruined By Facebook
The photo-sharing service Snapchat reportedly turned down a $3 billion offer to get itself swallowed by Facebook, chewed up with a bunch of random new rules and restrictions and then spit out, most likely, as an inferior version of its former self. 23-year-old CEO Evan Spiegel stated that he is not ready to consider any offers at this point for the app that allows users to share pictures that will self-destruct after several seconds and is presumable waiting for his company to self-destruct any second now.
Snapchat will regret rejecting Facebook's offer when it ends up in an alley sucking off Myspace for a dollar in a straw hat and flip flops.

— Warren Holstein (@WarrenHolstein) November 14, 2013

2. Bearded Disheveled Actor Ian McKellan Mistaken For Bearded Disheveled Homeless Guy
After taking a break from rehearsals for the play Waiting for Godot, a bearded and costumed Ian McKellan sat down on the street outside a Melbourne, Australia theater space and discovered that being mistaken for a homeless person isn't always such a bad thing.
During the dress rehearsal of "Godot," I crouched by the stage door of the Comedy Theatre, getting some air, my bowler hat at my feet.

— Ian McKellen (@IanMcKellen) May 5, 2010
Seeing an unkempt old man down on his luck, a passerby said, "Need some help, brother?" and put $1 in my hat.

— Ian McKellen (@IanMcKellen) May 5, 2010

3. Ingenious Asshole Rents Out Rooms In Somebody Else's House
A woman in San Francisco narrowly escaped the title of Most Nightmare-shly Unscrupulous Landlord Ever on the technicality that she didn't actually own the house in which she rented rooms to several college kids for $1,800. It was only after the actual homeowner turned up, asking who the hell these kids were, that her terrible genius scheme was discovered, and by that time she was gone from the world, along with Keyser Söze, Elvis and the little boy from the curtains in Three Men and a Baby.
The old landlord is keeping the security deposit he says because "shamans are pricey."

— blaine kneece (@blainekneece) October 1, 2013

4. Study: Is $25 Million A Reasonable Amount To Pay Someone To Stand Around In A Costume And Say Stuff?
According to a new study from The Numbers online database, it appears as though some of society's most popular actors and filmmakers might maybe be just a tad overpaid for their efforts. The study analyzed the salaries vs. value-added of some top-paid actors — such as Samuel L. Jackson, Tom Cruise and Johnny Depp — as well as filmmakers and crew members and determined that Robert Downey, Jr. maybe doesn't deserve all of the tens of millions of dollars he receives for dressing up in a silly suit once in a while. Just most of them.
Can there possibly be anything more satisfying to a Southern cop than to arrest a Hollywood actor who pulls, "Do you know who I am?!"

— Stephen Falk (@stephenfalk) April 22, 2013

5. Hundreds Turn Out To Have Their Bodies Permanently Defaced With Swastikas For Free
Crowds of people with poor decision-making skills showed up at more than 120 tattoo parlors around the world to receive a free swastika permanently inked into their skin. This is part of an effort by the "Learn to Love the Swastika" campaign to take back the ancient Buddhist/Hindu symbol of luck. As such, clients had to promise that they weren't secretly just really frugal neo-Nazis.
You don't have to tip anyone if you have a swastika tattoo on your face.

— Dan Duvall (@lazerdoov) August 3, 2012