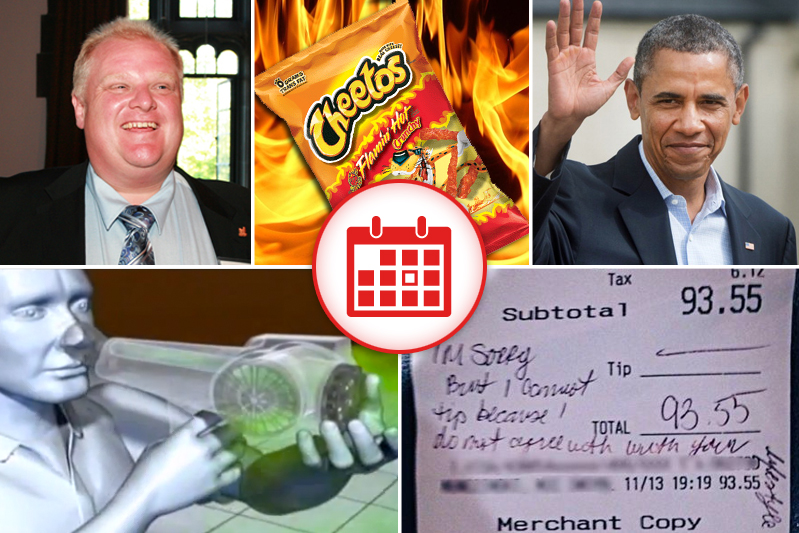 1. Rob Ford To Be Punished For Bad Behavior With His Own TV Show
Toronto mayor Rob Ford has been deemed such an embarrassment to his townsfolk and countrymen that it has become necessary to quarantine him on his own television program — on the Sun News Network, Canada's version of Fox News —  where his boorish behavior can only be observed by anyone with a media-consuming device of any sort.
Rob Ford is everything I want out of another city's mayor.

— nate craig (@Natecraig1) November 15, 2013

2. If Your Stool Appears Bloody, You May Have Come Down With Flamin' Hot Cheetos Fever
According to a new report, a steady diet Flamin' Hot Cheetos may be partially responsible for what appears to be a bloody stool epidemic in children. Though one might be forgiven for assuming that the mass consumption of the snack food was causing internal organs to break down and seep out of the body through the anus, it is in fact the red food coloring causing the "bloody" effect. So, parents should feel free to allow their children to eat the delicious food-like product at every meal.
If God created me in his image, he must REALLY love Flamin' Hot Cheetos

— Yassir Lester (@Yassir_Lester) January 23, 2013

3. New Jersey Waitress Denied Tip Because She'd Probably Just Spend It On Being A Gay
A morally-upright restaurant patron in New Jersey recently made the wise decision to withhold her tip from a server whom she assumed to be one of those homosexuals we're always hearing about. In lieu of monetary, the concerned citizen left a note explained, "Sorry, I cannot tip because I do not agree with your lifestyle and the way you live your life." Because, as Jesus once said, "Render unto Caesar what is Caesar's, but screw those gay waiters. They get nothing!"
Being Gay is natural, hating Gay is a lifestyle choice.

— John Fugelsang (@JohnFugelsang) November 14, 2013

4. Poll: Voters So Angry They're Breaking Every Record Around
If you happen to run into any U.S. voters in the course of your day, it'd probably be a good idea to stay out of their way, because they are pissed! According to a bunch of polls, the citizenry has never been angrier at their elected officials than they are right now, what with the government shut, congressional gridlock, the monstrosity that is the implementation of Obamacare, and all kinds of other intolerable bullshit. So, really, just keep your distance or they'll likely vote a foot up your ass.

5. Denver Has A Smell-O-Scope For Finding Marijuana, Which Is The Highest Idea Ever
It's a hazard of democracy, plain and simple. If you allow the voters to legalize marijuana, you're gonna have some Futurama episodes being turned into real life. So, that pretty much explains the existence of the Smell-O-Scope (or Nasal Ranger) that Denver is using to detect the aroma of excessively kind bud. City denizens should just enjoy these last few days before their town starts getting overrun with giant sentient anthropomorphic milkshakes and shape-shifting meat wads. 'Cause it's coming. Let there be no confusion about that.
I just legalized marijuana in my apartment.

— Steven BRODY Stevens (@BrodyismeFriend) November 6, 2013