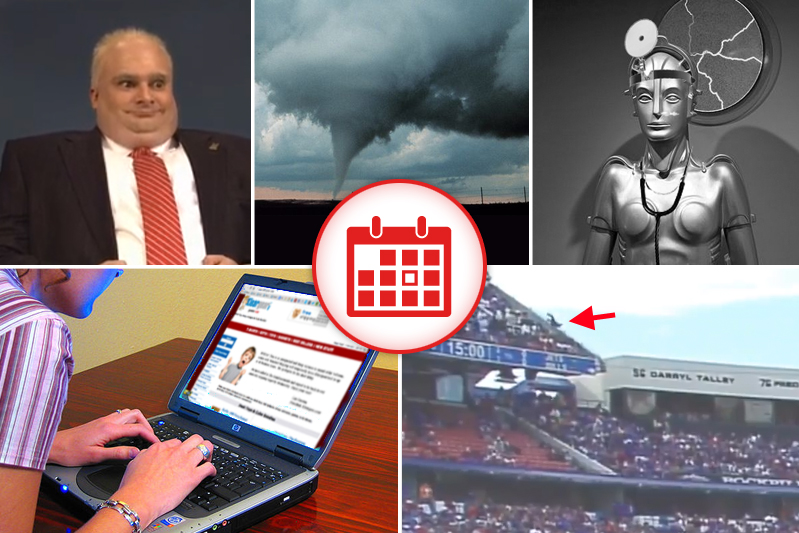 1. Company With Not-At-All-Garbagey Customer Service Fines Woman $3,500 For Leaving Negative Comment Five Years Ago
A woman who, in 2008, left a negative review of the online store Kleargear.com on a consumer site called RipoffReport was fined $3,500 by the company for violating a non-disparagement agreement that likely did not exist until 2012. When she tried to have the review removed, she was told by RipoffReport that it would cost her $2,000 to do so. Unable to pay either fine, she took a hit to her credit score. The negative news has apparently generated a ton of new traffic for Kleargear, because the world is an unfair cesspool of filth.
There's 4.4 Billion Earth-type planets out there, so let's be #1 in customer service.

— Thomas Lennon (@thomaslennon) November 6, 2013

2. SNL's Bobby Moynihan Does A Great Rob Ford Doing A Great Chris Farley
On Saturday Night Live this past weekend, Bobby Moynihan accepted the enormous loud sweaty gift from the universe that is Rob Ford's existence and stepped into a career-making enormous loud sweaty role as the Toronto's crack-smoking mayor.
In other news, it appears as though Rob Ford was doing a pretty great Rob Ford impression way back in middle school. Bet you can figure out which one's him.
People say Rob Ford isn't smart, but he was at least clever enough to pick the right race, gender, and sexuality to get away with all this.

— Avery Edison (@aedison) November 17, 2013

3. Tornados Rampage Through The Scenic Midwest
An untold number of tornados touched down in Illinois yesterday afternoon. The weather systems left insane amounts of damage in their wake, injuring a number of people and killing six, before picking up and leaving the area before sundown.
I don't think my neighbor knows my rule about not interacting unless we're both pointing at the same tornado.

— Jason Roeder (@jasonroeder) October 29, 2013

4. Robots Of The Future Will Try To Cure Us In The Brief Moments When They're Not Trying To Kill Us
More and more doctors around the country are using remote presence robots to diagnose and treat patients in areas where they cannot get to easily. The wheeled and mobile video conferencing machines are, for the time being, remotely controlled by human doctors. Though, in the future, it seems likely that they will be piloted by medical robots. Possibly ones that will be controlled by other remote presence robots, which will certasinly be powered by human batteries.
We live in a world where I can deposit a check to my bank account using my phone. How are there not robot hookers yet?

— Emily McCombs (@msemilymccombs) November 12, 2013

5. CBS Cameras Capture Rare Beauty Of Falling Football Spectator
TV cameras happened to catch footage of a man sliding down the side of the upper deck of Ralph Wilson Stadium in Orchard Park, New York and ultimately falling into the crowd below during yesterday's Jets-Bills game. Both the falling spectator and the man he fell on sustained some injuries.