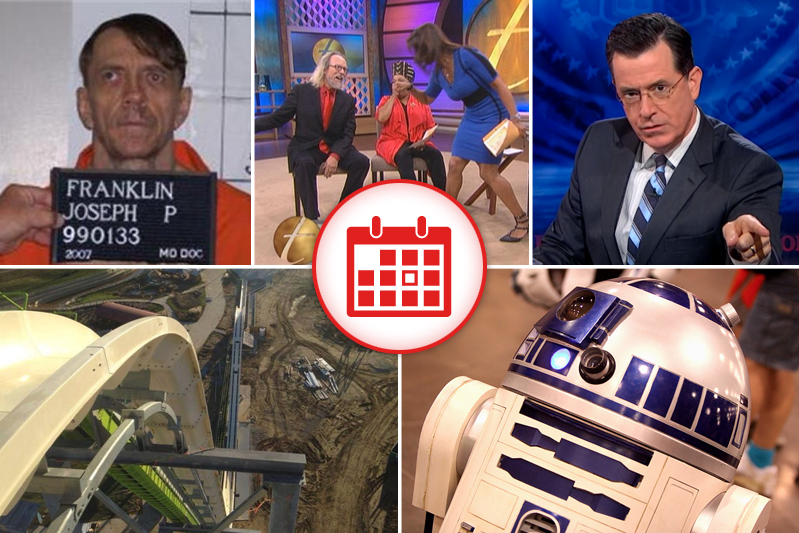 1. R2-D2, But More Specifically A CGI Version Of R2-D2 Will Appear In Star Wars: Episode VII
Disney and LucasFilm have confirmed that Star Wars: Episode VII screenwriter Lawrence Kasden and director J.J. Abrams will be figuring out some way to shoehorn beloved astromech droid R2-D2 into the highly-anticipated next installment of the popular continually-disappointing sci-fi film series. Probably the ghost of Yoda will possess and control him of some such shit. 
Want to see a photo from the set of the new Star Wars movie? pic.twitter.com/vU4DkqmZlf

— B.J. Mendelson (@BJMendelson) November 19, 2013

2. Stephen Colbert Responds To Critics Who Say Walmart Isn't Doing Enough With Food Drive — "They're Wrong, Walmart Isn't Doing Anything"
Stephen Colbert weighed in last night on that story about the Ohio Walmart location that's trying to help its needy employees by getting its needy employees to donate food to each other. "These bins are for Walmart employees to donate to other employees," he said. "And where can Walmart's low wage workers find cheap food to donate? Walmart."
Surprised Walmart didn't suggest poor employees who can't afford Thanksgiving just work *on* Thanksgiving since they can't afford dinner.

— Lizz Winstead (@lizzwinstead) November 19, 2013

3. Kansas City's New Waterslide Is Even Scarier Than Having To Be In Kansas City
The Verruckt  Meg-A-Blaster in Kansas City, Kansas is still being built, but it is expected to be "the world's tallest, fastest and most extreme waterslide," dwarfing Brazil's 134.5-foot tall waterslide "Insano." The a four-person raft slide should exceed speeds of 65 miles per hour hurling terrified riders down toward the existentially-distressing nightmare existence of Kansas below.
The waterslide I built on my property is open for business! We use gray water to help the environment and boost your immune system! Come!

— Rob Huebel (@robhuebel) May 20, 2013

4. That 14% Black White Supremacist Guy Will Now Have The Opportunity To Join Either A Black Or White Gang In Prison
86% of Craig Cobb — the white supremacist who delighted the world by discovering in front of a live audience that his genes are not the pure as white driven snow hallmarks of his racist ideology that he thought they were — is probably pretty happy to see the other 14% of himself placed behind bars for menacing people with a gun.
Is it racist that I can't tell the difference between Liam Neeson and Alan Rickman?

— Josh Gondelman (@joshgondelman) November 19, 2013

5. Courts Decide To Not Not Un-Give Joseph Franklin A Stay Of Non-Execution, or To Put It More Plainly, He's Dead Now
After many backs and forths and reversals of fortune and changes of mind and ups and downs and all kinds of miscellaneous foofaraw, the U.S. court system finally got its shit together and decided on whether or not to execute Joseph Paul Franklin, the serial killer most noteworthy for shooting Penthouse publisher Larry Flynt. He was executed in Missouri at around 6 am. Though, it remains a possibility that that decision will be overturned.
I'd rather go to an execution than a baby shower.

— Jenny Johnson (@JennyJohnsonHi5) August 15, 2013