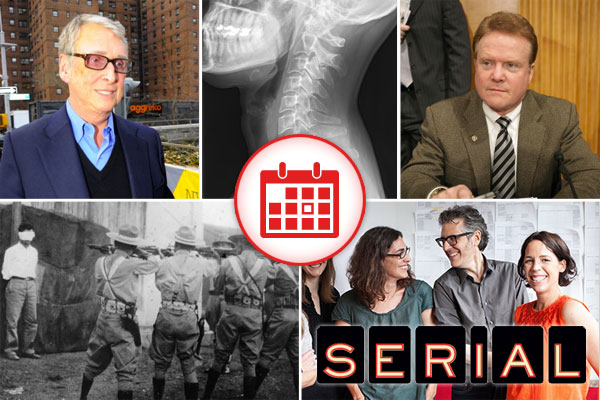 1. Mike Nichols Is Creating Classic Films And Comedy Sketches With The Angels Now
Mike Nichols—who has directed so many classic films that there's not room to even begin listing them here—died of a heart attack last night at the age of 83. It seems redundant to include a clip of one of his movies here, since you probably have most of them memorized, so here's a sketch from his days performing comedy as one half of Nichols & May: 
In tribute to Mike Nichols, I will now live-tweet The Graduate. "This frame is perfect. THIS frame is perfect. This frame is also perfect."

— Liana Maeby (@lianamaeby) November 20, 2014
Mike Nichols is at the back of Death's bus, smiling wryly, wondering what's next as he rides into the ether. #RIPMikeNichols

— Patton Oswalt (@pattonoswalt) November 20, 2014

2. Sen. Jim Webb Launches Exploratory Committee To Look Into Losing 2016 Primary To Hillary Clinton
Virginia's former senator Jim Webb is launching a presidential exploratory committee, according to Politico. This officially makes him the first high profile Democratic politician to formally express an interest in getting his ass handed to him by Hillary Clinton and then taking a spot on the ticket as V.P. 
This week the 2016 presidential race became a new reality show: "Who Wants To Get Beat Up By A Grandma."

— John Fugelsang (@JohnFugelsang) September 30, 2014

3. Hollywood Looking To Adapt Groundbreaking True Crime Podcast Into Predictable Thriller Probably Starring Jeremy Renner
The This American Life spin-off podcast Serial—which tells the slowly unfolding story of a reporter seeking to unravel the mysteries surrounding a 15-year-old murder case—has become a cultural phenomenon. As such, Hollywood producers are apparently considering if they can possibly procure the Internet program's name, change all the main characters to white people and pump out a thriller that can be in theaters in time for Christmas of 2016.
If Don Lemon hosted Serial it would just be him asking questions of Hae's grave like, "Why did you think it was ok to date?"

— Sara Benincasa (@SaraJBenincasa) November 20, 2014

4. Utah To Finally Enter 18th Century, Begin Executing Prisoners By Firing Squad
The primitive desert community known as "Utah" is seeking to legalize the firing squad as a state-sanctioned form of capital punishment. "It's an instant death," state representative Paul Ray said of the innovative new way of killing people. "A lot of these folks are dead before they even hear the gun."
Utah to revive death by firing squad. I thought having to live in Utah was already a form of capital punishment?

— Jim Behrle (@behrle) November 20, 2014

5. 'Text Neck' Is An Obnoxious New Term For A Medical Condition Caused By Your Obnoxious Phone Habits
In addition to alienating friends and accidentally walking into the paths of city buses, people have been allowing cell phones to ruin their lives in a way we're only just now discovering. A new medical study being published in the journal Surgical Technology International claims that people are causing severe damage to their spines by continually staring down at their phones. "It is an epidemic or, at least, it's very common," a medical expert explained. "Just look around you, everyone has their heads down."
Just saw a guy texting while riding a bike in NYC so that's it for us. Best of luck to the species that replaces humans, cats probably.

— Dan Wilbur (@DanWilbur) October 27, 2014

(by Dennis DiClaudio)