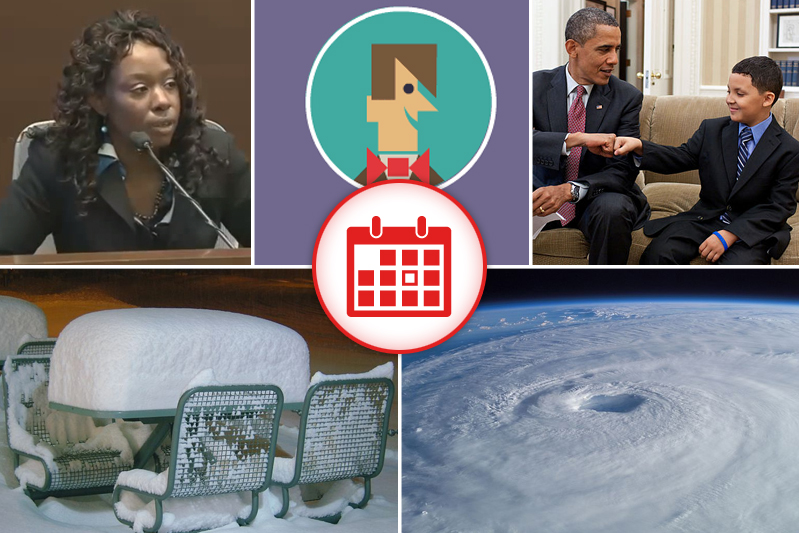 1. Texas Board of Education Approves Science Book That Contains Actual Science
The Texas State Board of Education voted yesterday to approve an environmental science textbook despite the fact that it contains some genuinely useful information concerning climate change and at no point makes any claim that Jesus stirs up hurricane winds with His scepter of judgement. Even representatives from the oil and gas industry were unable to stop the board from foisting the blasphemous book upon Texas youths.
I don't believe what the government says about the JFK assassination. I mean, no way Texas had a book depository.

— Jess Dweck (@TheDweck) November 22, 2013

2. Dangerous Bacteria-Ridden Handshakes Being Phased Out In Favor Of Douchier Fist Bumps
Hypochondriacs and Axe Body Spray aficionados are striking an unlikely accord these days, attempting to popularize the fist bump — or "terrorist fist jab" — and hopefully overtake the much more popular, but dangerously unsanitary, handshake as a form of greeting. Handshakes have been found to expose more than three times as much skin contact to the onslaught of infectious bacteria which will multiply until the microscopic invading force makes its way into your body and wraps itself around your heart, at which point it will strangulate your blood flow until you are but a desiccated husk. Fist bumps have been shown to decrease this risk.
It sucks when two dudes fist bump in front of me, and I have to pretend like I don't want one.

— Ty (@Ty_Schutz) November 15, 2013

3. The Woman Who Accused Those Duke Lacrosse Players Of Rape Has Been Found Guilty Of Stabbing Her Boyfriend To Death... And She's Single
Crystal Mangum — the woman who falsely accused three members of the Duke University lacrosse team of rape in 2006 — was found guilty of second degree murder yesterday for the stabbing death of her boyfriend in 2011. Which means she is back in the market. But probably not for long, fellas. Send your roses to the North Carolina penitentiary system.
Murder isn't easy.... I mean, I've HEARD it isn't easy.

— Michael Kupperman (@MKupperman) November 19, 2013

4. News Caster Delivers Editorial Against Photos Of Snow-Covered Patios Straight From His Snow-Covered Frozen Heart
Colorado news anchor Kyle Clark really dislikes snow-covered patio photos, especially when his viewers send them in to the station after a big snow storm. Like, if Kyle Clark and a snow-covered patio photo were in the same room at a party, Kyle Clark would totally hand that snow-covered patio photo its ass. He is not playing around. If you or any member of your family are a snow-covered patio photo, you might not want to watch this editorial he delivered the other day. It's quite devistating!
The emails from the people seriously offended by the snow photo editorial are the absolute best.

— Kyle Clark (@KyleClark) November 22, 2013
Thank you for your thoughtful take on our story. RT @AdamObendorf: Try hiring a photographer, asshole.

— Kyle Clark (@KyleClark) November 22, 2013
It's supposed to snow this afternoon, so everyone remember to drive like you've never seen snow before in your entire life.

— Rex Huppke (@RexHuppke) November 11, 2013

5. Google's New Doctor Who-Themed Doodle Is Nerdier Than Two Time Lords Fighting Three Daleks In A Tardis
If you are a nerd or a Doctor Who fan — and we do realize that one of those two things is a subset of the other — then you will be very happy to see Google's newest doodle, or Whodle: an 8-bit video game honoring the 50th anniversary of the low-budget sci-fi classic series Doctor Who, in which the player gets to choose from 11 of the 12 Doctors from the series. (Technically, Richard Hurndall was playing the First Doctor in the 1983 episode "The Five Doctors" since William Hartnell had died. Still, the exclusion could be seen as somewhat irksome to a certain type of completist.) Hope you like your game, nerds!
50 years ago today Doctor Who killed Jack Ruby on live TV

— Eli Braden (@EliBraden) November 23, 2013