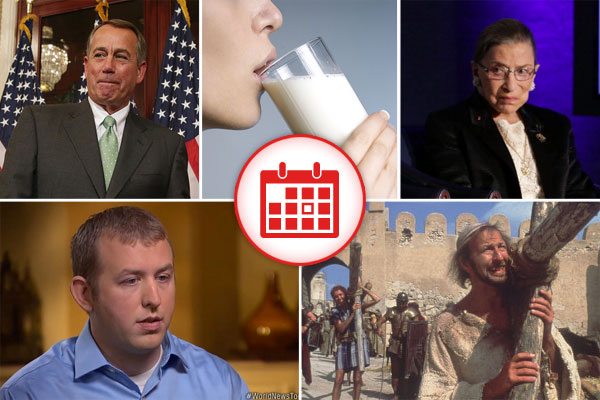 1. It's A Holiday Miracle! Republicans Discover True Spirit Of Giving $450 Billion In Tax Breaks To Millionaires
Congressional Republicans—who, in very recent memory, chose to shut down the government rather than raise nation's debt ceiling—have suddenly had a shocking change of heart. Conservative legislators announced plans yesterday to add $450 billion to the deficit over the next decade in order to facilitate tax breaks for the country's wealthiest citizens. Unfortunately, the evil Grinch who lives in the White House derailed their plans by promising the veto any such bills.
If I spend all of my money on a stripper named Charity, am I eligible for a tax break?
— Keating Thomas (@keatingthomas) June 26, 2014

2. One Of Few Supreme Court Justices With Functioning Heart Has It Operated On
Outspoken U.S. Supreme Court Justice Ruth Bader Ginsburg is reportedly "resting comfortably" after undergoing surgery to have a stent placed in her heart earlier today. Her fellow justices have found, via a 5-3 decision, that she should get well soon.
DEAR DOCTORS: PLEASE DO TO RUTH BADER GINSBURG WHATEVER THE HELL YOU DID TO DICK CHENEY
— Jesse Berney (@jesseberney) November 26, 2014

3. Darren Wilson Bravely Admits To No Wrongdoing In Inspirational TV Interview
Darren Wilson—the Ferguson, Missouri police officer who recently escaped indictment for the shooting death of 18-year-old Michael Brown—admitted in an interview with ABC News' George Stephanopoulos that he made zero mistakes on the August day in question, and that he is sincerely sorry that Michael Brown made him kill him. Brave, brave words.
It makes sense that Darren Wilson keeps comparing Michael Brown to Hulk Hogan because his story seems just as rehearsed as WWE.
— Jensen Karp (@JensenClan88) November 26, 2014

4. Coca-Cola Finds Innovative New Way To Make Milk Twice As Expensive
The Coca-Cola company has announced that it is entering the dairy business, after its food scientists discovered a new way to inflate the price of milk by as much as 100 percent. A company representative said that the new product Fairlife is "a milk that's premiumised and tastes better and we'll charge twice as much for it as the milk we're used to buying." Finally!
A gallon of gas is now cheaper than a gallon of milk? All right, well, my morning coffee could use a little extra kick.
— Liana Maeby (@lianamaeby) November 5, 2014

5. More People Nowadays Ending Their Silly Little Lives With Silly Little Song
A new survey of 30,000 funerals has found that Monty Python's chipper little ode to the absurdity of existence, "Always Look on the Bright Side of Life," has recently edged out more grandiose swan songs, such as Frank Sinatra's "My Way" and Celine Dion's "My Heart Will Go On" as the most popular music to accompany being dumped into the ground.
Always look on the bright side, but don't be gross about it.
— braden graeber (@hipstermermaid) November 3, 2012

(by Dennis DiClaudio)