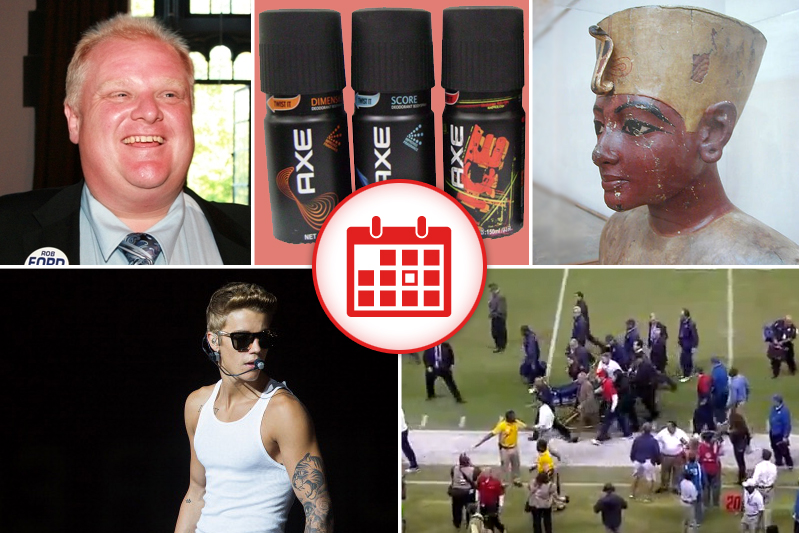 1. Brooklyn Tweens Hospitalized After Overdosing On Axe Body Spray
Eight sixth grade students in Brooklyn were sent to the hospital after one of them unleashed a toxic cloud of Axe Body Spray in a classroom. No word on how many nurses the little guys bagged in the ER, bro.
Axe Body Spray is the only known cannibal repellant.

— Adam Wilson ★★☆☆☆ (@theleanover) September 12, 2013

2. Houston Coach Carried Off Field Before Team Even Lets Its 18-Point Lead Slip Through Their Fingers
Almost as though he could sense that the Houston Texans would throw away their 21-3 lead over the Indianapolis Colts, head coach Gary Kubiak collapsed — due to what can only be assumed as precognitive existential stress — at the start of halftime and had to be carried off the field on a stretcher. He was taken to a local hospital and is currently awake and doing well.
I hope Gary Kubiak is ok, but if I were him, I'd want there to be something wrong so I wouldn't have to say, "no I just fainted"

— Michelle Wolf (@michelleisawolf) November 4, 2013

3. Lucky Fan Gets To Hit Justin Bieber In The Face With Water Bottle
A music fan had the amazing honor of having his or her water bottle touched by the face of Justin Bieber at high velocity after the unknown person hurled the water-filled projectile at the pop singer during a performance in Sao Paolo over the weekend. Bieber, who had kept the crowd waiting for nearly an hour and half before starting the show, abruptly ended it after the face-bottle incident. 

4. King Tut Died In Chariot Accident, Like An Ancient Egyptian James Dean, According To Scientists
Scientists at the Cranfield Forensic Institute have determined that ancient Egyptian pharaoh Tutankhamen mostly likely died in a chariot accident after analyzing his charred remains. They found bone fractures along one side of his body consistent with such injuries. His corpse was most likely burnt due to a spontaneous combustion caused by the oils and linen used in the mummification process. Total baller.
Before Google, if you wanted to learn about King Tut you had to listen to the song by Steve Martin. Turns out there were inaccuracies.

— Tim Siedell (@badbanana) August 4, 2013

5. Toronto's Big Fat Mayor Promises To Cool It With The Getting "Hammered" In Public Business
While speaking on his weekly radio show yesterday, allegedly-crack-smoking, clearly-publicly-intoxicated Toronto Mayor Rob Ford informed the citizens that he is "the best mayor the city has ever had" and promised that he would stop getting "hammered" where people could see him. That should shut up those goddamn worrywart Torontonians, eh?
Anthony Weiner is probably SEETHING that Rob Ford still gets to be mayor of a place.

— Josh Gondelman (@joshgondelman) November 4, 2013

Bonus Thing: Jesus Ran For Your Sins
New-York photographer Makoto Takeuchi ran yesterday's marathon in New York dressed as the Lamb of God, complete with crucifix and super dirty feet.
Great bit: Pass the finish line of the NYC marathon right now with a beer and some potato chips and be all like, "Sorry, bro. Had a detour"

— albertina rizzo (@albz) November 4, 2013