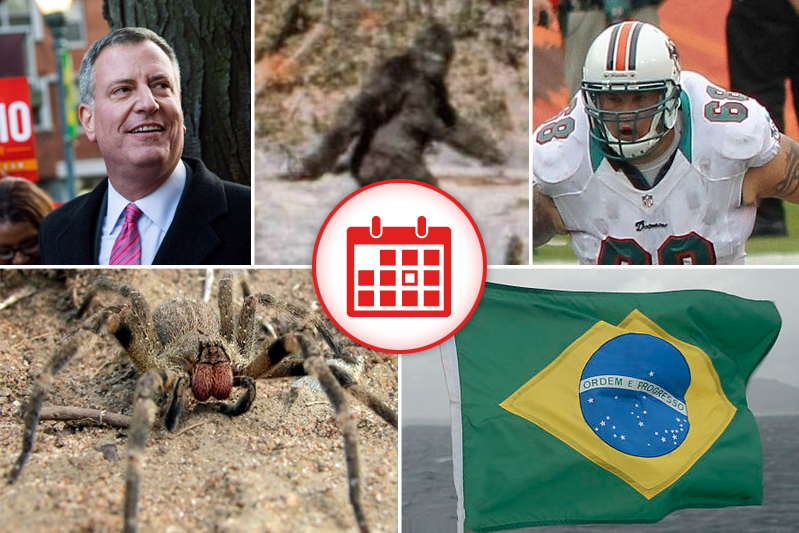 1. Bigfoot Hunters Shoot, Take Down Big Dumb Hairy Creature Who Happens To Be Their Friend
Three Bigfoot hunters in the woods of Rogers County, Oklahoma were arrested after one heard a suspicious noise, fired his gun and shot a humanoid creature of subhuman intelligence who turned out to be the fourth member of their Bigfoot hunting party. The specimen was sent to the hospital with a gunshot wound in its back.
Any hike where you don't see a dead body or Bigfoot is a complete failure.

— Julius Sharpe (@juliussharpe) May 9, 2013

2. Outrage: U.S. Spied On By One Of The Many Countries It Was Spying On
Following a report in Brazilian newspaper Folha de São Paulo yesterday, Brazil admits that it had the nerve to spy on United States diplomats — as well as representatives from some other non-United States countries — who were within its borders, as though it was the goddamn United States or something.
I want you like Brazil wants a visit from a minor celebrity.

— braden graeber (@hipstermermaid) September 18, 2013

3. Woman Almost Bites Into Banana Filled With Deadly Spiders And Unimaginable Nightmares
A London woman was forced to flee her home after dozens of freshly-hatched highly-venomous Brazilian wandering spiders crawled out of a banana that she was about to eat and began scurrying around her home like the very spawns of Ungoliant, the Eight-Legged Spinner of Darkness. She says that she — like pretty much everybody reading this — has now developed a phobia of eating bananas.
As a child I wanted to be a web designer, or as we called them back then, a spider.

— Tony Cowards (@TonyCowards) October 26, 2013

4. Miami Dolphins' Richie Incognito Suspended For Being Not So Secret Racist Asshole
Miami Dolphin guard Richie Incognito has been suspended for being rather upfront and open with his intolerably jerkish behavior. Fellow Dolphin Jonathan Martin quit the team last week after enduring bullying pranks and allegedly threatening racist texts from Incognito. Or at least some asshole claiming to be him.
Someone give Richie Incognito a Snickers so he can turn back into Tim Tebow.

— Adam Carl (@AdamWearsPants) November 5, 2013

5. New Yorkers Head To Polls To Decide On How Badly Mayoral Candidate Bill De Blasio Will Beat That Other Guy
Residents of New York City are voting on whether or not their next mayor Bill de Blasio will win today's election by a landslide or a mega-landslide. Recent polls have shown the candidate — who, though a Democratic, has thus far opted not to send pictures of his penis to dozens of strangers on the Internet — beating Republican candidate Joseph Lhota by approximately a bajillion points, give or take a gazillion.
If Bill de Blasio becomes mayor, do we all have to wear crowns made of roses like his daughter? Because I don't want to do that!

— Anthony DeVito (@AnthonyDeVito) October 24, 2013