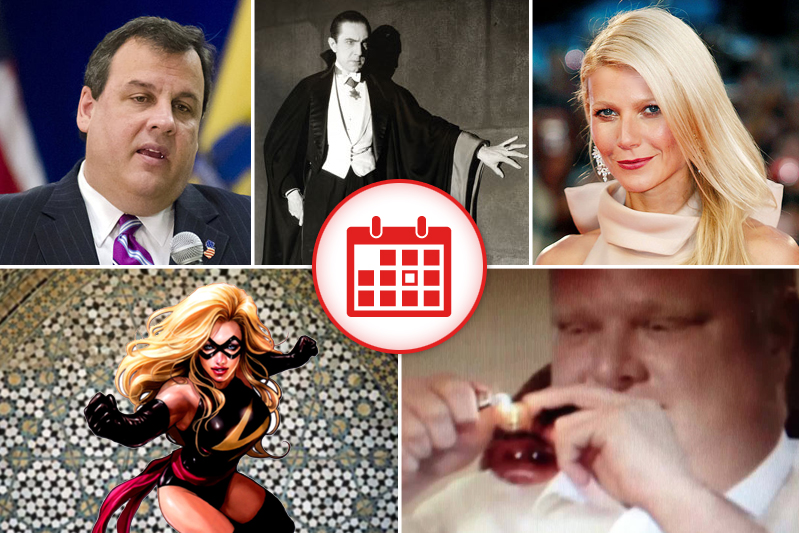 1. Gwyneth Paltrow's Newest GOOP Lesson: How To Take Down A Major Magazine Before It Can Publish A Hit Piece On You
America's favorite sweet and adorable though thoroughly modern working mom Gwyneth Paltrow is trying to crush Vanity Fair between her well-manicured violet and quinoa-scented fingers before it can publish an "epic takedown" of the actress. So far, she has managed to convince George Clooney to opt out of a future cover article. The magazine, however, continues to stubbornly hold on to its faltering existence.
I wonder who Gwyneth Paltrow is telling a story about herself to right now.

— Fun_Beard (@Fun_Beard) September 28, 2013

2. Election Results: All The People You Thought We're Gonna Win Won
The most surprising aspect of yesterday's elections was the stunning lack of any surprises whatsoever. 
— Bill de Blasio To Return NYC To Its Urban Distopian Roots
New York Mayor-elect Bill de Blasio will now get the chance to fulfill his campaign promise of turning New York City back into the wretched hive of scum and villainy that residents know and love.
de Blasio is mayor. And true to Lhota's prediction, riot cops just beat a bunch of looters to death in my kitchen!

— Anthony DeVito (@AnthonyDeVito) November 6, 2013
— N.J. Elects Chris Christie To 2nd Term Of Campaigning To Be President
Now that New Jersey Gov. Chris Christie has handily won re-election he can start spending all of his time in Iowa, preparing for the 2016 Republican primaries.
The experts say Chris Christie has what it takes to go all the way to the White House, just like President Giuliani.

— Frank Conniff (@FrankConniff) November 6, 2013
— Terry McAuliffe Doesn't Win Virginia Gov. Race So Much As Ken Cuccinelli Lost It
Virginia voters went to the polls, and they pulled the lever for the guy who seemed slightly less like a dick. So, looks like Terry McAuliffe is gonna be the governor. Good for him?
Terry McAuliffe has won the governorship of Virginia. Ken Cuccinelli plans to ask for a deep, invasive probe of the election results.

— Adam Carl (@AdamWearsPants) November 6, 2013
— Racism Is Over! Detroit Elects A White Mayor
A white mayor! Remember this moment! You'll be telling your grandchildren all about the day that America finally became post-post-racial.
The nicest parts of Detroit could be described as the worst parts of Gotham City

— Yassir Lester (@Yassir_Lester) November 2, 2013
— Illinois' Other Mustachioed People Win Right To Marry
Though this isn't Election Day news strictly speaking, it's worth mentioning that Illinois' legislature voted yesterday to give gay residents the right to marry their partners and straight residents the right for that to continue to not affect them at all.
Gay marriage in Illinois!!!! Ferris can legally marry Cameron after all these years!!!!

— Mike Lawrence (@TheMikeLawrence) November 5, 2013

3. Transylvanian Scientists Invent Fake Blood For Reasons That Should Be Quite Apparent
Scientists from Babeş-Bolyai University in the Transylvanian region of Romania have developed a blood substitute — made from protein, albumin and salt —that may be able to be used for... Well, for a lot of reasons. Let's just say the researchers are highly motivated to get this on the market asap.
"Well I guess I'll just starve then!" --vegan vampire

— Keith Alberstadt (@KeithAlberstadt) October 31, 2013

4. Toronto Mayor Rob Ford Admits To Smoking That Crack That We All Knew He Smoked
Rob Ford finally came clean about smoking that crack that everybody saw him smoking on that one videotape. He has decided to do the right thing and remain as mayor until he is pulled screaming and clawing from his mayoral office.
That Chris Farley isn't alive to play Toronto mayor Rob Ford is one of the great tragedies of the 21st century.

— Adam Carl (@AdamWearsPants) November 6, 2013

5. Marvel Comics Debuts Female Muslim Superhero For Its Progressive Well-Adjusted Core Readership To Enjoy
Marvel Comics has announced that it is rebooting its classic blonde white superhero character Ms. Marvel as a 16-year-old Pakistani-American girl who happens to be Muslim. This represents a huge leap for the publisher, not only for its showing of racial diversity, but for its innovativeness in pissing off its largely sexist racist xenophobic fanbase.
There's going to be a new Ms Marvel! It's gonna be one small step for feminist nerds, but a giant leap for girls with flying powers!

— Barbara Holm (@barbara_holm) November 5, 2013