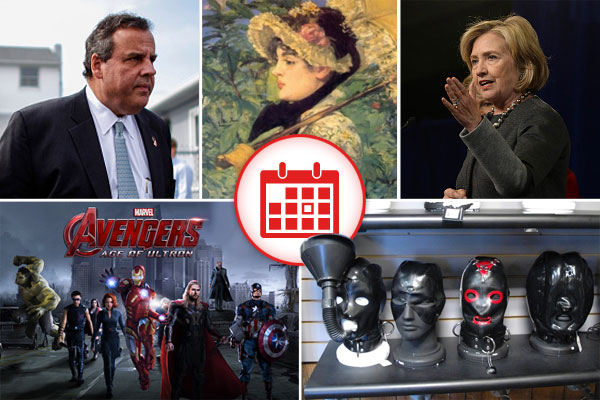 1. With Midterms Behind Us, We Can Finally Focus On The 2016 Presidential Election Between Clinton And Christie 
While the midterm elections might have seemed like a complete and utter disaster for Democrats, it may have been only a mostly complete and utter disaster for the party. A careful (and optimistic) analysis of Tuesday's data reveals that the GOP's crushing victory and Senate takeover somehow or other helps Hillary Clinton's presidential chances in 2016, according to a columnist from Yahoo! News. Meanwhile, Chris Christie—the head of the Republican Governors' Association and the least-silly person likely to enter the Republican primary—saw his fortunes bolstered as well, as Republicans won a whole slew of new gubernatorial spots. The question of which candidate will oppose Clinton's re-election in 2020 remains an open question.
The main reason I want Hillary Clinton to be President is so she can stick a cigar in a cute male intern's butt

— Jake Weisman (@weismanjake) September 22, 2014
Chris Christie says out loud what we're all thinking – just before we think of something much smarter to say.

— Bertolt Blecht (@benschwartzy) October 29, 2014

2. Marvel Attempting To Learn Secret Identity Of Supervillain Who Leaked 'Avengers' Trailer To The Web  
The Marvel Studios wing of Disney is attempting to acquire a subpoena for Google in the hopes of learning the IP address of the person who uploaded the trailer for Avengers: Age of Ultron to YouTube several days before it was supposed to premiere during Marvel's Agents of S.H.I.E.L.D. Obviously, The X-Men's Charles Xavier could easily find the identity of the criminal with super psychic mutant skills, but his character is unfortunately under license to Sony Entertainment.
I'm a busy man. Put all your superheroes in one movie, like The Avengers. I don't have time to keep track of all their side projects.

— Josh Gondelman (@joshgondelman) October 28, 2014

3. Sorry, But Your Crazy Sex Fantasies Are Actually Pretty Boring
The deepest, darkest sexual fantasies of most people are really not all that deep or dark, according to a new study in the Journal of Sexual Medicine. When researchers asked 1,516 people to reveal the contents of their erotic imaginations, the results turned out to be kind of a snoozefest, with the vast majority admitting to dreams of relatively boring junk like three-ways, oral sex and some light spanking. There were a few people who admitted to fantasizing about crazy stuff, like sex with animals, but that was less than 3 percent. What a disappointment. 
"It's all fun and games until nobody gets hurt" - BDSM party buzzkill

— matt (@biorhythmist) July 27, 2014

4. Someone Paid $65 Million Dollars For A Picture Of Some Lady Holding An Umbrella
How much would you pay for a painting of a woman in an old timey dress holding a frilly umbrella? $10? $50? Well, somebody paid $65 million for this one called "Le Printemps." It's not even new. It was painted way back in 1881 by some French dude named Édouard Manet. Talk about a ripoff. 
@GettyMuseum bought Le Printemps by Manet at Christie's: $65.1 million http://t.co/t8FQTosLFs pic.twitter.com/4EGhqjOUem

— Invertir en Arte (@Invertirenarte) November 6, 2014
Least favorite impressionists: 1) Édouard Manet 2) Rich Little 3) Imitation Crab

— Shari VanderWerf (@shariv67) November 17, 2011

5. Study: Your Vacation Is More Fun For You Than For The People You're Forcing To Hear About It
According to a groundbreaking new study from the journal Psychological Science, you should just shut up already about your dumb vacation that nobody wants to hear anything about. Researchers found that most people would rather talk about any mundane thing that at least concerned them to some small degree than your "amazing" and "transcendent" time spent on some goddamned "breathtaking" tropical beach somewhere. So just shut your face and be miserable with the rest of us.
Another good name for Instagram could be Everyone's Always On Vacation Apparently?

— Gabe Delahaye (@gabedelahaye) November 2, 2014

(by Dennis DiClaudio)