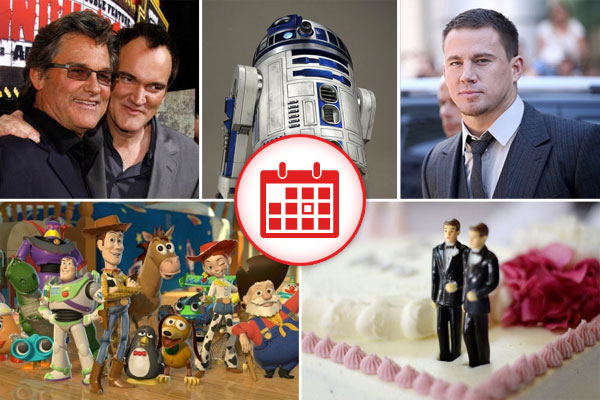 1. SCOTUS Is Going To Have To Decide On Gay Marriage Whether It Wants To Or Not
A federal judge from the 6th US Circuit Court of Appeals upheld gay marriage bans in Ohio, Michigan, Kentucky and Tennessee, thus pretty much guaranteeing that U.S. Supreme Court Justice Anthony Kennedy—as the court's sole swing voter—will have to decide the matter on a national scale. This will also give Justice Antonin Scalia an opportunity to oppose marriage equality in defiance of every other legal decision he's made in the course of his career.
Procreation argument cited in 6th Circuit ruling against gay marriage which means you unmarried infertile couples better not get any ideas.

— John Fugelsang (@JohnFugelsang) November 6, 2014

2. GOP Hasn't Even Officially Taken Over Senate Yet, And It Already Returned Unemployment Rates To Pre-Obama Levels
It hasn't even been a week since the Republican Party wrested control of the Senate away from the Democrats, and we're already seeing the unemployment rate drop down to 5.8 percent, the lowest it's been since July 2008, way back before Barack Obama won the Democratic presidential primary. Expect plenty of commentators on Fox News to make this eminently salient point.
Can't collect unemployment cause I have a butt that just won't quit :[

— Janine Brito (@janinebrito) October 29, 2014

3. Pixar Announces It's Going To Break Your Heart For Fourth Time With New 'Toy Story' Movie
You've now had seven years to recover from the gut-wrenching denouement of the original Toy Story trilogy, so it's probably time to put yourself through the wringer all over again. Pixar has just announced that it will be releasing a brand new installment to the series in 2017. That gives you about three years to practice your not-crying face.
Disney's purchase of Lucasfilm means Toy Story 4 could potentially have an all-Star Wars Figure cast.

— John Fugelsang (@JohnFugelsang) November 7, 2014

4. Channing Tatum Now Officially Cool, Joins Cast Of New Tarantino Film
It is suddenly totally fine for straight dudes all over the world to stare longingly into the deep folds of muscle tone belonging to exotic-dancing Magic Mike star Channing Tatum. The chiseled-from-alabaster actor has just joined Kurt Russell, Tim Roth, Samuel L. Jackson and a bunch of already-bro-acceptable actors in Quentin Tarantino's upcoming film, The Hateful Eight.
In twenty years Quentin Tarantino is going to cast Martin Lawrence as an old kung fu master and I'm just gonna love the shit out of it.

— Paul Danke (@pauldanke) February 14, 2014

5. New 'Star Wars' Movie To Continue Proud Tradition Of Crappy Titles
The people behind the beloved space opera film series that gave us such classic titles as A New Hope, The Phantom Menace and Attack of the Clones just announced the newest silly-sounding title that we'll all eventually get used to: The Force Awakens. Don't worry; eventually, you'll forget how underwhelming that is. Kind of like how you forgot how awful the name Star Wars actually is.
Star Wars Episode VII: The Force Awakens? Guess it slept through the prequels too.

— Clarke Kant (@clarkekant) November 7, 2014
Forgive me, because I'm twelve, but "Star Wars: The Force Awakens" sure does sound like it's about morning wood.

— Krister Johnson (@KristerJohnson) November 7, 2014
STAR WARS VII: THE FORCE SLEPT ON ITS ARMS LAST NIGHT SO DON'T THROW IT THAT LIGHTSABER JUST YET

— Patton Oswalt (@pattonoswalt) November 7, 2014
Imagine having a strong opinion about the name of the new Star Wars movie.

— Max Silvestri (@maxsilvestri) November 7, 2014

(by Dennis DiClaudio)