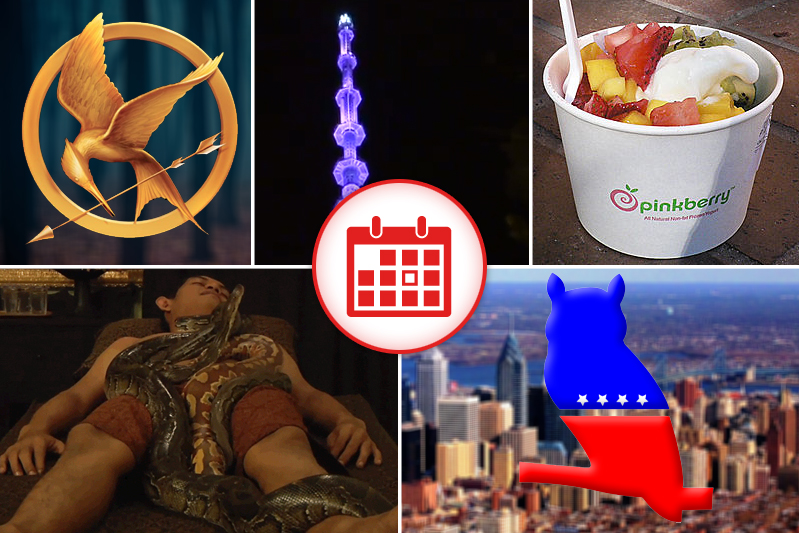 1. NYC Cheers As One World Trade Center's Multi-Colored Beacon Begins Trashying Up The Skyline
The Empire City's elegant and visually-poetic skyline got a bit of a facelift last night as One World Trade Center One — which at an ostensible 1,776 feet is currently vying for position alongside Chicago's Willis Tower as the Western Hemisphere's tallest building — turned on its beacon light for the first time and began dazzling the city with its hundreds of oscillating red, white and blue LEDs, almost as if to say, "Hey, look! I'm here now to start classin' up this fucking joint."
One World Trade Center is 1,776 feet tall, which seems triumphant until you realize the rest of the world sees that as 541.3 meters tall.

— Keating Thomas (@keatingthomas) August 27, 2013

2. Apparently Millionaires Can't Even Beat Homeless People With Tire Irons Anymore — Pinkberry Co-Founder Found Guilty
Should you need an example of how modern liberalism is corroding the very foundations of our society, you need look no further than the case of Pinkberry co-founder Young Lee. In June 2011 (just prior to the onset of the Occupy Wall Street movement, mind you) the yogurt entrepreneur simply used a moderate-sized tire iron to bludgeon senseless a homeless man, who had allegedly exposed Lee's fiancé to a ribald tattoo, and everybody went all PC crazy. Now, he's been found guilty of assault with a deadly weapon, despite the fact he is clearly very rich and the homeless man is clearly very poor. And now he's going to go to jail?! We ask you, wise readers, is this justice?
Pinkberry founder Young Lee arrested 4 beating a homeless man with a tire iron making us all think twice about ever asking for extra mochi

— The Sklar Brothers (@SklarBrothers) January 18, 2012

3. New Child-On-Child Murder-Themed Hunger Games Park Set To Open
Lionsgate wants to open a theme park based upon The Hunger Games. You know, that movie series about the children who are rounded up by adults and sent into the woods to kill a bunch of other children for other adults' entertainment. Yeah, that Hunger Games. Should be a great family fun trip. Can't wait to see what they're selling at the gift shop.
If you can't read the Hunger Games books or see the movies, just visit a middle school because same thing.

— John Moe (@johnmoe) November 1, 2013

4. Giant NOPE To The Very Idea Of Snake Massages
A spa in Jakarta, Indonesia is now offering "massages" that pretty much just involve a bunch of snakes crawling all over your body for an hour-and-a-half. And they're only $43. ... No, you pay them $43. ... No, "snake massage" is not a euphemism. ... Yes, human beings are very very weird.
My mom found a rattle snake in her bathroom, which means one thing: Quentin Tarantino is trying to kill my parents!

— Steve Agee (@steveagee) October 22, 2013

5. Unknown Candidate From Novelty Party Wins Meaningless Position — Philadelphia Elects A Whig
Robert Bucholz — who says he joined the Modern Whig party because he views it as a "middle path" between Democratic and Republican politics — was chosen by voters in Philadelphia's Rhawnhurst section to serve a four-year term as the neighborhood's election judge. This gives Whigs their first win, albeit a small one, in more than a century and a half. Which gives them a slightly better batting average than the Green Party.
Side effects may include sudden nudity and Whig sympathies.

— Ativan Beethoven (@mitdasein) July 9, 2013