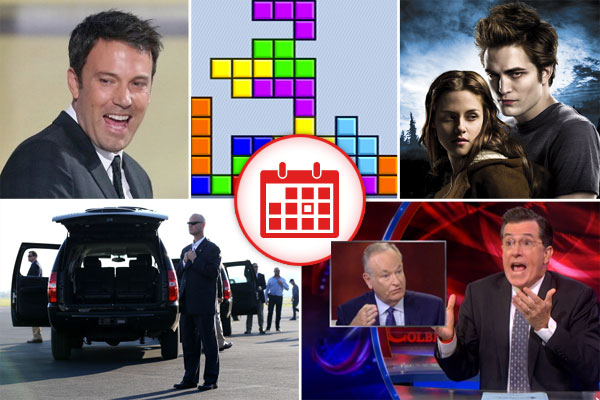 1. The U.S. Secret Service Keeps Forgetting To Not Let Dangerous Armed People Near The President
It's pretty common knowledge that one of the U.S. Secret Service's most important duties is keeping potentially dangerous people away from the President. Especially those who happen to be carrying deadly weapons. So, you've got to admit it seems a little bit weird that the agents keep forgetting to do that. Shortly after news broke that they allowed a crazy dude with a knife to sprint past them into the White House, we're now finding out that they let an ex-convict—who was carrying a gun!—get into an elevator with President Obama.
Breaking: Secret Service performs autopsy on ebola victim in an elevator with the president.

— Lizz Winstead (@lizzwinstead) October 1, 2014

2. David Fincher's 'Gone Girl' To Feature Cameo From Ben Affleck's Penis
After nearly twenty years of waiting, filmgoers will finally get to see Ben Affleck's dark and mysterious sex organ in the upcoming film adaptation of Gillian Flynn's bestselling thriller Gone Girl. "There's some brief—very brief—nudity," Affleck told MTV News. "The penis is in there! It's IMAX penis! You've gotta pay fifteen bucks to see it in 3D. It looks better in 3D."
Ben Affleck stated that he will go "full frontal" for the first time ever in his new movie "Gone Girl." Another first? Seeing Batman's dick.

— Steve Amiri (@SteveAmiri) October 1, 2014

3. Bill O'Reilly Is Deeply Offended That Stephen Colbert Made Fun Of His Adorable Mercenary Idea 
In a segment of his Fox News show last night called "How to Deal With Dumb People," O'Reilly Factor host Bill O'Reilly tore into Stephen Colbert for mocking his plan to send elite mercenaries into the Middle East to kill everyone in ISIS with their super soldier powers. "In the world of the ideologue, solutions don't really matter. It's how you feel about things," O'Reilly said, presumably about Colbert and not himself.
Unbothered by criticism of his mercenary plan for ISIL, Bill O'Reilly unveils plan to have freelance judges make Supreme Court decisions.

— Top Conservative Cat (@TeaPartyCat) September 30, 2014

4. The 'Twilight' Series Cannot Be Killed By Natural Means
When Lions Gate released what was supposed to be the final installment of their popular, though polarizing, Twilight fantasy horror series in 2010, they made one fateful mistake: they forgot to chop off the franchise's head, stuff garlic in its mouth and run a stake through its heart. This is a common practice when attempting to kill off a vampire series. However, because of their grave error, media consumers will now be forced to deal with a new series of short films inspired by the bestselling Stephenie Meyer novels.
"That's what I love about these vampire girls, man. I get older, they stay the same age."—Matthew McConaughey in Twilight.

— Matt Suddain (@suddain) June 27, 2014

5. Upcoming 'Tetris' Movie Proves You Were Wrong About Hollywood Being Creatively Bankrupt
Good news! It would appear as though the financial and critical disappointment of 2012's Battleship has not closed the door on perplexing cinematic adaptations of no-longer popular strategy games. Tetris—that game you played a whole lot a really long time ago—is going to be made into "a very big, epic sci-fi movie." Tickets, as of press time, are not yet available through Fandango.
They're making the game Tetris into a movie. Matthew McConaughey has signed on and is going to lose 40 pounds to play the long skinny piece.

— Bryan Donaldson (@TheNardvark) October 1, 2014

(by Dennis DiClaudio)