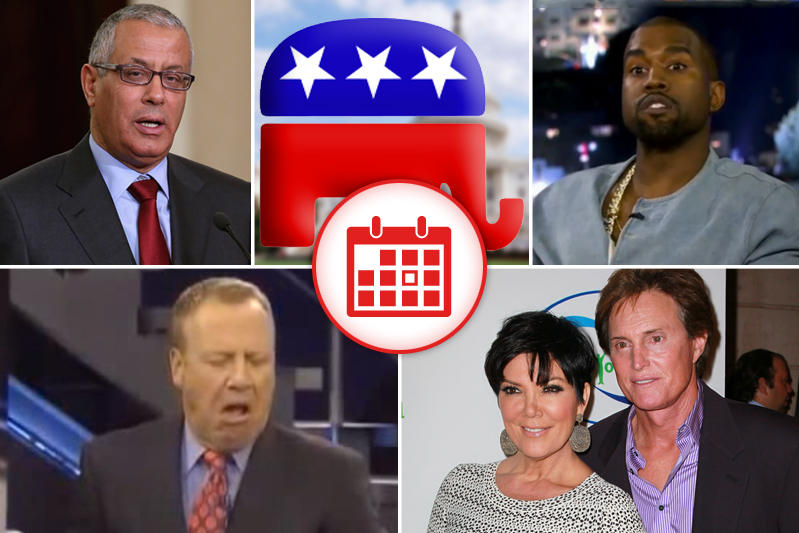 1. Kanye West Goes Super Kanye West All Over Jimmy Kimmel On Jimmy Kimmel Live
Kanye West sat down with Jimmy Kimmel last night to bury the hatchet over their recent Twitter feud and so that Kanye could explain to Kimmel and the rest of the world why he is such an important person and why all of his ideas are so great and how he can make everybody's lives so much better if only people would take him more seriously. Mostly the second part actually. 
Part 1


Part 2
Kanye just beat the world record for longest sentence on a talk show.

— Melissa Stetten (@MelissaStetten) October 10, 2013

2. Republicans Getting What They Wanted Out Of Government Shutdown If What They Wanted Was Record Low Popularity Ratings
As the bowels of Congress finally start to loosen up enough to maybe push a budget measure through and end the government shutdown, the Republican Party is looking at historically low popularity ratings. Its 28% popularity rating isn't just 15 points below Democrats, it's 3 points below the party's previous worst rating from back in 1999 during the Clinton impeachment debate. It's also the lowest recorded since Gallup's started tracking congressional approval in 1992. So think about that next time you say this government shutdown isn't achieving anything.
One solution to the government shutdown is to tell Liam Neeson roughly forty House Republicans kidnapped his daughter.

— Alison Forns (@alisonforns) October 7, 2013

3. Soon-To-Be-Divorced Kris Jenner Finds Comfort In The Timeless Wisdom Of Diddy's Instagram Page
Now that Kris and Bruce Jenner have admitted that they "are living separately and… much happier this way," the Kardashian's mom needs inspirational guidance more than ever. Luckily she has already found the endless fountain of wisdom that is Sean "Diddy" Combs' Instagram page. From "Dear God, Today I woke up. I am healthy. I am alive. Thank You." to "Live every moment, Laugh every day, Love beyond words." It is our generation's Eat, Pray, Love, and Jenner is eatprayloving every minute of it! 
I wish #Congress would get their shit together and make #Kris and #Bruce Jenner get back #together. #topical

— Steve Amiri (@SteveAmiri) October 10, 2013

4. Libyan Prime Minister Abducted By Armed Terr— BREAKING: Libyan Prime Minister Released From Captivity
Libyan Prime Minister Ali Zidan was abducted from his residence in Tripoli by armed terrorists earlier today. Wait, no, nevermind. The terrorists let him go after just a few hours. Sorry to bother. 
You don't always have to be so glum, terrorists! Blow up a confetti factory every once in a while!

— Mark Leggett (@markleggett) October 10, 2013

5. Weatherman Eats Cat Vomit On Live TV, Because He Thought It Was Just Normal Food That Was Lying On The Dirty Floor
A Connecticut weatherman made the honest mistake the other day of thinking that some cat vomit that had apparently fallen off his shoe onto the studio floor was some Grape Nuts cereal, so he did what any of us would do while on live television. He bent over, picked up the "Grape Nuts" and shoved them into his mouth. "They're a little soggy," he said just before contorting in violent disgust. We've all been there, right?
I thought they were grape nuts on the floor, i ate them. It was actually cat vomit that i must have stepped in at home. It came off my shoe

— Scot Haney (@ScotHaney3) October 9, 2013
Here's a gross thought: cat vomit quiche.

— Will Phillips (@TheThryll) December 31, 2011
Today's Internet Video That Doesn't Completely Suck: Malala Yousafzai on The Daily Show
Soundtrack For Your Thursday: Kayne West - Black Skinhead