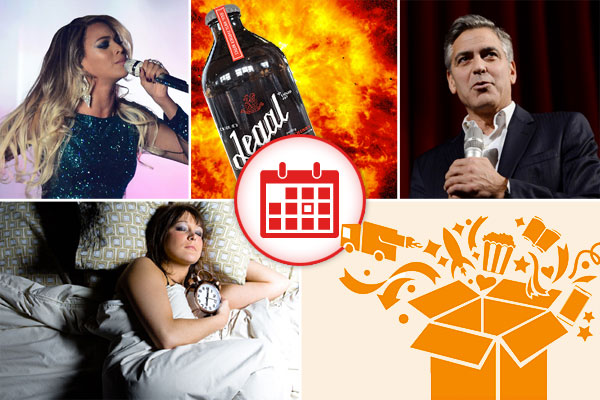 1. Amazon Continues Pushing Innovation By Bringing Ease Of Online Shopping To Physical Purchasing Location 
Internet-based commerce company Amazon.com has announced its plans to bring the magic of online shopping to the actual world, by opening a sort of physical website—which they're calling a "store"—in the heart of New York City. Innovations like this really illuminate why Amazon has been running traditional brick-and-mortar book stores out of business.
Amazon is opening a real store. I'm going to go, take photos of stuff I want, and then order them from Amaz... wait. http://t.co/WXgUjMDxVE

— Ed Yong (@edyong209) October 9, 2014

2. George Clooney Apologizes To Dorks Of The World For His Bat-Nipples
Actor George Clooney made a surprise appearance at the New York Comic Convention's Tomorrowland panel discussion yesterday. During his time before the audience of geeks, dweebs and nerds, he offered a long-overdue apology for his participation in the worst-ever Batman film, 1997's Batman and Robin. "Yes this is my first Comic-Con," he told the crowd . "Since my Batman, I'd been disinvited from Comic-Con. I met Adam West back there, it was like, 'Hey, I'm really sorry..sorry about the nipples on the suit.'"
George Clooney just showed up at Comic Con. HAHAHAHA! WHAT A NERD!!!!!

— Ritch Duncan (@ritchied) October 9, 2014

3. Radio Station Dumps Stupid News Format To Provide Houston With 24-Hour Feed Of Beyoncé
A 24-hour news station in Houston, Texas is abandoning its outmoded and useless format in favor of one that is certain to pull in a larger audience of people who still listen to regular radio for some reason. News 92 FM aired its final broadcast on Wednesday, before stepping into the future by starting to play an endless 24-7 stream of Beyoncé music. Nearly fifty employees—none of whom have ever won a Grammy or recorded a duet with Colombian superstar Shakira—lost their jobs.
I would totally go gay for Beyonce. I know she's a straight woman but, like, if she just asked me to, like it would make her happy, sure.

— Dan O'Brien (@DOB_INC) September 27, 2014

4. Marijuana-Laced Soda Literally Exploding With Flavor
Bottles of a new marijuana-infused pomegranate soda from Top Shelf Cannabis have been literally exploding on store shelves in Washington State, where the beverage is now legal. That certainly shows all those people who've been claiming for so many years that pot is totally harmless. You call glass shrapnel in your eyeball harmless, hippy?
If you're not careful, marijuana can make music sound 100 times more fascinating and magical than it already does.

— Trevor S (@trevso_electric) September 27, 2014

5. Scientists Have Figured Out The Exact Right Amount Of Sleep That You're Not Getting 
A new study recently published in the scientific journal Sleep finally puts an end to the debate over how much sleep a healthy person should to be getting every night. For women, it's 7.6 hours, while for men, it's 7.8 hours. If you're getting any more or any less than that, then you are slowly killing yourself.
Happiness Tip: If you're depressed, pretend sleep is time travel.

— Elisha Yaffe (@elishayaffe) October 8, 2014

(by Dennis DiClaudio)