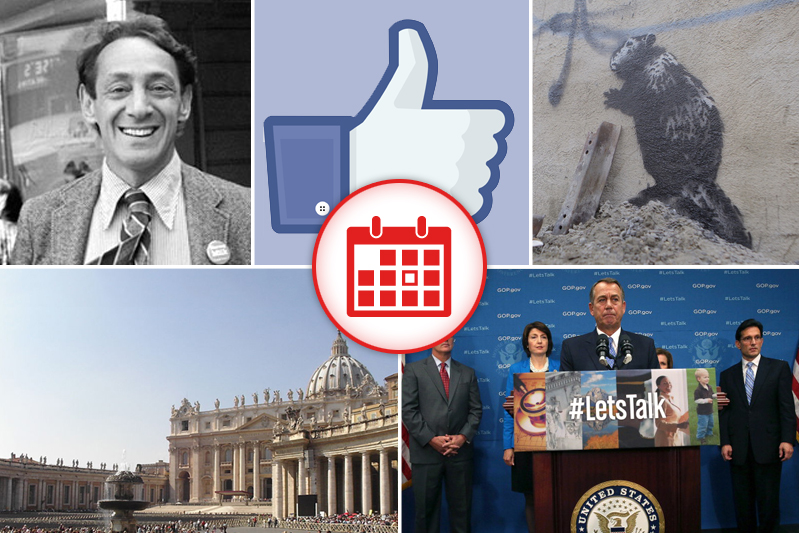 1. Facebook Takes Away Your Ability To Hide From The Assholes Of The World
All of the ex-boyfriends, ex-girlfriends, unrequited admirers, borderline-psychopathic stalkers and Tea-Party-talking-point-forwarding uncles of the world will soon be able to find your Facebook page with a simple name search, as the social network is removing users' choice of whether they're findable by every weirdo or only friends.

2. Lesus Christ! The Vatican Can't Even Spell The Name Of Its Lord And Savior
The Vatican misspelled the name "Jesus" as "Lesus" on 6,000 gold, silver and bronze medals created by the Italian State Mint to commemorate the papacy of Pope Francis. And, just like that, five-hundred million smacks on the hands of Catholic school kids were rendered worthless.
When the smoke coming out of the Vatican is dark blue, it means the pope just got some tail.

— Big Tits Will Weldon (@oldmanweldon) June 27, 2013

3. GOP Proposes Plan To Put Off Collapsing The Economic For A Few Weeks
Republican House leaders are now suggesting the possibility of a short-term debt limit increase that will hold off the complete economic implosion of the United States until maybe sometime in November when things start feeling a bit more festive and Great Depressiony.
Kind of regretting the "Ted Cruz is Right, This Will Totally Work Out Well" tattoo I got. :(

— Rex Huppke (@RexHuppke) October 11, 2013

4. Inner City Art Entrepreneurs Charging Hipsters $20 To Look At Banksy Graffiti
A couple geniuses in East New York are currently guarding the piece of Banksy street art that recently appeared at 274 Bradford Street from the streams of upper middle class white people who are cabbing it into the neighborhood solely to take Instagrams of the priceless newly-stenciled beaver. Budding art house moguls that they are, the men are charging $20 a pop for the right to look at somebody else's intellectual property.
How cool would it be if Kim Kardashian was Banksy? So cool.

— eric dadourian (@ericdadourian) October 3, 2013

5. USPS Comes As Close As It Ever Will To Issuing A Sean Penn Stamp
The United States Postal Service will honor the memory of Harvey Milk, the first out gay man elected to public office in the U.S., by issuing a commemorative stamp bearing his likeness, making him also the first openly gay man on a USPS stamp. For the record, closeted gay men have been featured on postage stamps for decades now.

Soundtrack For Your Friday: Rockwell - I Always Feel Like Somebody's Watching Me