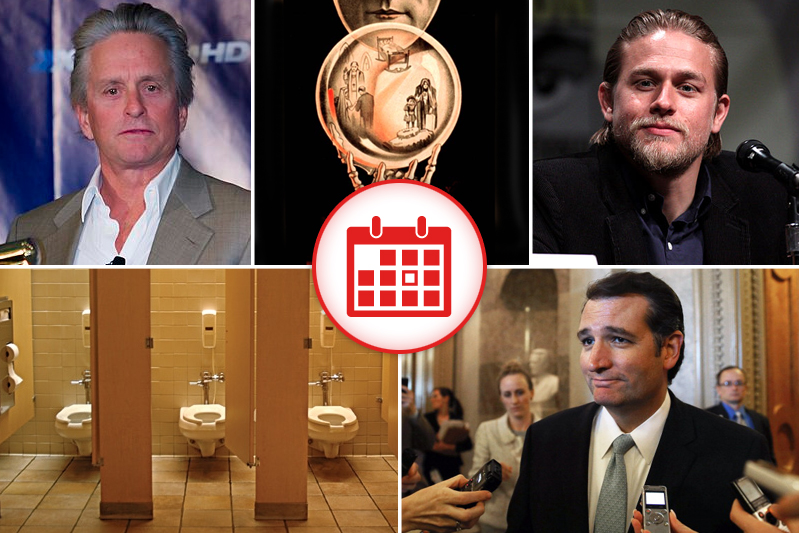 1. Brooklyn Man Suffers Same PTSD As A Military Bomb Disposer Might, Except With Regard To Toilets
A Brooklyn man's life has been transformed into a waking nightmare full of potentially-lethal bathroom fixtures, after he narrowly escaped death when his toilet exploded last week, leaving him unconscious and riddled with bits of shrapnel. He has now been forced to flush his toilet with a rope from the safety of the hallway, due to his intense fear of the "porcelain bomb" in his bathroom.
Over the weekend I got off the toilet only to see a spider in there - it took me two days to get brave enough to tweet about it. #ptsd

— Paul Danke (@pauldanke) September 3, 2013

2. Ted Cruz Totally Put President Obama In His Place During White House Meeting, According To Ted Cruz
Sen. Ted Cruz really gave it to Barack Obama during a negotiating meeting at the White House this week, Ted Cruz says. He looked the President right in the eye and demanded that Obama capitulate in efforts to stop him and his fellow Republicans from "providing substantial relief to the millions of people who are hurting because of Obamacare" in such a way that highlighted the immense inner strength of Cruz and made Obama seem small and petty, or something like that, according to the story that he's telling reporters. 
˝Ted Cruz, you've just shut down the government! What're you going to do now?˝ ˝I'm going to burn down Disneyland!˝

— Peter Waldron (@pjwaldron) October 11, 2013

3. People Suing Psychic For Fraud Forced Under Oath To Admit How Dumb They Are
Some adult people who were dumb enough to give thousands and thousands of dollars to a lady who claimed that she could use magic to look into their past lives are suing the professional psychic for fraud. However, in the course of trying to reclaim their money, they're being forced to admit, out loud, in a courtroom full of people, the full extent of their gullibility and overall stupidity, almost certainly making them question how much they actually need that money back. 
Just went to a psychic. She told me I was about to waste $60.

— Alex Hooper (@HooperHairPuff) August 13, 2013

4. Turns Out Michael Douglas Actually Had Throat Cancer Of The Tongue
Remember back in 2010, when Michael Douglas supposedly had throat cancer? Well, it turns out that was a big lie! The China Syndrome star admitted in a recent interview with Samuel L. Jackson that he had actually been diagnosed with tongue cancer. Though, how do we know he's telling the truth now? What if he really had cancer of the gums or cancer of the soft palate? How are we supposed to know know what to believe?!

5. '50 Shades Of Grey' Fans Breathe Sigh Of Relief As Actor With Wrong Color Hair Leaves Production
Incensed fans of the soft-core BDSM book that has women across the world quietly masturbating in airplane seats and Starbucks restrooms just received some good news. Actor Charlie Hunnam — who, according to the Internet, apparently has the wrong color hair or not-sharp-enough cheekbones to play the lead in a film adaptation of Fifty Shades of Grey — has pulled out of the production to dedicate more time to being unnecessarily naked on FX's Sons of Anarchy.
Guess SOMEONE isn't interested in having my mom masturbate to him. pic.twitter.com/uuvBOaX9WH

— Jason Mustian (@jasonmustian) October 13, 2013

Song That Doesn't Completely Suck of the Day: The Rolling Stones - Fortune Teller