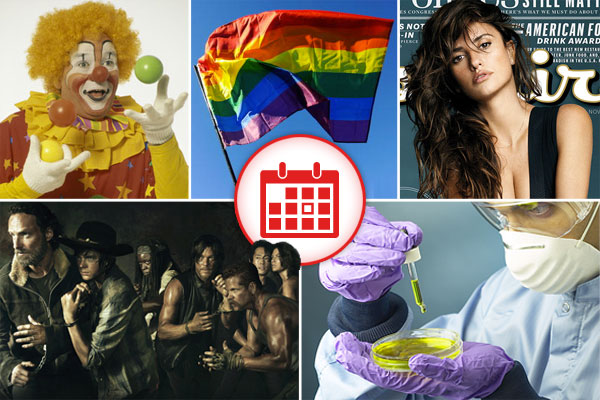 1. Sarah Palin Can Now See Gay Marriage From Her Backyard
The huge, burly, bearded men (and women) of Alaska are free to marry one another now that the state's 16-year-old ban on same-sex marriage has been overturned by a federal judge. The 49th state in the union became the first to pass a constitutional amendment against marriage equality in 1998, which was especially cruel considering the area's 713-1 male-to-female population.
I think it's wrong that gay marriage is now legal in Alaska but Sarah Palin's husband still can't marry his snowmobile.

— Rex Huppke (@RexHuppke) October 12, 2014

2. 'Walking Dead' Composer Advises Against Letting Children Watch Putrefying Corpse Monsters Devour Screaming Victims Alive
Television composer and new father Bear McCreary is advising his fellow parents to not let their children watch the newest season of the show to which he contributes music, The Walking Dead, which returned to television sets last night. "Do not let children watch @WalkingDead_AMC tonight. Or ever again. I'm very serious," he wrote on Twitter. I guess he finally got around to checking out the show. 
The Walking Dead forces us to ask who the real monsters are: the zombies or the humans. (Answer: it's the zombies, stupid! Come on!)

— John Moe (@johnmoe) October 13, 2014

3. Esquire Magazine Names Penelope Cruz Sexiest Woman Alive Who Was Willing To Pose For Photo Spread
The editorial staff of Esquire have done their homework, crunched their numbers and determined who the world's sexiest woman of 2014 is. Luckily, the winner, Penelope Cruz, is someone who is both incredibly famous and willing to pose for Esquire's cameras. Otherwise, they wouldn't have had a cover for this month's issue.
Penelope Cruz is officially the world's sexiest woman http://t.co/rOuruyL0tI

— VANITY FAIR (@VanityFair) October 13, 2014
Tom Cruise, Penelope Cruz, and Terry Crews in... NOT WITHOUT MY SPELLCHECK

— David Burge (@iowahawkblog) June 19, 2014

4. Scientists Successfully Create 'Alzheimer's In A Dish,' Which Is Less Delicious Than It Sounds
Scientists have successfully managed to use human brain cells to create Alzheimer's Disease inside a petri dish. They'll be able to use these cells as an easy means of testing anti-Alzheimer drugs in the hopes of wiping out the degenerative disorder. They're hoping that they'll be able to use a similar technique for testing other disorders.  
I just forgot why I googled Alzheimer's. #ohboy

— Tony Sam (@ToeKneeSam) September 15, 2014
5. California Town Haunted By A Terrifying Clown, Which Is To Say A Clown
Residents of the small town of Wasco, California are being tormented by a mysterious clown—or coterie of mysterious clowns—that are showing up in random places at night and creeping people the hell out. 
Anyone considering a career as a mime or clown: what did your parents do to deserve this?

— Gloria Fallon (@GloriaFallon123) October 9, 2014

(by Dennis DiClaudio)