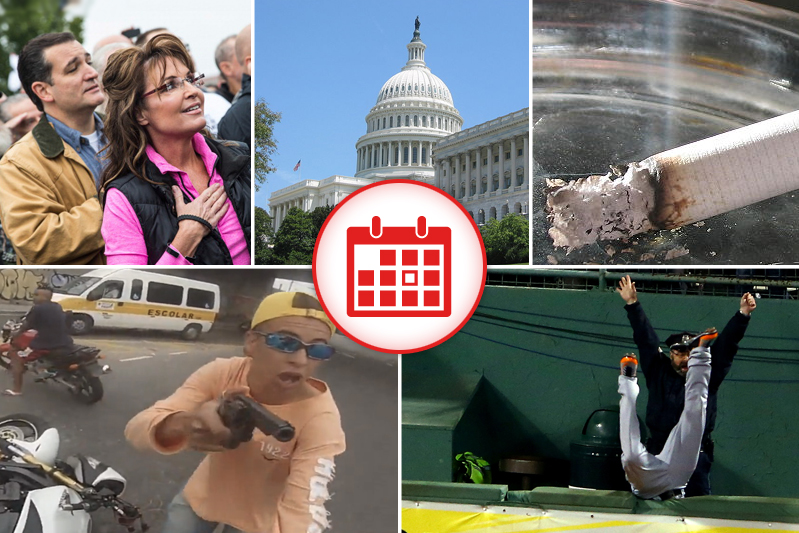 1. Demand For Obama To "Put The Quran Down" Just One Of Many Staggeringly Smart Things Said At Ted Cruz's Rally
As might be expected, Ted Cruz' Million Vet March on the Memorials — which drew hundreds of Tea Party conservatives to D.C. this weekend, some of whom were probably veterans — was a hotbed of intellectualism and rationality. Cruz, who headlined the event, which was organized in an attempt to use the closure of the WWII Memorial to shame the President, said, "Our veterans should be above politics. Enough games." Sarah Palin said something Sarah Palin-y. And Larry Klayman of Freedom Watch called for Americans to rise up and "demand that this president leave town, to get up, to put the Quran down, to get up off his knees, and to figuratively come out with his hands up." And, just like that, America got a little bit better.
Y'all are going to come around on this shutdown when Ted Cruz reveals he's Banksy.

— Josh Gondelman (@joshgondelman) October 14, 2013

2. Republicans Changed House Rules So Government Shutdown Couldn't Be Stopped, Just Like Any Halfway-Decent Cartoon Villain Would
Some people may make hay out of the news that Republicans changed the rules of the House of representatives, just hours before the government shutdown, to make it impossible for anyone but John Boehner to introduce a bill to fund the government. But those people are just silly. It's standard procedure in any hostage situation to barricade all the doors until a ransom is delivered. You can't just have your hostages wandering out the back door while you're threatening to kill them. Rep. Chris Van Hollen, a Democrat from Maryland, recently shined light upon the situation.
John Boehner would resolve this conflict much faster if the government shutdown affected tanning salons

— Eliza Bayne (@ElizaBayne) October 13, 2013

3. States Choose Not To Spend Billions Of Tobacco Settlement Money On Stupid Junk Like Preventing Lung Cancer And Heart Disease
Billions of dollars in settlement money that was paid out by the tobacco industry to state governments, theoretically to counter the damaging effects of smoking on society, is just gone, with very little idea of where it went except that most of it didn't go to anything smoking-related. Because who wants to waste a bunch of money on improving citizens' lives and preventing "things such as lung cancer, heart disease, emphysema [and] low-birth-weight babies" when you can instead spend that money on whateverthefuck?
Big Tobacco can improve their image by adopting a new mascot: Lil' Tobacco: The Adorable Smoking Baby!

— Jordan_Morris (@Jordan_Morris) May 9, 2012

4. Guy Gets Shot While Innocently Attempting To Steal Some Other Guy's Motorcycle
Seems like nowadays you can't even shove a gun into somebody's face on the streets of Sao Paulo, Brazil and force him to relinquish his motorcycle to you without getting shot multiple times and ending up begging for your life on the Internet. What exactly is this world coming to?

5. David Ortiz Hits Grand Slam To Hold Red Sox Fans' Crippling Disappointment At Bay For A Little While Longer
In the bottom of the eighth, during last night's Boston-Detroit ALCS game, David Ortiz sent a pitch, and Torii Hunter, over the right field fence with the bases loaded, tying the game and allowing the Red Sox pull out ahead and tie the series 1-1 despite generally lackluster performances till that point and most likely until the end of the series.
In other game news, some racist guy stole a woman's home run ball and threw it onto the field just to be a dick.
David Ortiz is alright, but I just hit 4,000 followers on twitter.

— Erik Tanouye (@toyns) October 14, 2013

Bonus Thing: Banksy Pulls In Whopping $420 At One-Day Street Art Sale
Banksy is too bigsy to failsy

— Eli Braden (@EliBraden) October 12, 2013

Song That Doesn't Completely Suck of the Day: Richard Thompson - 1952 Vincent Black Lightning