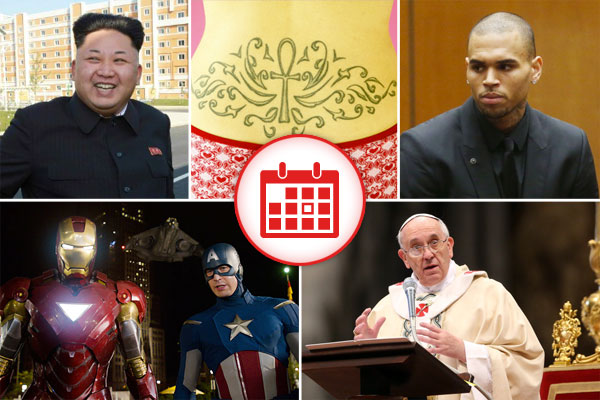 1. Catholic Church Reluctantly Sort Of Accepts Gay People In Hopes World Will Sort Of Accept It
Now that the world is slowly growing increasingly tolerant of gay people and decreasingly tolerant of the Catholic Church's intolerance of gay people, an assembly of bishops at the Vatican has issued a document calling for the church to be slightly more accepting of LGBT parishioners, as well as divorced people and children who were unlucky enough to be born into a family made up of these grotesque sinners. After all, did not Jesus teach us to kind of love our neighbors with conditions specified by dogma?
Catholic Church being more tolerant of gays; hopefully now other gay institutions will start being more tolerant of gays.

— Frank Conniff (@FrankConniff) October 13, 2014

2. Kim Jong-un—Or Mannequin Resembling Him—Observed In Public
After weeks of speculation about the North Korean leader's health, Kim Jong-un—or a cleverly manufactured facsimile of him—was photographed in public earlier today offering "field guidance" to Pyongyang officials. The mannequin, doppelgänger or actual leader of the nation was carrying a cane, which would lend credence to rumors that Kim had broken his ankle and was not devoured by a pack of the North Norean military's hungry dogs. 
No one's seen or heard from Kim Jong Un in weeks-- he must have signed with my agent.

— ⚡David Angelo⚡ (@MrDavidAngelo) October 11, 2014

3.  They've Found A Bad Guy For 'Captain America 3' — It's Some Obscure Marvel Character Named Iron Man 
Robert Downey, Jr. has been confirmed as the co-star of the next Captain America sequel, and he'll most likely be filling one of the film's antagonist roles. This is apparently part of a 'civil war' over a Superhero Registration Act—which Downey's Tony Stark/Iron Man supports and Steve Rogers/Captain America opposes—that's being adapted from Marvel's comic books. Downey's quixotic comments on The Late Show with David Letterman last week suddenly make a lot more sense now.
Since the sequel Robert Downey Jr. is joining isn't Back To School 2, I don't give a shit.

— Jensen Karp (@JensenClan88) October 14, 2014

4. Your Bad Life Decisions Can Continue On With Loved Ones After Your Death Thanks To Disgusting New Tattoo Procedure
A Dutch entrepreneur is offering a way for your friends and family to remember the bad decisions you made during the course of your life well after you've passed away. All you have to do is instruct his Holland-based company to flay the skin on which you chose to tattoo a Calvin/Hobbes/Ziggy three-way from your corpse and he'll preserve it for your grandchildren's' grandchildren to admire with solemn reverence.
I don't get the phrase, "cool as a cucumber" because I've never seen a cucumber with a tribal tattoo.

— Rob Fee (@robfee) October 9, 2014

5. Chris Brown Has Figured Out The Government's Evil Ebola Scheme
R&B star Chris Brown has solved the puzzle that is the recent outbreak of Ebola virus, and it's just as unnecessarily conspiratorial as we all thought it probably was:
I don't know ... But I think this Ebola epidemic is a form of population control. Shit is getting crazy bruh.

— Chris Brown (@chrisbrown) October 13, 2014
Brown was quickly criticized for his opinion by R&B star Chris Brown, who tweeted:
Let me shut my black ass up!

— Chris Brown (@chrisbrown) October 13, 2014

(by Dennis DiClaudio)