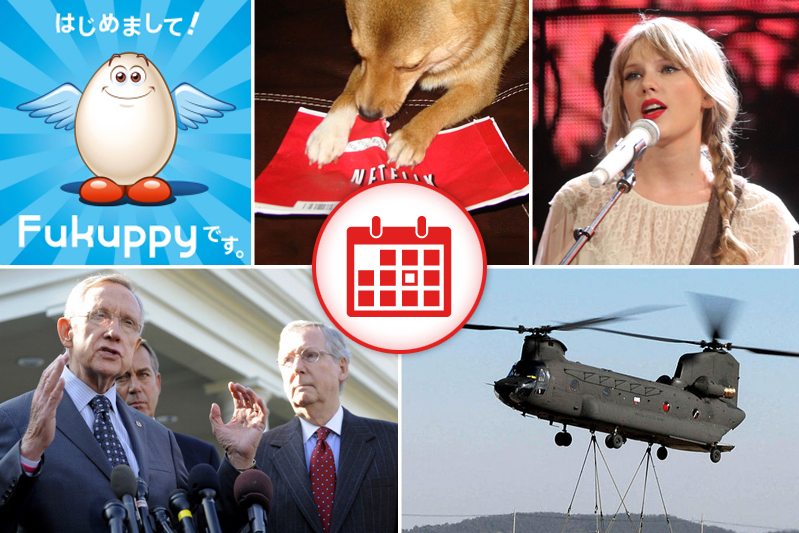 1. Company Already Named Fukushima Calls Its Mascot 'Fukuppy' in Huge P.R. Fukuppy
A Japanese firm that already has the misfortune of sharing a name with the infamously radioactive Fukushima nuclear power plant went ahead and created an adorable anthropomorphic hard-boiled egg cartoon mascot and actually literally for-real named it 'Fukuppy.' They might as well have named it… Actually, that's the very worst thing they could have named it. So, essentially, they preemptively stole our joke.
I'm worried Fukushima might do me in before I have a chance to get killed in a gun massacre.

— Jim Earl (@jimearl666) September 17, 2013

2. Senate Leaders May Have Come Up With A Deal Shitty Enough To Avoid Default For Now
As the symbol of American liberty re-opens for the first time in two weeks, it appears that Senate Republicans and Democrats may have put aside their hatred long enough to come up with a deal distasteful enough to both sides to temporarily re-open the government and avoid worldwide economic disaster at least until February, when we'll get to go through all of this again. 

3. Taylor Swift Education Center Opens In Nashville Presumably To Educate People In The Field Of Taylor Swift
Thanks to a $4 million contribution from country singer Taylor Swift, the Country Music Hall of Fame and Museum was able to open the Taylor Swift Education Center — a 7,500-square-foot facility that boasts multiple classrooms, a learning lab and an art gallery space — over the weekend. Finally, members of the public have a place in which to fully dedicate themselves into the study of Taylor Swift and Taylor Swiftian matters.
Sometimes when I pray to Taylor Swift it's like she's not even listening. Then I get a breakup email in iambic pentameter and I know she is.

— The Night Stalker (@kolchak) September 21, 2013

4. Netflix Might Be Coming To Cable System Its Helping To Destroy
Netflix — the online content-provider that is currently in the process of undermining cable companies' position as the world's source of old Columbo episodes and Kevin Spacey vehicles — is considering offering its services via the system it is in the process of dismantling. That way, they can be as mad as everyone else when Netflix destroys their business model.
If the government shut down Netflix, people would be flipping over police cars.

— matt (@biorhythmist) October 1, 2013

5. Boeing Passed Off Used Parts As New To Old And Gullible Pentagon, Probably While Wearing Bad Toupee And Loud Jacket
After dousing itself with what we assume was a large amount of very cheap cologne and quickly picking its teeth with a Bic pen in the mirror, the Boeing Company greeted the easily-fooled geriatric Pentagon and sold it $16.6 million in used helicopter parts that the overly-trusting military complex was told were new. This is the fourth such incident in the past five years.
Watched the commercials on Meet The Press again and ended up buying a Boeing.

— albertina rizzo (@albz) October 28, 2012

Song That Doesn't Totally Suck Of The Day: Ween - You F**ked Up [NSFW]