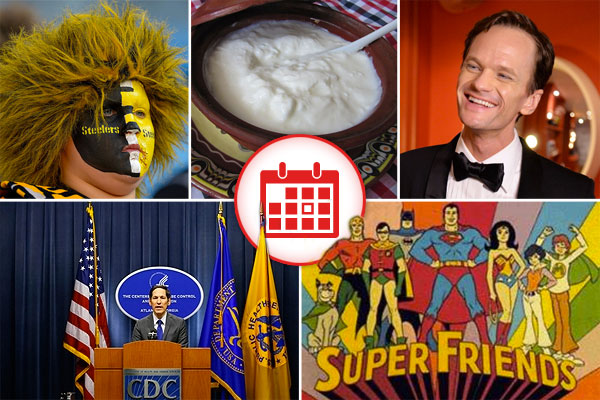 1. CDC Instructed Ebola-Infected Nurse To Fly On Commercial Jet, So It Looks Like They're As Dumb As We Are
Officials from the Centers for Disease Control and Prevention—the federal agency to which the world is looking for guidance during the current growing Ebola epidemic—conceded yesterday that it probably should not have advised a nurse who was showing visible signs of Ebola sickness to fly from Cleveland to Dallas via commercial airline. Whoops! Simple mistake. It's the kind of error any regular person might make. Which is generally why we don't hire regular people to work at the CDC.  
"We're now recommending healthcare practitioners REFRAIN from drinking Ebola. Not even just a little in your coffee. Our bad." -CDC

— Miles Kahn (@mileskahn) October 15, 2014

2. The World Braces Itself For "Peak Superhero," As DC Comics Unveils Its Next 173 Movies
Warner Bros. and DC Comics yesterday announced its full slate of scheduled superhero movies that it will be releasing through 2020, including two Justice League movies and stand-alone films for such iconic characters as Superman, Batman, Wonder Woman and Aquaman. Combined with Marvel Studios and Sony Entertainment's full lists, it is now appearing as though moviegoers will hardly ever be lacking for a new comic book movie on which to spend their money. If current trends persist, it is expected that a superhero movie will be released to theaters every 7.3 hours by 2026. 
DC is making a movie called Suicide Squad. It will be about all the people who choose to keep living in Metropolis

— Mike Lawrence (@TheMikeLawrence) October 15, 2014

3. Yogurt Takes Its Rightful Place As New York's Official Snack Food
When you think of New York, what's the first delicious treat that pops into your head? Okay, what's the second? The third? How about the 19th? That's right! Yogurt! That's why New York Gov. Andrew Cuomo just signed a bill into law making the sour dairy product the "Official New York State Snack."
Usually feel judged when crossing guys downtown, but the one I just passed eating from a 32oz tub of yogurt didn't give me that feeling.

— baba ghanoush (@rorynotroy) October 3, 2014

4. Neil Patrick Harris To Host Oscars In Attempt To Do Something People Won't Love Him For
The Academy of Motion Picture Arts and Sciences has announced that it has chosen Neil Patrick Harris to be the next dishearteningly disappointing host of the Oscars. The actor/singer/comedian/author joins a long and very prestigious list of performers who have utterly failed to live up to people's expectations for the difficult and thankless job. 
You know they picked Neil Patrick Harris to host the Oscars since he's the same cummerbund size as Ellen.

— Louis Virtel (@louisvirtel) October 15, 2014

5. In A Nation Fully Of Horribly Unpleasant Accents, Pennsylvania Reigns Supreme
Among the many things that the United States is known for—baseball, jazz, apple pie, violent imperialism—perhaps the most gratingly jarring to the ear is its enormous collection of terrible-sounding regional accents. For the past several weeks, Gawker has been pitting sixteen of the nation's least mellifluous strains of enunciation against one another and it now comes down to just two truly unpleasant modes of articulation, both from the great state of Pennsylvania. As of press time, Pittsburgh's accent is narrowly edging out Scranton's, but whichever city is on top when the final buzzer goes off, it seems clear that every member of the Keystone State is a winner.
@Grind_n_Roll I have a Pittsburgh accent. It's called Pittsburghese. And yinz guys ain't gon' keep me dahn n'at. :)

— notyourjester (@Loli_Sug) August 20, 2013

(by Dennis DiClaudio)