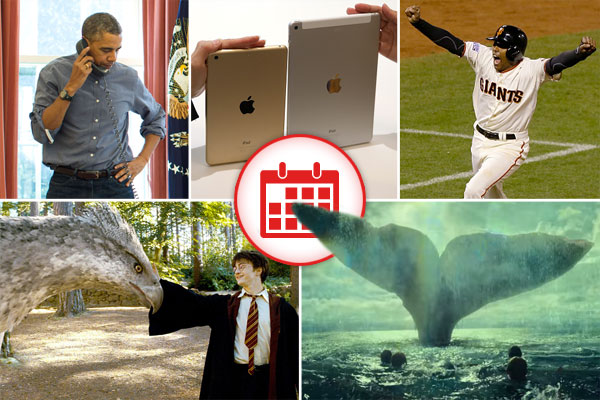 1. Obama Appoints An Ebola Czar Who Will Hopefully Hopefully Not Have A Very Long Reign
Despite the relatively low number of actual Ebola cases in the United States, the virus has been garnering sufficient enough headlines to force President Obama to appoint former Chief of Staff to the Vice President Ron Klain as the nation's first Ebola czar. Hopefully, he'll be a little more successful than the drug czar and the Guantanamo closure czar.
I'm worried an Ebola Czar might conflict with the Swine Flu Kaiser and the Premier of Colds, then it will be years of trench foot warfare.

— STEVE HUFF (@SteveHuff) October 17, 2014

2. World Series Will Pit San Francisco Giants Against Kansas City Royals, So You're Now Officially Excused From Watching It
San Francisco Giants first baseman Travis Ishikawa ended last night's playoff game against the St. Louis Cardinals with a home run that sent three players across home plate and propelled his team into a World Series contest against the Kansas City Royals, who have not made it to the championship games in nearly three decades. This is good news for both winning teams, but great news for everyone else, who are now relieved of the burden of wondering if a team they care about in the slightest might win the World Series.
Giants vs. Royals in a Spring Training rematch! #CactusLeagueFoes

— Steven BRODY Stevens (@BrodyismeFriend) October 17, 2014

3. Apple Unveils iPads So Thin, There's Practically No Reason To Buy Them
Apple presented its two new iPads to the world yesterday, boasting the tablets' remarkably new thin proportions. At $6.1 millimeter wide, both sizes of the iPad 2 Air just barely meet the qualifications for tangible existence.
Apple's new iPad is so thin that it's parents are getting really, really worried.

— Boisterous Coconuts (@asterios) October 16, 2014

4. Upcoming Ron Howard Film Reminds Humanity Why It's Best To Stay On Land
Film director Ron Howard is remaking his classic film Apollo 13 as In the Heart of the Sea, except with a doomed Nantucket-based whaleship instead of a doomed NASA space capsule, a pissed-off sperm whale instead of equipment failure and super-depressing cannibalism instead of engineering knowhow.
If a whale ever saw itself in a mirror, it would be all like, "whaaaat the fuuuuck?! That mirror is HUGE!"

— Indie Claws (@Skullcat) October 15, 2014

5. Warner Bros. Magically Transforming 42-Page 'Harry Potter' Book Into Epic Movie Trilogy
Warner Bros. has announced that it is somehow adapting J.K. Rowling's 42-page, mostly narrative-free Fantastic Beasts and Where to Find Them into at least three blockbuster fantasy films based in the Harry Potter universe. On the plus side, Rowling will be writing the screenplays herself, so even if they're bad, they'll at least be canon.
has anyone already come up with a "2 Legit 2 Quidditch" t-shirt for people who don't like magic, harry potter, or fun? (but do like shirts?)

— Myq Kaplan (@myqkaplan) September 9, 2014

(by Dennis DiClaudio)