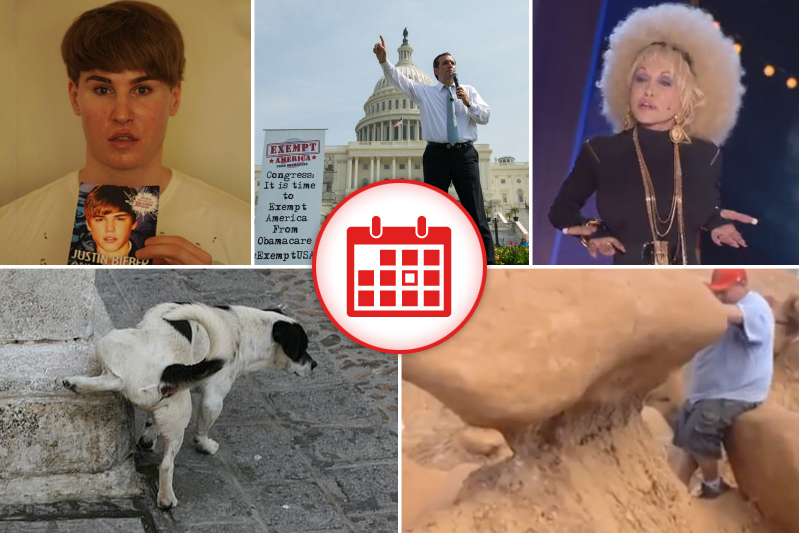 1. Hero Scout Leaders May Face Criminal Charges For Bravely Ridding World Of Dangerous Ancient Rock Formation
The Utah Boy Scout leaders who became Internet famous yesterday for posting video of themselves selflessly ending one of humanity's millennia-long geological nightmares may be facing criminal charges, according to a spokesperson from Utah State Parks. Though Glenn Taylor and Dave Hall contend that they were saving human lives by toppling the rock-formation that took millions of years to form but was apparently getting ready to fall over and crush some innocent kid at any moment, park officials remained unappreciative of their hard work. "It just made sense to us at the time — remove the danger so that we don't have to hear about somebody dying," Hall said. Such bravery.
Most people who think geology is boring haven't taken the time to learn about it, probably on account of it being such a boring subject.

— Dr. Twittenheimer (@DrTwittenheimer) August 9, 2013

2. Republicans Find Common Ground With Rest Of Country In Distrusting Republicans
It would appear as though the Republican Party is on the cusp of full-blown civil war, pitting hardline Tea Party radicals against establishment conservatives. Tea Party groups have been seeing a surge in donations from people who are furious that GOP leaders allowed the government to be reopened and the debt ceiling raised, and Sarah Palin was on Fox News hinting that she may help to bring down Senate Minority Leader Mitch McConnell. It remains to be seen how Democrats will manage to use this against their own advantage.
I always thought the never ending pasta bowl would destroy America, but now it looks like it'll just be the tea party.

— Matt Braunger (@Braunger) October 16, 2013

3. Dolly Parton Raps About Her Boobs
It's not our intention to upset anybody, but you really should be aware that Dolly Parton was on The Queen Latifah Show the other day, and she was white-girl rapping about, among other things, her breasts. At one point, she claimed to be tweekin', workin' and twerkin'. What is happening?!
I'd rather look like Dolly Parton at 66 than myself at 29.

— Emily McCombs (@msemilymccombs) May 20, 2012

4. 33-Year-Old Guy Turns Himself Into A Weirder Looking Version Of Justin Bieber For Only $100K
Los Angeles songwriter Toby Sheldon spent the past five years and most of his life savings plastic-surgerizing himself into a thing that looks kind of like Justin Bieber. Were the multiple painful procedures, including Aquamid injections and hair transplants, that cost nearly $100,000 worth it? Well, the results speak for themselves.
Just saw a picture of Justin Bieber and thought to myself "she's cute." #really

— 2HAYNEZ (@imandyhaynes) October 17, 2013

5. Science Finally Gets Around To Tracking Speed Of Pee
Researchers at the Georgia Institute of Technology have discovered for some reason that all mammals urinate at around the same speed. After timing a bunch of animals — including rats, dogs, elephants and goats — doing their business, the scientists determined a "law of urination," which holds that they all take approximately 21 seconds to empty their bladder. Use this information as you will.

Song That Doesn't Completely Suck Of The Day: Dolly Parton - Slow Ass Jolene

Random Gif That Doesn't Have Anything To Do With Anything Of The Day