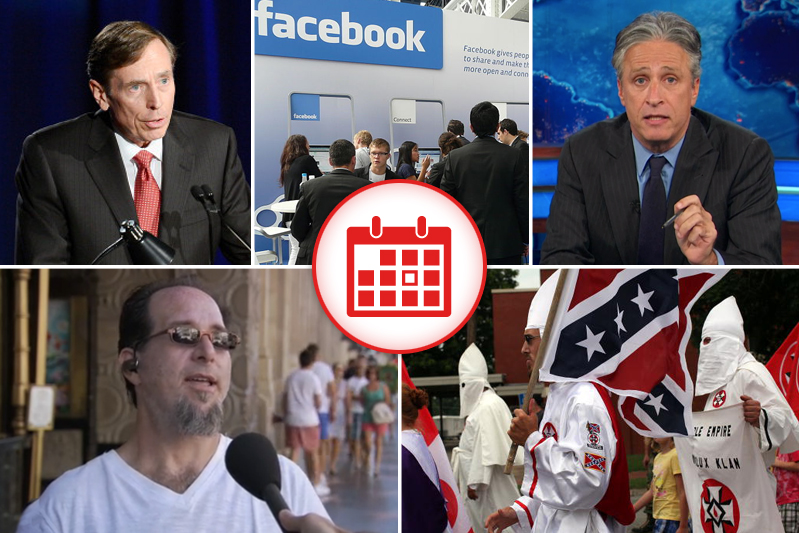 1. Government Shutdown Finds Its Silver Lining, KKK Rally At National Park Cancelled
A Ku Klux Klan rally scheduled for this upcoming weekend at the Gettysburg National Military Park in Pennsylvania was canceled after park officials rescinded all permits for special events due to the government shutdown, which is now looking like it could last several weeks. It is truly an ill wind that blows blows away nobody's stupid racist hooded mask. 
You can't spell "government shutdown" without the letters "go fuck yourself congress"

— Erik Tanouye (@toyns) October 2, 2013
The worst part of this government shutdown has been the tweets about it.

— Julius Sharpe (@juliussharpe) October 1, 2013

2. Jon Stewart Tells Conservatives To Go Shut Themselves Down Up The Ass
 
"This is when someone is driving to work and there's a car coming directly at them in their lane. That's not a game of chicken. That's an asshole causing a head-on collision." - Jon Stewart
"It's like taking candy from a baby. Except instead of candy, it's food." - Jon Stewart

3. Jimmy Kimmel Finds People Prefer 'Affordable Care Act' To 'Obamacare,' Which Is Convenient Since They're The Same Thing
"Interestingly, the polls show that most Americans say they don't like Obamacare, but they love what's in it when it all gets broken down. It's like the opposite of a McNugget." - Jimmy Kimmel

4. Real Idiot Mails Fake Grenade To David Petraeus
The Manhattan offices of David Petraeus were evacuated yesterday after a secretary opened a package addressed to the general and discovered what appeared to be a live grenade inside. Neither she nor the New York City Police, who led the evacuation, had well-developed-enough senses of humors to realize that it wasn't actually a real weapon designed to blow people's faces off, but a prank one sent as a hilarious joke by one of Petraeus' comedic genius friends.
A fun practical joke to play on someone is to murder them in cold blood.

— Viktor Winetrout, Jr (@Cpin42) May 27, 2013

5. Study: Facebook Turns Us All Into Awful Stereotypes Of Ourselves
Researchers at the universities of Pennsylvania and Cambridge — after carefully analyzing words posted to Facebook by men and women — discovered that we're all really just a bunch of gross sexist cliches. While words like "fuck," "fucking," "league" and "Xbox" dominated men's posts, more feminine words like "shopping," "boyfriend," "mommy" and "<3" topped the list for women. It's enough to make you want to smash your fucking Xbox.
I wanna play GTAV but I already packed my Xbox away and it's at the new house FUCK well least I can still play league :3c

— Devo Vevo (@ArumontWolf) September 24, 2013
Just went shopping with mommy & her boyfriend and got everything paid for me :)

— kօurɬneყ kaɬ (@Kourtney_Kat) September 29, 2013