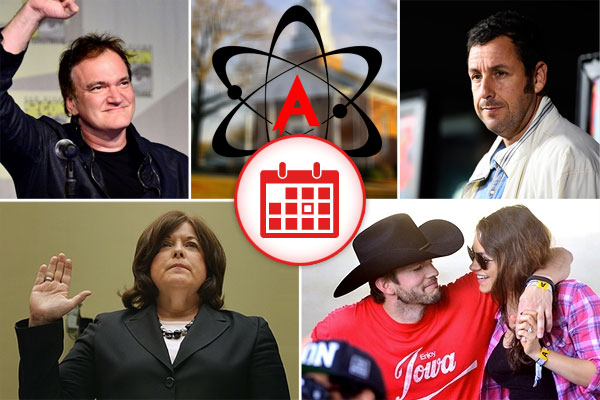 1. The Head Of The Secret Service Has Stepped Down... Obviously
In the wake of a number of extremely embarrassing and potentially catastrophic missteps by the federal agents tasked with keeping the President safe, Secret Service chief Julia Pierson—who said she wanted the agency to be more "friendly, inviting" and "like Disney World "—has decided to step down and let somebody else do a terrible job running the agency for a while. 
With Secret Service director Julia Pierson's resignation, Obama's security will be led by Fox News, which needs him around more than anyone.

— Rex Huppke (@RexHuppke) October 1, 2014

2. Quentin Tarantino Has Figured Out A Brand New Way To Force His Weird Movie Obsessions Onto Other People
Celebrated filmmaker Quentin Tarantino—seemingly dissatisfied with only getting to force feed people his bizarre obsessions with obscure foreign films and trashy '70s-era exploitation by proxy through his own projects—has taken over programming duties at New Beverly Cinema so that he may choose just what weird diet of Italian horror flicks and Richard Roundtree vehicles he thinks the theater's patrons should be consuming. 
Quentin Tarantino has taken over a Los Angeles movie house. Finally, a grindhouse theater willing to show "Grindhouse."

— Mike Spiegelman (@Spiegelmania) September 8, 2014

3. Netflix Bought The Rights To The 'Jack & Jill's And 'Grown Ups 2's Of The Future
In their continued quest to bring only the highest quality content to its customers, online streaming service Netflix has just inked a deal to finance and distribute the next four movies produced by Adam Sandler's Happy Madison Productions. Fingers crossed that this means we might soon be getting the long-awaiting sequel to I Now Pronounce You Chuck & Larry.
This Netflix deal is perfect; if Adam Sandler's gonna phone in performances why must his fans be forced to get off their asses to see him?

— Tom Ceraulo (@tceraulo) October 2, 2014

4. The Mila Kunis-Ashton Kutcher Baby Unfortunately Turns Out To Not Be An Incredibly Elaborate Punk On All Of Us
It would appear as though extremely attractive actress Mila Kunis is actually in a real substantive relationship with Two and a Half Men co-star Ashton Kutcher. According to reports, Kunis gave birth to their first child on Tuesday, so if this is in fact a practical joke, it's an extremely elaborate one.
I almost read an entire article on Ashton Kutcher and Mila Kunis' love affair before I realized no one was making me

— Alison Agosti (@AlisonAgosti) June 3, 2014

5. Atheists Are Filling The Interminable-Sunday-Morning-Service-Shaped Hole In Their Hearts
You may not believe that there is a man in the sky who frowns down upon all the dumb things you do in your life, but that's no longer a good excuse for not waking up early on Sunday mornings to listen to a bunch of people talk about a bunch of boring stuff. There's apparently a new trend of churches for atheists opening up around the country.
On a long enough timeline, all comment threads degenerate into atheists shouting at everyone

— allisonkilkenny (@allisonkilkenny) June 18, 2014

(by Dennis DiClaudio)