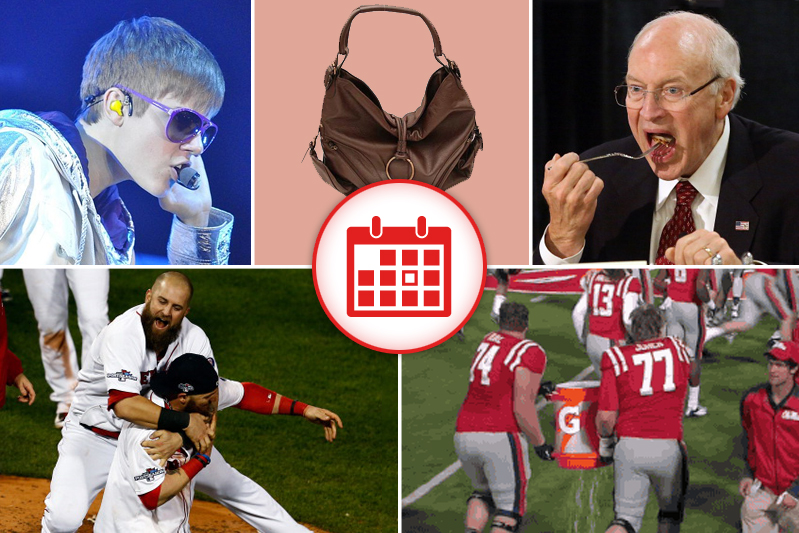 1. The Red Sox Curse Of Not Winning The World Series Three Times In Nine Years Might Finally Be Ending
After outfielder Shane Victorino launched an offspeed pitch into the stands for a game-winning grand slam, it's starting to look like the infamous Boston Red Sox curse of not winning the World Series three times within a span of nine seasons might finally be coming to an end. That is if they can beat the St. Louis Cardinals, who have been struggling under their own curse of not winning the World Series three times in five seasons since 1946. 

2. The Stripper's Ass That Justin Bieber Grabbed Is The Luckiest Ass In The World
The ass of a Texas stripper set the hearts of millions of asses across the world fluttering when its owner tweeted the amazing news that Justin Bieber touched it with his celebrity hand. The lucky ass shakes most nights in a "particularly raunchy [Houston club] where girls do things that leave marks." Bieber's hand came in the other night, accompanied by Bieber's naked hairless chest and supposedly "made it rain." The ass and its owner have since been harassed by legions of Bieber fans who are furious that it was not their asses being touched.
He Touched My Ass I Almost Fainted 😩😩😂😂😂

— DiamondsR4ever (@1real_diamond) October 19, 2013
😩😩 y'all Deranged Fans Are Not Gone Let Me Live !!!??

— DiamondsR4ever (@1real_diamond) October 20, 2013
Y'all REALLY mad Cause I Danced For Justin Last Night !!? 😩😩

— DiamondsR4ever (@1real_diamond) October 20, 2013
@PerezHilton Look What You Started Tell your Fans Stand Down 😭😭😂😂

— DiamondsR4ever (@1real_diamond) October 20, 2013

3. Worst Purse-Snatcher In Houston Gets Foiled By 8-Year-Old One-Shoed Boy
A Houston purse-snatcher who is really giving purse-snatchers everywhere a bad name saw his attempt at snatching a woman's purse the other day ruined by the woman's 8-year-old son, who calmly reached into the purse and pulled out its valuables before chasing the hapless thief into his car and away, all while wearing only one shoe. One would have to assume that the purse-snatchers board of the greater Houston area is currently considering revoking his purse-snatching license.
If someone stole my purse, my first concern would be that the thief would make fun of me to his thief friends about what a mess I am.

— Nikki Glaser (@NikkiGlaser) November 29, 2010

4. Dick Cheney Was Afraid Terrorists Would Assassinate Him By Hacking His Heart Because Apparently He Is A Character On "Homeland"
During a recent interview with 60 Minutes, former Vice-President Dick Cheney revealed that he lived in fear that evil terrorist assassin might attempt to hack into his robot heart and kill him with a jolt of electricity. The "credible" threat exists not only in the dark recesses of his mind, but also on the television show Homeland, on which a war-mongering vice-president character is killed via his pacemaker. Clearly, the Homeland writing staff needs to be rounded up and packed off to Gitmo for enhanced story-breaking techniques.
I hacked Dick Cheney's pacemaker and made it skip a beat whenever he saw Janis, his mature, full-figured Ralph's florist.

— Ryan Perez (@ryguyperez) October 20, 2013

5. Ole Miss Beats LSU But Loses Key Opportunity To Soak Coach In Gatorade
The University of Mississippi may have pulled off a surprising 27-24 win over Louisiana State yesterday, but two Rebel linemen allowed true victory to slip from betwixt their fingers when they were unable to locate their coach Hugh Freeze and ended up wandering bewildered around the field with an un-dumped container of Gatorade.
Yesterday was a big day for upsets. Others included #5 FSU's  51-14 win over #3 Clemson, #24 Auburn's 45-41 victory over #7 Texas A&M, Tennessee's 23-21 squeaker over #11 South Carolina, Vandy's 31-27 win over #15 Georgia and gravity's thrashing of Vandy's kicker.
Just poured Gatorade on my life coach.

— Allan Cresswell (@AllanCresswell) September 27, 2013
My favorite thing about college football is how the clock stops before, during and after every second of every play.

— Matt Goldich (@MattGoldich) October 19, 2013

Bonus Thing: Bill Murray Body Slams A Not-At-All-Offensive Native American Garb-Wearing Lee Corso