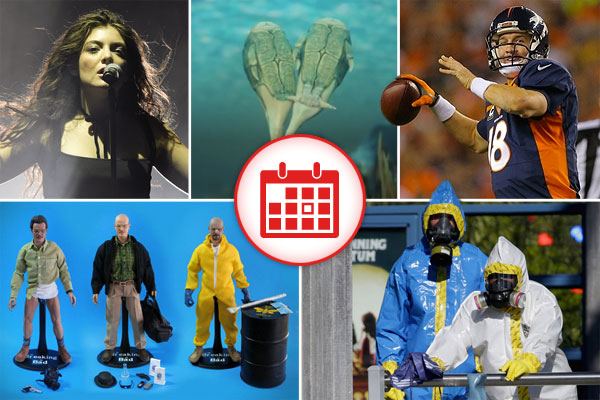 1. We're Probably Not All Going To Die From Ebola... For The Time Being
Now that 44 of the 48 people on Dallas, Texas' Ebola watch list are being released from quarantine, and both Nigeria and Senegal are being declared Ebola-free by the World Health Organization, disease conscious people everywhere can finally breath a sigh of relief, as it appears the pandemic is slowly coming under control. Of course, that sigh of global exhale will make it much easier for any of the billions of other strains of viral infections to spread amongst the populace.
Think about it: More people are buried in Grant's tomb than have died from Ebola in America.

— Uncle Dynamite (@UncleDynamite) October 20, 2014

2. Brett Favre Still Holds NFL Record For Penis Pics Sent To Sports Journalists
Shortly after Denver Broncos QB Peyton Manning broke Brett Favre's career record for touchdown passes during yesterday's game against the San Francisco 49ers, the former Green Bay Packer showed what kind of classy guy he is by tweeting his congratulations to Manning. Former sports journalist Jenn Sterger took the opportunity to remind people of exactly what kind of classy guy Favre is by reminding people of the time he allegedly texted her pictures of of peen unsolicited.  
Well deserved Peyton. Congratulations on breaking my record. #Onto600 http://t.co/MEeffAlmeP

— Brett Favre (@Favre4Official) October 20, 2014
Hey Peyton, if that congratulatory text from "He who shall not be named" is an MMS... Prolly best to just delete that one.

— Jenn Sterger (@jennifersterger) October 20, 2014

3. San Francisco Bans Lorde's Song 'Royals' Due To Acute World Series-Related Stupidity
A bunch of radio stations in San Francisco are banning Lorde's hit song 'Royals' due to the fact that the San Francisco Giants will be playing the Kansas City Royals in the World Series. And, yes, I checked: they do have adults working at Bay Area radio stations.
As someone who enjoys a good parody song, can we encourage those interested to never use "Royals" by Lorde ever again?

— Ben Heisler (@bennyheis) October 20, 2014

4. Kinky Non-Missionary Fish Sex Was Invented 385 Million Years Ago 
Some scientists at Flinders University in Australia have somehow discovered that the physical act of love between two creatures of the same species was invented by some fish off the coast of Scotland some 385 million years before the institution of marriage emerged on Earth. And if you don't find the idea of Scottish fish having premarital sex sufficiently disturbing, you should know that they did it sideways, instead of in the proper missionary position. Here's some ancient fish porn, if you're into that kind of thing:
The average man thinks about sex every 12 seconds; But only I, as the pinnacle if evolution, can complete a sexual act in 12 seconds.

— mr. fisher (@brocketxyz) October 15, 2014

5. Angry Mom Wants Toys R Us To Stop Selling 'Breaking Bad' Alongside All Its Play Guns, Mock Swords And Fun-Time Hand Grenades
Florida-based mom activist, or moctivist, Susan Schrivjer has started a popular online petition to get nationwide toy store Toys R Us to stop carrying Breaking Bad action figures, claiming that the tiny little representations of drug dealers—complete with itsy-bitsy containers of fake crystal meth—is a bad influence on children, despite the fact that the collectables are displayed in an adult section of the store, far away from the more kid-appropriate functioning crossbows. 
Breaking Bad action figures: because every kid needs a meth dealing murderer in their action figure collection. http://t.co/ENUVlcBtQY

— Dawn J (@dmj1574) October 20, 2014

(by Dennis DiClaudio)