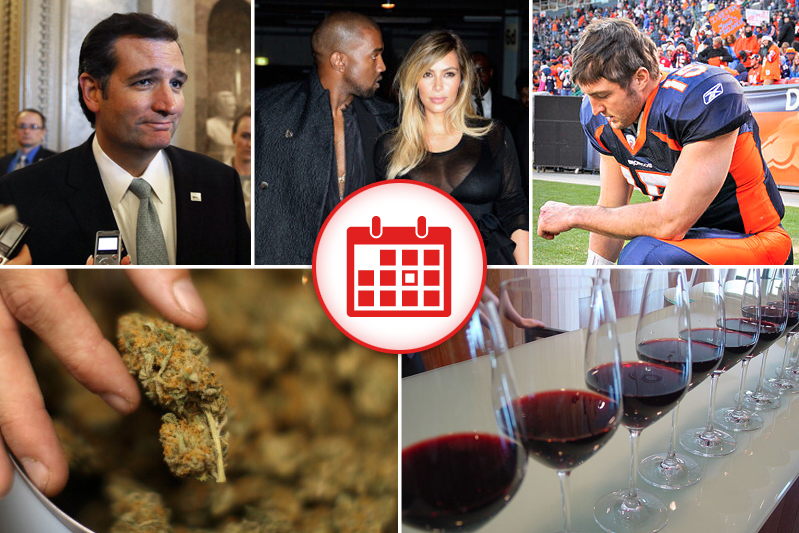 Kanye West Is Marrying The Woman Who Made A Little Version Of Kanye West Come Out Of Her Vagina
Several months after witnessing Kim Kardashian produce a tiny crying equally-self-possessed version of himself from the inside of her body back in June, Kanye West has decided to hold onto the magic woman and her little-Kanye-creating powers. The hip-hop mogul proposed marriage to her in front of a stadium full of friends and family at AT&T Park in San Francisco last night.
I hope someday Kanye will tell us how embarrassing it was when Kim caught him proposing to himself in the mirror and got the wrong idea.

— Guy Endore-Kaiser (@GuyEndoreKaiser) October 22, 2013

Ted Cruz Is Very Happy To Be Out Of Non-Real America And Back In The State That Leads The Nation In Secessionist Sentiment
After spending several weeks in the nation's capitol leading conservative efforts to shut down the government and direct it into a new recession, Sen. Ted Cruz tweeted that he's happy to finally be "back in America" in his home state of in Texas, where nearly one-in-five citizens (and half of all Republicans) support seceding from the nation.
It's great to be back home -- I've spent the past month in Washington, D.C., and it is great to be back in America!

— Ted Cruz (@tedcruz) October 22, 2013
It's seems like being Ted Cruz would be exhausting.

— Lizz Winstead (@lizzwinstead) October 21, 2013

"Red Wine Kills Cancer Cells" Is Your New Excuse For Getting Hammered And Ruining The Dinner Party
Large doses of the compound resveratrol found in red wine has been found to have the potential to wipe out cancer cells, according to a University of Missouri study that you're going to start citing while drunkenly opening a fifth bottle of Pinot Noir even though you're the only one at the table who had any of the fourth bottle. Though you likely will neglect to mention the possible side effects, which include intestinal distress, bloating, diarrhea and leaving your pants on the front lawn.

Police Association Chief Upset In Department Of Justice's Policy Of Upholding The Law Regarding Legalized Pot
Craig T. Steckler, president of the International Association of Chiefs of Police, used his introduction of Attorney General Eric Holder as an opportunity to criticize the Department of Justice's policy of not ignoring state laws and arresting all the drug-abusing long-haired hippies who are taking advantage of Colorado and Washington's newly-legal marijuana. The police officers in attendance loudly applauded his skewering of the legal process.
One dangerous side effect of marijuana is that it compels you to buy holiday themed photo shoots for your chihuahua.

— duncantrussell (@duncantrussell) October 16, 2013

Rams Looking To Be The Latest Team To Eventually Drop Tim Tebow
Now that the St. Louis Rams' starting quarterback has been sidelined for the remainder of the season with a torn ACL, it appears as though former-Bronco/former-Jet/former-Patriot Tim Tebow is being considered to take his place briefly and then get dropped in favor of another thrower. However, it remains possible that Tebow will be pre-dropped before actually being signed.
Government shutdown was supposed to be an unthinkable worst-case scenario meant to motivate people to do better -- like signing Tebow.

— pourmecoffee (@pourmecoffee) October 6, 2013

Song That Doesn't Completely Suck Of The Day: Merle Haggard - Heaven Was A Drink Of Wine

Random Gif That Doesn't Have Anything To Do With Anything Of The Day