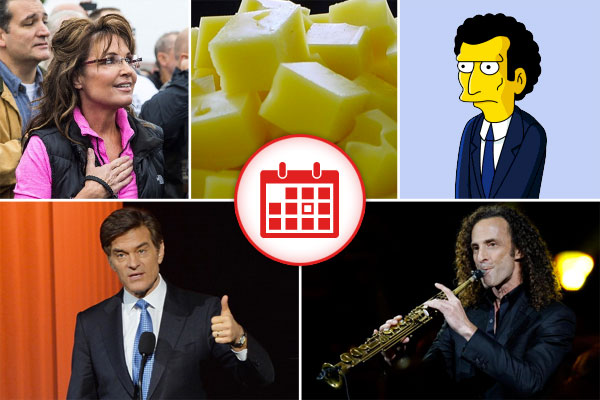 1. 'The Simpsons' Is Being Sued For $250 Million By The Human Version Of One Of Its Minor Characters
Character actor Frank Sivero (The Godfather Part II, Goodfellas, Cop and ½) is suing Fox Television Studios for the very reasonable sum of $250,000,000 on the claim that the Simpsons character Louie was modeled after him. "Louie's appearance and mannerisms are strongly evocative of character actor Frank Sivero," according to the lawsuit, which, to be fair, is funnier than anything the character Louie has done in about twelve years.
The character of Bumblebee Man is clearly based on me but you don't see me suing the Simpsons.

— John Quaintance (@John_Quaintance) October 22, 2014

2. Sarah Palin's Family Doesn't Come Off Nearly As Bad As You Might Be Hoping In The Audio Of Their Drunken Late Night Brawl
The Anchorage Police Department has released audio recordings from the night that Sarah Palin's family got into a bloody, drunken, late night brawl at a local party. While Bristol Palin does sound like a raving, intoxicated mess with a face full of "beer and makeup," and the former Alaska Governor can be heard vaguely in the background trying to control her brood, at no point does anyone in the family claim that the ghost of George Washington had sanctioned their acts of fisticuffs or take out a machine gun and start firing wildly into the air. So, kind of a let down. 
Final conclusion of the Police Report on the Palin Brawl: It really sucks for comedians that they're not the First Family.

— Frank Conniff (@FrankConniff) October 10, 2014

3. Data Supporting Dr. Oz's Magic Weight Loss Bean Has Been Magically Lost
Until very recently, there was only one study that supported TV physician Dr. Mehmet Oz's patently ridiculous fat-burning bean. However, the researchers behind that study have now retracted their own results, leaving Dr. Oz with no data supporting his "magic weight-loss cure." He'll probably make about half a billion dollars on it next year.
Dr. Oz is the Jordan Belfort of Dr. Phils.

— John Fugelsang (@JohnFugelsang) June 23, 2014

4. Kenny G Gives His Smooth, Soulful Support To Hong Kong Protests 
Smooth jazz saxophonist visited with throngs of protesters in Hong Kong earlier today to lend his support to their pro-democracy cause. This action both angered officials in China—where the musician is still remarkably popular—and leads to the obvious question on where Zamfir, Master of the Pan Flute, stands on this important issue. 
in Hong Kong at the sight of the demonstration. I wish everyone a peaceful and positive conclusion to this situation pic.twitter.com/mEp5jIXLjj

— Kenny G (@officialkennyg) October 22, 2014
Working on a "Where's Kenny G" picture book. It's like "Where's Waldo," but with Kenny G.

— H. Alan Scott (@HAlanScott) May 23, 2014

5. Cheese Is So Good, Our Ancestors Ate It For Thousands Of Years Before It Stopped Making Them Sick
Despite the fact that human beings only developed a tolerance for lactose-rich food products within the last 3,000 years, a new archeological study shows that people have been making cheese since about 7,000 years ago. In case you're bad with math, that's four millennia of diarrhea and intestinal cramps. And my wife is trying to get me to cut provolone, ricotta and Pecorino Romano out of my diet? Good luck with that, baby!
Sometimes what I think is an anxiety attack turns out to be I'm lactose intolerant and I shouldn't be drinking milkshakes.

— Nick Youssef (@NickYoussef) June 11, 2014

(by Dennis DiClaudio)