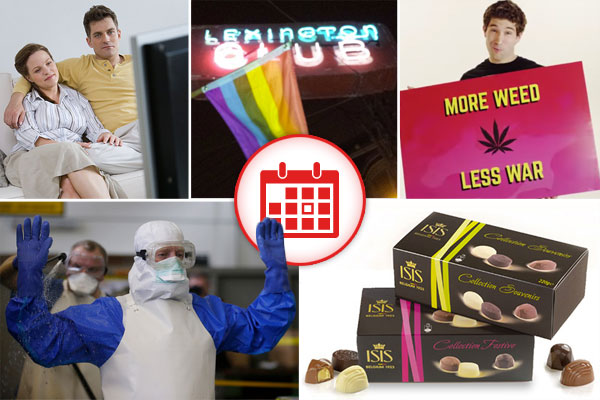 1. New Yorkers Finally Get To Make The Ebola Outbreak All About Them
While it's incredibly unlikely that an Ebola-infected doctor accidentally passed on the virus to anyone after returning to New York City from work in Guinea and before eventually being hospitalized and quarantined, it is technically true that there are now several people in the city who are maybe infected. But you know what? That's all that New Yorkers needed. The outbreak is now theirs and they get to be loudly afraid and self-obsessed on social media, so all is right with the world.
Ebola? More like "He Bowled, AHHHH!" Thank you. IM TERRIFIED AND SURE THAT IM GONNA GET IT.

— jenny slate (@jennyslate) October 24, 2014
Ebola in Brooklyn means the rest of us won't get it for two years. And then we won't really "get" it.

— Bane Hogschwartz (@benschwartzy) October 24, 2014

2. San Francisco Is About To Lose Its Last Big Lesbian Bar, In Much The Same Way That It Is Losing Its Soul 
Historic lesbian bar The Lexington Club is being priced out of San Francisco's Mission neighborhood. The owner announced the impending closure yesterday, explaining that increased gentrification had driven rent prices upward while decreasing customer patronage. This means that we will soon live in a world in which S.F. has a World Series-level baseball team and zero lesbian bars. Is that even a world worth saving?
The worst thing about a lesbian bar is the line for the bathroom

— Jena Friedman (@JenaFriedman) February 16, 2014

3. Belgian Chocolate Company Changing Its Name To Something Slightly Less Evocative Of Beheadings
After nine decades of business, the Belgian chocolate company Italo Suisse decided to change its name last year to something that would more easily stick in the minds of consumers. They ended up choosing Isis, which—as a cursory look through international headlines will show you—is a remarkably catchy name. Now, for some reason, they're changing it again. Come on, guys. Make up your minds!
The Today Show just played a video of a puppy tearing off a blonde lady's bikini in case you're wondering what ISIS is up to

— allisonkilkenny (@allisonkilkenny) October 24, 2014

4. Streaming Services Will Spend Nearly $7 Billion Next Year So You Can Watch Reruns Of 'Ice Road Truckers' Whenever You Like
Digital entertainment streaming services, such as Netflix, Hulu and Amazon Prime, will be spending $6.8 billion dollars next year to bring television shows and movies into the living rooms of their subscribers. That's kind of a staggering number to consider tonight when you're listlessly scrolling through your queue looking for something halfway decent to watch. 
Torrenting something while you're roommate is watching Netflix is the new flushing the toilet while someone is in the shower.

— 2HAYNEZ (@imandyhaynes) October 18, 2014

5. The Koch Brothers Are Funding Pro-Pot Campaign Ads Because Politics Is Stupid
American Future Fund—a staunchly conservative political group funded in large part by billionaires Charles and David Koch—has been running some very silly pro-marijuana ads on Hulu that are intended to entice viewers in North Carolina to vote for libertarian Senate candidate Sean Haugh. The idea is apparently that these ads—which represent exactly what conservatives think liberal pot smokers think and act like—will siphon votes away from Democratic Sen. Kay Hagan so that the Republican Thom Tillis can win her seat. Politics!
At least if we legalize marijuana, it'll make sense why we have a do-nothing Congress.

— Ghoul Mortis (@JillMorris) July 28, 2014

(by Dennis DiClaudio)