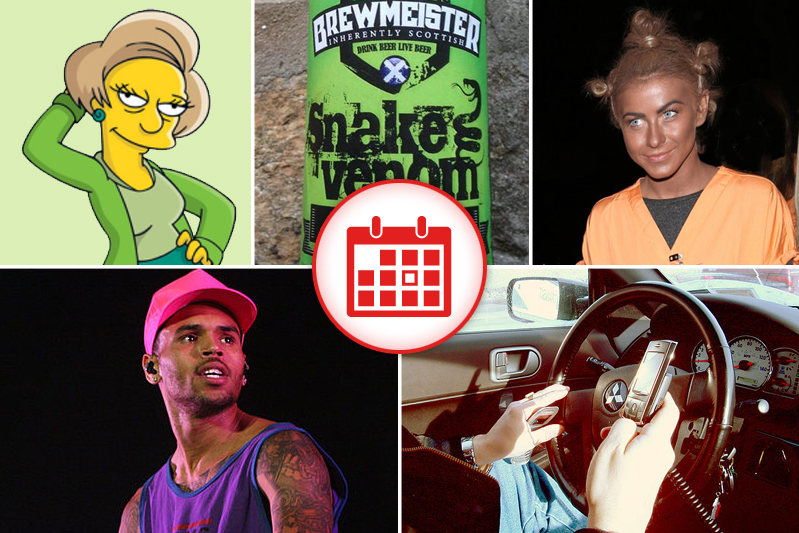 1. Chris Brown Arrested For Thing That You Can Totally Guess
Hip-hop artist and girlfriend-beater Chris Brown was arrested and charged felony assault this morning, after allegedly repeatedly punching a man with whom he'd gotten into an argument outside the W hotel in Washington DC. Authorities say Brown did not appear to be under the influence of anything other than the personal demons that make him feel inferior.
Realizing it's important for an artist to always change and grow, Chris Brown punches a MAN in the face.

— Danny Zuker (@DannyZuker) October 27, 2013

2. Study: Hands-Free Texting Just As Effective At Causing Multiple-Vehicle Pile-Ups As Regular Texting
Researchers at the Texas A&M Transportation Institute have determined that text messaging with your voice is just as distracting, and therefore no less useful for accidentally killing yourself and the people with whom you are sharing the road, than texting with your fingers. Safety-minded drivers should, instead, pull out their laptop and send a quick email.

3. Julianne Hough Dresses As "Person Who Doesn't Know That Blackface Is Bad" For Halloween
Dancing with the Stars "star" Julianne Hough, who is apparently completely unfamiliar with the past 300 years of U.S. history, opted to dress as her favorite character from Netflix's original series Orange Is the New Black, who happens to be played by Uzo Aduba, an actress who has considerably more pigment in her skin than Hough. Clearly, without giving the matter the full three seconds of thought it deserved, she chose to complete her costume with what appears to be a slightly more upscale version of shoe polish, blissfully unaware that there was an Internet full of hungry commenters just waiting for someone to feed their moral outrage.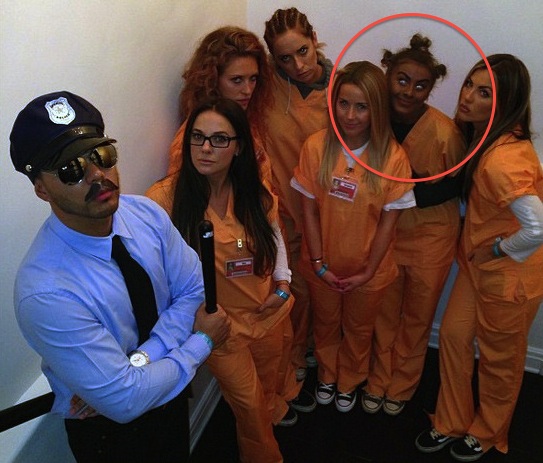 That settles it. I'm going as Sexy Julianne Hough In Black Face for Halloween.

— Jensen Karp (@JensenClan88) October 26, 2013

4. Heaven Just Got A Little More Cromulent — The Voice Of Edna Krabappel Dead At 70
Marcia Wallace — who is best known as the voice of Mrs. Krabappel on The Simpsons and as the Carol the receptionist on The Bob Newhart Show — succumbed to a thirty-year battle with breast cancer yesterday. It is unknown how the Simpsons will continue in her absence as it heads into its next 10,000 seasons.
My mom on Marcia Wallace, voice of Simpsons' Edna Krabappel, dying: "No hope for Bart now."

— allisonkilkenny (@allisonkilkenny) October 26, 2013

5. New Snake Venom Beer Mildly Less Dangerous Than Actual Snake Venom
Brewmeister Brewery in Scotland has created a beer that contains 67.5% alcohol by volume, which is considerably stronger than vodka or whiskey, which is typically about 40% ABV. The Snake Venom beer is expected to have a massively positive effect on cases of accidental alcohol poisoning.
My favorite beer is the one with the stupid fucking gimmick.

— Ty (@Ty_Schutz) October 24, 2013

Bonus Thing: Cardinals Take World Series Lead With Play That God Invented Explicitly To Piss Off Red Sox Fans
God, who — like all civilized beings of intelligence — hates the Boston Red Sox with a passion that is only matched by his dislike for people who wear clothes of mixed fabrics. So, He specifically devised a means of victory for the St. Louis Cardinals that would produce the maximum amount ire for Sox fans, featuring an obstruction call from the ump after what appears to be a reenactment of a scene from an episode of The Three Stooges.
I'm rooting for anyone but the Cardinals or Red Sox to win this series

— Matt Oswalt (@Puddinstrip) October 25, 2013