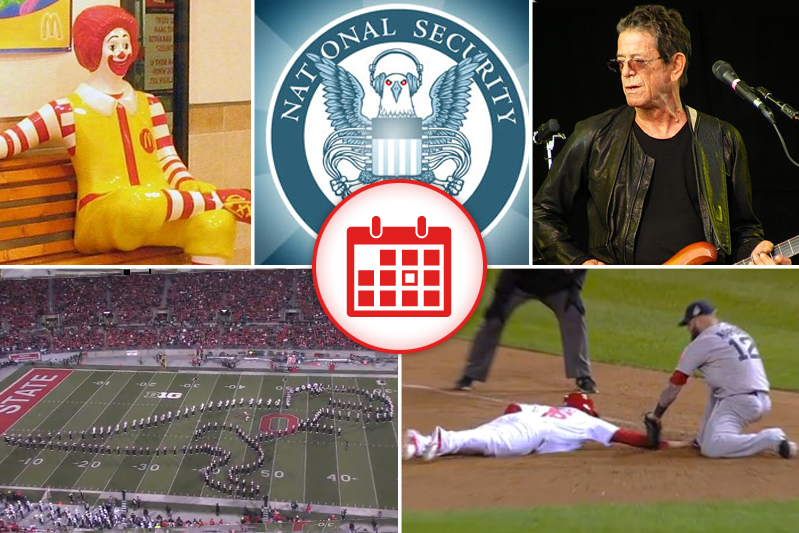 1. The World Will Have To Slather Its Hyper-Caloric Meat Patties With Some Other Type Of Sugary-Tomato Slurry — McDonald's And Heinz Parting Ways
McDonald restaurants worldwide will stop providing Heinz ketchup for its customers, possibly due to the appointment of former Burger King CEO Bernardo Hees as new chief of H. J. Heinz Company this past June. The decision will certainly anger many fast food customers, who will likely not be at all assuaged to learn that McDonald's actually stopped using Heinz ketchup in U.S. locations many years ago.
Burger King's parent bought Heinz, so McDonald's dropped their ketchup. Then they called them a whore and then unfriended them on Facebook.

— Keating Thomas (@keatingthomas) October 28, 2013

2. Ohio State Utilizes Cutting Edge Band Geek Technology To Create Dinosaur Before Stadium of Amazed Onlookers
Ohio State's marching band delivered a tour de force halftime performance Saturday, marching in formation so as to flawlessly render with their bodies a Tyrannosaurus Rex and Harry Potter, as well as breathing more life into the character of Superman than was managed by Henry Cavill in Man of Steel.
It's important that you know that my high school marching band played "Funkytown" in the Memorial Day Parade because that's all we learned.

— Anna Drezen (@annadrezen) October 21, 2013

3. Red Sox Tie Up World Series 2-2 By Being Better At Playing Baseball
The Boston Red Sox tied up the series and became the first team in history to win a postseason game with a pick-off last night, when pitcher Koji Uehara and first baseman Mike Napoli did a better job of playing the game than rookie base runner Kolten Wong, as can be evidenced by this here video replay of the night's final events:
"I don't like their beards." - My mom's stance on The Boston Red Sox

— Aaron Glaser (@aaron_glaser) October 28, 2013

4. In One Month, NSA Intercepted 60 Million Phone Calls In Spain, Most Of Which Were Probably About Bullfighting and Paella
Glenn Greenwald and Germán Aranda, using information released by Edward Snowden, revealed today in El Mundo that the U.S. National Security Agency collected data from 60 million phone calls in Spain over the course of 30 days last year, which some people might say is a mind-boggling statistic. And if they say it on the telephone, chances are quite high that the NSA will know about it inmediatamente.
Based on the percentage of secrets they keep, the NSA's clandestine surveillance program is run by my Aunt Margaret after three Mimosas.

— Brian Soto (@TrainedHedonist) October 25, 2013

5. God Takes Lou Reed, Leaves Bono, Proving Once Again That He Doesn't Exist
Former Velvet Underground frontman, godfather of alternate rock music and proud purveyor of the white guy afro Lou Reed died yesterday at the age of 71, possible due to a "liver-related ailment." His influence upon modern music is incalculably immense and he will be greatly missed. He leaves behind a large discography of influential and moving genre-spanning music, as well as some shitty album he did with Metallica.
"Hey, white boy. Whatcha doin' uptown?" -- St. Peter to Lou Reed.

— Gladstone (@WGladstone) October 28, 2013

Bonus Thing: Attention Whoring Skank From 2003 Dresses As Attention Whoring Skank From 2013 
Paris Hilton went to the Playboy Mansion's Halloween Party as Miley Cyrus pic.twitter.com/muEAJcicGv

— Downtown Josh Brown (@ReformedBroker) October 27, 2013