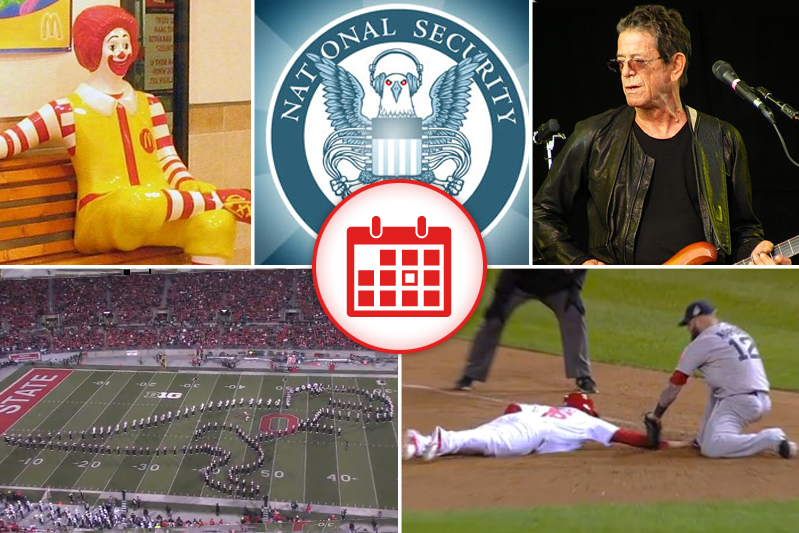 1. The World Will Have To Slather Its Hyper-Caloric Meat Patties With Some Other Type Of Sugary-Tomato Slurry — McDonald's And Heinz Parting Ways
McDonald restaurants worldwide will stop providing Heinz ketchup for its customers, possibly due to the appointment of former Burger King CEO Bernardo Hees as new chief of H. J. Heinz Company this past June. The decision will certainly anger many fast food customers, who will likely not be at all assuaged to learn that McDonald's actually stopped using Heinz ketchup in U.S. locations many years ago.
Burger King's parent bought Heinz, so McDonald's dropped their ketchup. Then they called them a whore and then unfriended them on Facebook.

— Keating Thomas (@keatingthomas) October 28, 2013

2. Ohio State Utilizes Cutting Edge Band Geek Technology To Create Dinosaur Before Stadium of Amazed Onlookers
Ohio State's marching band delivered a tour de force halftime performance Saturday, marching in formation so as to flawlessly render with their bodies a Tyrannosaurus Rex and Harry Potter, as well as breathing more life into the character of Superman than was managed by Henry Cavill in Man of Steel.
It's important that you know that my high school marching band played "Funkytown" in the Memorial Day Parade because that's all we learned.

— Anna Drezen (@annadrezen) October 21, 2013