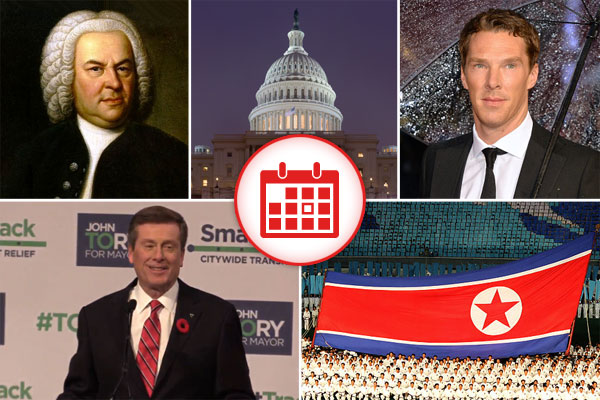 1. Citizens of Toronto Gamble On A Non-Crack-Smoking Mayor
Last night, transformative Canadian politician John Tory became the first non-crack-addicted or clinically insane person to be elected as the mayor of Toronto in nearly four years. The current mayor, Rob Ford, will now go back to his old seat on the city council, while Tory's opponent Doug Ford will go back to just being some obnoxious dick.
I'm sorry, Doug Ford. You'll never be America's Canadian Mayor.

— STEVE HUFF (@SteveHuff) September 12, 2014

2. U.S. Senate Battle Could Drag On And On Until Nation Is Enormous Smoldering Crater
Several senatorial races in the upcoming midterm election are sufficiently close—such as those in Louisiana and Georgia—that there is good reason to believe that they may result in run-off elections which could ultimately decide which party controls the upper house of the U.S. legislative branch and give the nation several more weeks in which to tear itself utterly asunder.
House Republicans propose new law requiring "I Have Tested Negative For Ebola" ID cards for anyone who looks "a little dicey" at the polls.

— Andy Kindler (@AndyKindler) October 26, 2014

3. North Korea Contends It Only Kidnapped A Slightly Higher-Than-Acceptable Number Of Japanese Citizens
After several decades of bitter antagonism, officials from North Korea are finally agreeing to sit down with counterparts from Japan to discuss the fates of all the Japanese citizens that they always pretended not to have kidnapped back in the 1970s and 1980s. While Japan has accused its neighbor of abducting hundreds of Japanese citizens, North Korea disagrees, admitting to a much more reasonable 13 people. 
North Korea has banned foreign tourists because of Ebola. Kim Jong Un wants everyone to stay healthy and alive. So he can execute them

— Eliza Bayne (@ElizaBayne) October 23, 2014

4. Marvel Studios Gives Respected Character Actor Benedict Cumberbatch A Chance To Finally Make A Name For Himself
After weeks of speculation of who would be playing Marvel's cosmic magician Doctor Strange in an upcoming film adaptation, it now appears as though Disney has settled on obscure British actor Benedict Cumberbatch, whom audiences will remember from his recent roles as a slaveowner in 12 Years a Slave and as that one guy from Atonement.
I was getting concerned I would not see Benedict Cumberbatch in any television, movies, books or music on July 8, 2016. Whew!

— Shawn Garrett (@ShawnGarrett) October 27, 2014

5. Johann Sebastian Bach Was A Big, Stupid, Phony Fraud, According To One Theory That Is Almost Certainly Not Correct
According to a new theory that is almost laughable in its improbability, famed German composer Johann Sebastian Bach was not the actual author of some of his most popular pieces of music. A documentary that is actually being aired on television claims that Bach's wife Anna Magdalena ghost-wrote a number of pieces—such as parts of the "Goldberg Variations"—for her husband.
Bach had nothing on Miley.

— Bobby Boo-scemi (@RobertBuscemi) March 7, 2014

(by Dennis DiClaudio)