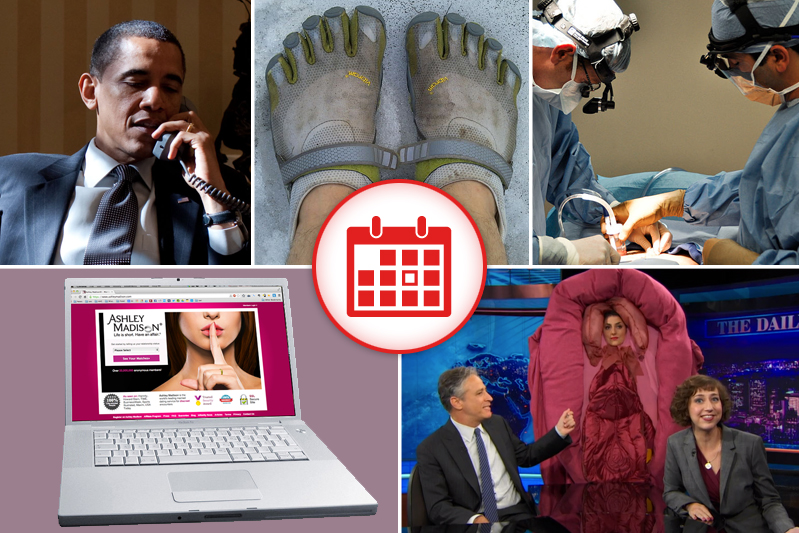 1. The American Dream Apparently Includes Paying Too Much Money For Shitty Internet
According to new report from an institute with a really long name that you've never heard of, U.S. internet consumers continue to pay an awful lot of money for increasingly bad Internet service, while in Europe and Asia the service is becoming cheaper and more efficient. This may show that, contrary to what many Americans probably assume after looking at bills from their providers, it's not actually getting harder and more dangerous for the heroic cable companies to tame the torrential stream of information and direct it into our home routers so that we can jerk it to clown porn.
Anybody who thinks corporations are more efficient than government doesn't use AT&T as their internet provider.

— David Feldman (@David_Feldman_) September 13, 2012

2. White House Decides To Tell The Truth About How Big Of Liars They Are
The Obama administration finally came clean about what big fat goddamn liars they are and how they've been deceiving the country all this time about Obamacare and that a large percentage of 14 million people who buy insurance individually will probably be forced to change their provider at some point in the next year. White House Press Secretary Jay Carney admitted yesterday that "It's true that there are existing health-care plans on the individual market that don't meet those minimum standards and therefore do not qualify for the Affordable Care Act." Very disillusioning. If we can't trust the people who've been lying to us about the NSA since forever, who can we trust?
Fact: "Obamacare" is actually "Hitler" spelled backwards.

— Miles Kahn (@mileskahn) October 29, 2013

3. Toe Shoes Are Highly Effective At Making You Look Ridiculous, And That's About All They're Doing
Turns out those barefoot-style shoes — or "toe shoes" "weird person who probably invades your personal space too much shoes"— that are are supposed to provide some vaguely positive effect for runners really aren't doing all that much aside from aside from telling everybody around you exactly what kind of person you are. According research conducted at the University of Massachusetts Amherst, running in normal-person running shoes was found to be more efficient. And, according to research conducted by the author of this blog post, those toe shoes are just creepy.
It's a waste finding someone attractive only to discover they own those weird toe shoes. #LoveHurts (your arches)

— H. Alan Scott (@HAlanScott) October 6, 2013

4. Bid For The Chance To Climb Inside Kristen Schaal's Vagina And Eat A Piece Of Pizza
Daily Show Women's Issues Correspondent Kristen Schaal's "sexy vagina" costume, featured on an episode of the show last week, has been made available on eBay for your Halloween needs. According to the details listed on the site, the product is "anatomically correct, but not to scale" and "available only in pink," however the "purchaser is required to tweet The Daily Show a photo of themselves wearing the costume on Halloween while eating a slice of pizza."
For Halloween my sexy cat is dressing up as a "boring person."

— Mike Birbiglia (@birbigs) October 27, 2013

5. U.S. Soldiers Turning To Liposuction To Stay Pretty For Uncle Sam
American soldiers who are worried about failing the Pentagon's rigid body fat test — which uses tape measurements of the waist and neck instead of a body-mass index like civilized people — and winding up in the hellish exercise program hilariously known as the "pork chop platoon" or the "doughnut brigade" are increasingly having their body fat surgically removed via liposuction. The upside of this is that it will help our troops maintain perfect bikini bodies for when they inevitably storm the beaches of Syria.
I'm hoping when I get my liposuction I have enough extra fat left over so I can have them make me a little brother.

— JerryThomas (@JerryThomas) March 10, 2012

Bonus Thing: Warning — Stealing Pumpkins May Result In Being Called An "Asshole" On The Internet
Not to mention making little guilt-trip-inducing toddlers cry.