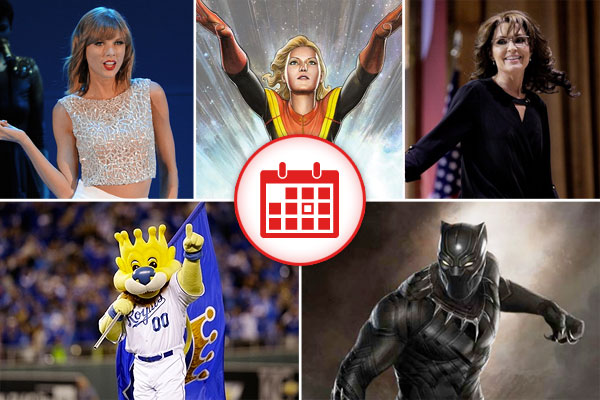 1. Taylor Swift Redefines Music Landscape With Her Derivative, Generic Pop Songs 
Pop singer Taylor Swift is set to make music history by becoming the first musician to sell one million copies within the first week of her new album's release for three consecutive albums. Her new album, 1989, appears on track to match her previous two, Speak Now and Red, in sales as well as vapidity.
Taylor Swift's "Welcome To New York" doesn't mention the homeless people or the garbage or the $27 cocktails or the murders.

— Trevor S (@trevso_electric) October 29, 2014

2. The Nation Mourns As The Giants-Royals World Series Continues On For Yet Another Game
The Kansas City Royals disappointed all of America last night by handily beating the San Francisco Giants 10-0 in game six of the World Series, leaving both teams with 3 wins under their belts. Distraught citizens nationwide consoled themselves with the knowledge that Major League Baseball rules do not allow the series to progress past a seventh game, so everything will have to wrap itself up tonight one way or another.
For an incredibly boring World Series, this is a pretty exciting World Series.

— Liana Maeby (@lianamaeby) October 26, 2014

3. Marvel Bravely Takes A Chance On A Few Non-White/Non-Male Superhero Movies
After six years, and more than a dozen films released and announced, Marvel Studios has finally decided that its audience—which is predominantly made up of people who are not white males (and that's not even considering its international audience)—is finally ready to see a movie or two about some characters who are not white males. So, included in its information dump yesterday are two upcoming films that aim to shake things up: Black Panther, about a black male superhero, and Captain Marvel, about a white female superhero. Until their releases in 2017 and 2018 respectively, here's an extended look at the upcoming Avengers: Age of Ultron, featuring a bunch of white dudes with their own franchises, plus Scarlett Johansson and Don Cheadle.
Marvel should have trolled everyone for a day and announced the Black Panther was gonna be played by Johnny Depp.

— Travon Free (@Travon) October 28, 2014

4. Catholic Leader Who Believes In Talking Snake Also Believes In Evolutionary Theory
Pope Francis caused some controversy yesterday when he announced to an audience at the Pontifical Academy of Sciences that he believes that both the evolutionary and the Big Bang theories are based in fact, saying that God is not "a magician with a magic wand." This is probably the most compelling evidence against those theories that the scientific world has seen thus far.
Mad shout outs to the Pope for admitting evolution is real, the big bang theory is right, and Biggie and Tupac are still alive.

— Ricky Carmona (@RickyCarmona) October 28, 2014

5. Sarah Palin Greatly Underestimates How Much Her 'Haters' Want To See Her Run For Office Again
Former partial-term Governor of Alaska Sarah Palin—clearly aware that the world had momentarily turned its gaze away from her as it prepared itself for the impending midterm elections next week—told NBC News last night that she will "hopefully" be running for office again in the near future, with the ostensible purpose of annoying her "haters." Moments later, haters everywhere unanimously threw up their arms in celebration. She still knows how to give the people what they want. 
Sarah Palin says she's hoping to run for office again. What for? President of Redneck Reality Shows?

— Warren Holstein (@WarrenHolstein) October 29, 2014

(by Dennis DiClaudio)