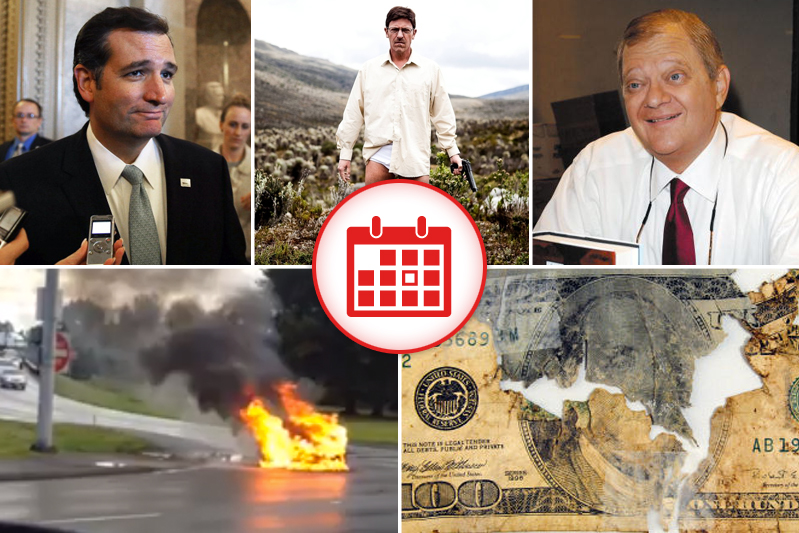 1. Spanish-Language Remake Of 'Breaking Bad' Looks To Be Muy El Terrible
Univisión, the U.S.-based Spanish-language network, has announced that it will be remaking Breaking Bad for Latin American audiences. Metástasis, which will bring the show's culture of drug violence to otherwise-placid Colombia, will feature Walter Blanco instead of Walter White, Jose Rosas instead of Jesse Pinkman, Cielo instead of Skyler and, obviously, Henry instead of Hank. Walt Jr. will presumably be played by a 50-year-old man in a Raggedy Andy costume.
Colombian BREAKING BAD will have main character named Walter Blanco, presumably directed by Señor Spielbergo. http://t.co/ZUteu5MQ2q

— Eric D. Snider (@EricDSnider) October 2, 2013

2. Tesla Stock Dives Due To Cowardly Investors' Fear Of Burning Alive Inside Flaming Wreckage of Model S
After cell phone footage of a Model S car burning like the very fires of Hell after a minor accident went viral on YouTube, stock for Tesla's highly-rated electric car took a steep nose dive. A spokesman for the automative company pointed out that the unquenchable inferno produced by the engine was pretty much contained to the front of the car, so it appears that investors' concerns are unfounded.

3. Man Sifts Through Dog Shit For $500, And That Is Not A Metaphor For Working At Buzzfeed
A Montana man was reimbursed $500 for five $100 bills that he meticulously pulled from his money-eating dog's fecal matter, carefully washed and then pieced back together slowly and thoughtfully like a jigsaw, before placing each bill in a separate plastic bag and delivering to them to the Federal Treasury. At least he wasn't forced to include any animated gifs.

4. Your Dad's Favorite Author Dead At 66
Tom Clancy — the guy who wrote novels The Hunt for Red October, Patriot Games and about a hundred other gigantic books that you've probably seen your dad reading when he wasn't grumbling along with Fox News or painting his cast iron Civil War figurines — died in Baltimore Tuesday at the age of 66. 
I'm sure he's resting peacefully in that Hudson News in the sky. #RIPTomClancy

— albertina rizzo (@albz) October 2, 2013

5. Shutdown-Architect Sen. Ted Cruz Taking Heat For Being Not As Smart As No One Thought He Was
It appears that as the government shutdown enters its third day, congressional Republicans are becoming increasingly unhappy with its main evangelist Sen. Ted Cruz, who is turning out to be just as non-capable a leader as has been more than obvious all along. "It was very evident to everyone in the room that Cruz doesn't have a strategy — he never had a strategy, and could never answer a question about what the end-game was," said a GOP senator who could easily have guessed this would be the case.
Republicans realizing Ted Cruz is disingenuous is like our moms realizing those emails aren't actually from a wealthy Nigerian prince.

— Rex Huppke (@RexHuppke) October 3, 2013