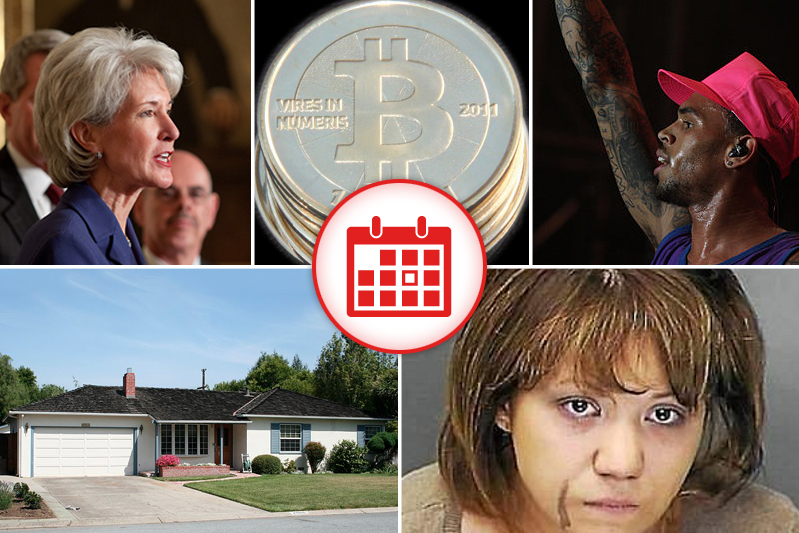 1. Chris Brown Now In Rehab Clinic Because Apparently They Have Rehab For Assholes
After getting arrested over the weekend for for beating up some dude in a hotel parking lot, R&B star Chris Brown has decided to enter a rehab clinic to rehabilitate his public image. Or perhaps, as a unnamed friend spun it, because he "self-medicates with weed and alcohol." They probably don't have a box for "So I don't go to jail" on the entry form to those places.
Chris Brown is probably only going to rehab because he heard you're allowed to beat your addictions there.

— Guy Endore-Kaiser (@GuyEndoreKaiser) October 30, 2013

2. Man Discovers The $27 Worth Of Fake Internet Money He Forgot About Because It's Stupid Is Actually Worth $887K In Real Money
When Kristoffer Koch traded $26 of actual hard-earned money for 5,000 bitcoins of make-believe Internet money for nerds in 2009, the Norwegian man's initial reaction was probably something like, "Well, that was dumb" because he promptly erased the incident from his mind. Which was probably a good idea. Except that it wasn't! Little did that poor-decision-making guy know, but that stupid dumb fake money in which he'd invested turned out to be worth $886,000 today! Just think of all of the idiotic ways he can waste that much money!
Bitcoin Explained from Duncan Elms on Vimeo.
i bet there's some shitty hipster prostitute that only accepts bitcoin & if there's not already i'm claiming it

— lauren ashley bishop (@sbellelauren) October 2, 2013

3. Ugly Suburban Home Declared Historical Monument Because Some Nerd Lived There
The city of Los Altos, California has added the nondescript, kind-of-dumpy-looking small suburban home located at 2066 Crist Drive to its list of historic properties because apparently some dorky kid named Steve Jobs lived there and built some computers in its garage or something. Seems some cities will turn any old incredibly important piece of cultural history into a landmark these days.
Apple ruined a great opportunity by not putting Steve Jobs on display at their headquarters in a crystal coffin with an apple in his hand.

— Uncle Dynamite (@UncleDynamite) October 28, 2013

4. Woman Dressed As 'Abusive Wife' For Halloween Arrested After Taking Her Costume Too Seriously
An 26-year-old Michigan woman was arrested after getting a little too method with her choice of dressing like an "abusive wife" for Halloween the other night. A police officer caught the incredibly drunk woman really getting into the part, over and over again with a purse, on her boyfriend, who was appropriately dressed as an "abused husband." Too bad the couple didn't dress as "hungover prisoner" and "henpecked guy trying to scrape together money for bail."
I am finally ready to admit that I am in an abusive relationship with Candy Crush Saga.

— lafix (@lafix) August 24, 2013

5. Kathleen Sebelius To Be Sacrificed To Hordes Of Angry Congressional Republicans Today
Health and Human Services Secretary Kathleen Sebelius has been marched before a crowd of ravenous GOP legislators today for a special hearing about Obamacare and its error-marred roll-out. She will endure the Republicans' wrath and suffer whatever humiliations they seem fit  until their bloodlust has been sufficiently sated, or until it's time for everyone to go get drunk.
Did Sebelius take responsibility for Benghazi yet?

— Miles Kahn (@mileskahn) October 30, 2013