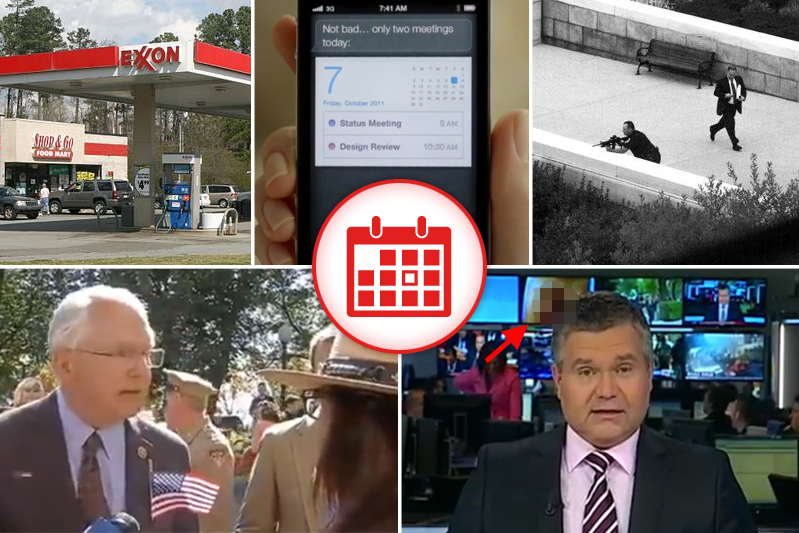 1. Penis Videobombs Czech News Cast
Czech TV viewers unexpectedly had a large penis thrust into their faces recently when footage from a documentary that for some reason included a shot of some guy's dong were broadcast onto a monitor behind news anchor Daniel Takac. "We should have been aware of timing and not had that particular scene playing when we went on air," Takac later said. "It was a silly mistake."

2. Exxon Sues FXX Over Logo, Presumably Out Of Fear That Some People Might Confuse Gasoline With Back-To-Back Airings Of 'Sucker Punch'
ExxonMobil is suing Twentieth Century Fox's new FXX station for supposedly stealing the overlapping Xs in its logo, claiming it "is likely to cause confusion, to cause mistake, or to deceive customers and potential customers of the parties." Not to mention how FXX clearly appropriated Exxon's practice of haphazardly polluting the world with thick unctuous sludge.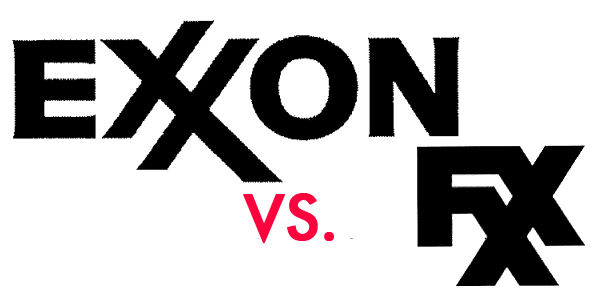 Watching a movie on FX because I've got 8.5 hours to kill.

— Jason Mustian (@jasonmustian) October 27, 2012
3. Woman Claims She's The Voice Of Siri, "Experts" (If That's What You Call Someone Who Can Tell If Two Things Sound The Same) 100% Agree
The actual voice of your iPhone's Siri was revealed recently to be a regular human voice actress from Atlanta and not a voluptuous insatiable fembot sex slave like you've been imaging all this time. Susan Bennett says she spent hours in a recording studio everyday in July of 2005 for SRI International, which sold Siri to Apple in 2010. The voices of Siri and Bennett are a match, according to an audio forensics expert, and pretty much anyone who hears them side-by-side.
Disappointed to learn that I'm not the voice of Siri. :(

— Joshua Malina (@JoshMalina) October 4, 2013

4. GOP Congressman Blames Lazy Disrespectful Park Rangers For Letting Him Shut Their Park Down
Tea Party Texas representative Randy Neugebauer really gave it to a ranger at the National World War II Memorial for not allowing non-veterans into the park, which was closed because of the government shutdown orchestrated by Tea Party Texas representative Randy Neugebauer and other Republican legislators. He was recorded on video heroically lambasting the federal-employee who "should be ashamed" of herself for allowing the park to be affected by his decisions. Elsewhere in Washington, senators Mitch McConnell and Rand Paul, who also seemingly forgot that recording devices record things, were caught on tape discussing shutdown strategies.
Politicians who caused the shutdown doing photo ops at the WWII Memorial are storming the beaches of bad taste.

— CC:Indecision (@indecision) October 2, 2013

5. Non-Stop Government Shutdown Fun Interrupted By Police Shooting On Capitol Hill
The government shutdown-related good times had by all on Capitol Hill were briefly suspended yesterday when a 34-year-old dental hygienist, who had led police on a car chase from the White House toward the Capitol building, was fatally shot by police. Once the smoke cleared, everyone was able to take a breath and go back to blaming everyone else for all the chaos going on. 
A Hill Staffer checks his phone as Capitol Hill police take aim on the grounds of the Capitol. #shooting pic.twitter.com/iQviYcuM84

— Doug Mills (@dougmillsnyt) October 3, 2013
I know what we're all thinking about this incident at the Capitol ? UGH, women drivers!!!

— Jess Dweck (@TheDweck) October 3, 2013