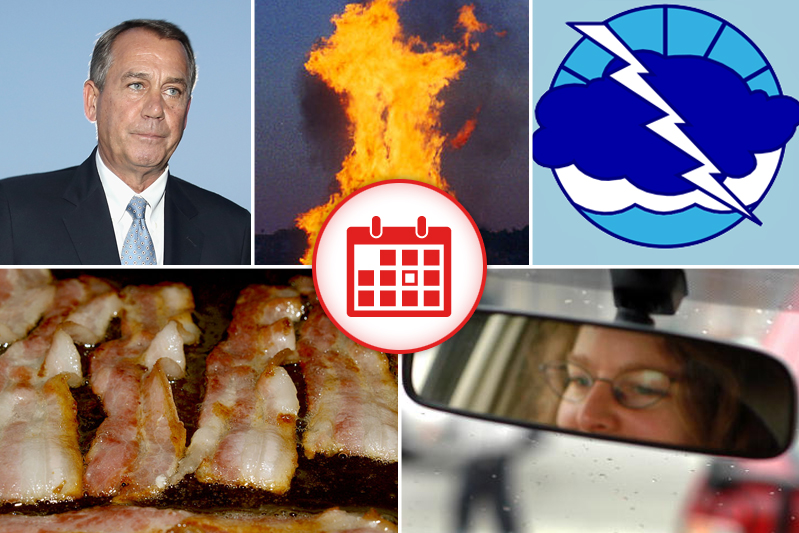 1. National Weather Service Hides A Message To Congress In Bulletin
An apparent cryptography-aficionado at the National Weather Service's Anchorage, Alaska office — one of the 4,000 NWS employees currently working without pay during the government shutdown — embedded a secret message to Congress in one of yesterday's updates.

2. Little Baby Unfairly Compared to John Boehner In New "Temper Tantrum" Ad For Sunday Football
A innocent tearful toddler — who has played no part whatsoever in the partisan-driven shutdown of the U.S. government or the thousands of undelivered paychecks for furloughed government employees — will be unfairly dragged into the political debate during Sunday's Cincinnati Bengals-New England Patriots game, thanks to a Democratic super PAC-funded ad, titled "Temper Tantrum," aimed at mocking Rep. John Boehner's refusal to call a vote for a budget plan to reopen the government.
John Boehner is useless. It's why he's the only Oompa Loompa that was ever fired from the chocolate factory.

— Michelle Wolf (@michelleisawolf) October 3, 2013

3. Men Are Better Drivers Than Women, Rules Completely Impartial Male Judge
In a legal case involving a driving school in Zaragoza, Spain that charged less money for male students than their female counterparts, who supposedly require more hours of teaching, a judge ruled in favor of the discriminative policy because "every single year, men displayed greater dexterity and better open road skills [than women]" according to statistics from Spain's Directorate of Traffic he decided were valid. 
What is it with women drivers?? Steering with their boobs, crying, having babies, getting paid less than men, crying,

— Mary Charlene (@IamEnidColeslaw) April 28, 2013

4. Man Sets Self On Fire At National Mall To Protest Something Or Other Maybe
An unidentified man who doused himself with gasoline and set himself on fire at the National Mall before the Capitol Building for undetermined reasons was airlifted to a local hospital, where it is unclear whether or not he will survive. A witness to the incident said the man might have said something before acting, though "it was nothing intelligible." But he got the message out, and that's what's important.
Fellow set himself on fire on National Mall. I once ran naked across it on video- maybe he saw the raw footage, you know?

— Greg Johnson (@theGregJohnson) October 4, 2013

5. Waiter Allegedly Hid Bacon In Muslim Woman's Straw Just To Be A Dick
A Muslim patron at a Garland, Texas TGI Friday's location says she was tricked into eating bacon — a food that she cannot eat under Islamic law — by a server who allegedly hid a small piece of the unclean meat product in the straw of her iced tea. TGI Friday's officials are working with the woman to figure out what happened and why any person would do something like this.
TGI Friday's waiter accused of spiking Muslim woman's iced tea with bacon. Next week's "Top Chef" quickfire challenge: commit a hate crime!

— Matt Goldich (@MattGoldich) October 3, 2013