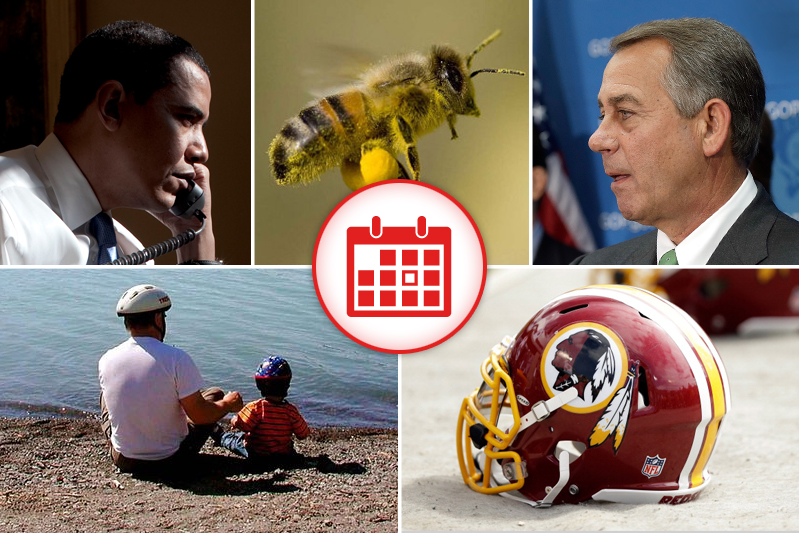 1. Obama Funds Muslim Museum Out Of Pocket, According To Satire Article Fox News Was Happy To Believe With Zero Fact Checking
President Obama has offered to fund the non-existent Museum of Muslim Culture with his own money, according to Fox News host Anna Kooiman who was perfectly willing to quote from an obvious satire site without exercising even the most rudimentary of fact checking skills yesterday. The National Report website — which features headlines such as "Police Barge Into Kindergarten Classroom And Taser Multiple Children 'For The Heck Of It' " and "Jesus Christ Boycotts Hobby Lobby" — broke the make-believe story on Friday.
Obama says he's exasperated, Fox News pundits rush to look up what "exasperated" means, get bored, assume it's a Muslim thing.

— Rex Huppke (@RexHuppke) October 2, 2013

2. President Thinks It Might Be Time To Maybe Consider Changing Name Of Redskins To Something Slightly Less Overtly Racist
The President of the United States weighed in Friday on the vexing issue of whether or not Washington D.C.'s NFL franchise should change its name from the "Redskins" to something that is not literally the most overt racial slur for Native Americans that one can think of. "If I were the owner of the team and I knew that there was a name of my team… that was offending a sizable group of people, I'd think about changing it." Strong words.
My love of the Washington Redskins requires a level of cognitive dissonance that must rival Log Cabin Republicans.

— Sam Means (@samemeans) September 19, 2013

3. California Now Lets Kids Have Three Legal Parents — What's Next? Letting Them Have A Dog For A Parent?
New Gomorrah, a.k.a. California, now allows children to have more than two legal parents. Despite the obvious reality that God only intended a maximum of two people to provide unconditional love and care to a child, on Friday Governor Jerry Brown signed legislation that allows courts to recognize changes in the modern family structure and certainly puts society on a slippery slope toward full-family orgies.

4. The Government Shutdown Is Never Going To Shut Down
Nearly one week into the government shutdown which has effectively shutdown the  government, it seems unlikely that an agreement between Republicans and Democrats, or between Republicans and Republicans, will be reached anytime soon. House Speaker John Boehner — who could end the shutdown at any moment by calling a vote for a budget measure — told his fellow conservative legislators to "hang tough," because they're "locked in an epic battle." He did not specify with whom.
Is there any way to blame Miley Cyrus on the government shutdown? Gonna go crunch some numbers brb...

— Travon Free (@Travon) October 6, 2013

5. "Car Full Of Bees Gets Ticketed By Campus Police" Is Finally A Valid Headline Option
An illegally-parked car in a university lot was ticketed by campus police despite bearing a pleading note explaining supposed special circumstances. The non-heeded note read: "I was trying to leave camps when bees started attacking me while driving. There may be a hive in my car! I'm not joking! Please don't write me up!!!!!!"
Forensic scientists have managed to approximate the reaction of the car's owner upon discovery his car was full of the flying stinging insects...
How long before the GOP just starts voting hives of angry bees into office?

— Elliott Kalan (@ElliottKalan) October 3, 2013