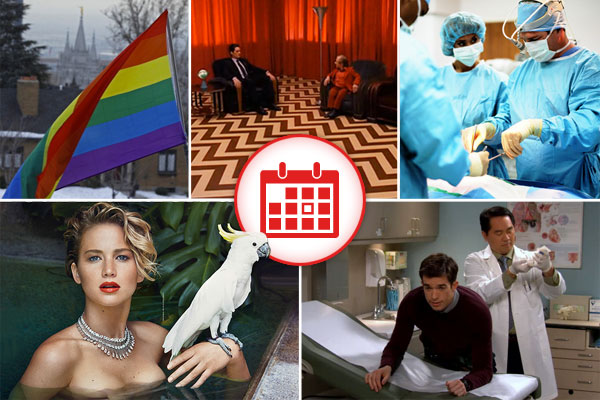 1. Jennifer Lawrence Doesn't Seem All That Cool With Those Naked Pics That Were Stolen From Her
You know, to read her recent interview in Vanity Fair, you'd kind of get the impression that celebrated film actress Jennifer Lawrence isn't too happy about all the attention she's been getting online due to her stolen, personal nude photographs. In fact, she actually seems kind of pissed. "It is not a scandal. It is a sex crime," she told the magazine. "It is a sexual violation. It's disgusting. The law needs to be changed, and we need to change." So, it's not just me? We're all getting a kind of anger vibe from her, right?
"Leaking nudes" sounds like a very worrisome STD.

— Christine Nangle (@nanglish) October 6, 2014

2. Everyone In America Is Still Trying To Figure Out What SCOTUS's Anti-Decision On Gay Marriage Even Means
The U.S. Supreme Court's decision to not make any kind of decision about gay marriage doesn't only open the door to a new era of civil rights and marital equality in the nation. It also opens it up to a whole bunch of wild speculation over the future of marriage in America. For example, the anti-gay Family Research Council said in a statement that, "The Court decision ensures that the debate over natural marriage will continue and the good news is that time is not on the side of those who want to redefine marriage." They're right! It's a well-known fact that progress always marches backward, away from equality. It's why slavery is such a fundamental part of our economy today. Oddly, according to a Mormon spokesperson, the LDS Church seemed to be having a reasonable response to news of marriage equality in Utah. "When our positions do not prevail, we should accept unfavorable results graciously, and practice civility with our adversaries." What's that all about? Makes me nervous.
Maybe if you could perform same sex marriages in my uterus, the Supreme court would finally butt out of it.

— Lizz Winstead (@lizzwinstead) October 6, 2014

3. 'Mulaney' Is Proof That Even Incredibly Talented People Sometimes Make Bad Things
You know how you're always thinking to yourself that if you were simply given the chance, you could probably make a better show than 95 percent of the junk on TV? Well, Fox's new Mulaney is here to prove that wrong. The half-hour sitcom—which stars and is written by John Mulaney, one of the most talented and funny people in the comedy world today—is not only getting staggeringly awful reviews, but it's also the lowest rated show of any new show this season, pulling in just half of the viewership from its lead-in program, The Family Guy. So, maybe it's time for you to come up with a new pipe dream.
Good job shitting on #Mulaney, comics! Way to put that comedian who is doing exactly what you want to do in his place.

— Shane Nickerson (@shanenickerson) October 6, 2014

5. 'Twin Peaks' Returning To Television To Make Coffee Cool Again
Remember a quarter-century ago, when for a brief period of time, the surreal and enthralling television show Twin Peaks made drinking coffee kind of cool and popular. It may be hard to imagine it now, but there were a few months back there in the '90s when you used to sometimes see people slurping down the caffeine drink not at the breakfast table. Well, everything old is new again, and now that we know the David Lynch-created program is returning to television sets in 2016, we can probably expect a resurgence in desire for some "damn good coffee."
A third season of Twin Peaks and gay marriage is legal in Utah!?! I feel like French kissing god!

— Susan Burke (@ThatSusanBurke) October 7, 2014

5. Study Finds That Waking Up In The Middle Of Surgery Is F***ing Terrifying
A group of researchers from the United Kingdom are studying the experiences of all the people who wake up from medically induced sleep to find a bunch of doctors poking around inside their bodies with metal instruments. Even scarier than the idea of going through something like that is the fact that it happens often enough to necessitate a study. "For a one-year period starting in 2012, an anesthetist at every hospital in the United Kingdom and Ireland recorded every case where a patient told a staff member that he had been awake during surgery," the Washington Post reports. "Prompted by these reports, the researchers investigated 300 cases, interviewing the patient and doctors involved." Pardon me, but I have to go crawl under my bed and never come out again. Goodbye, world.
I told the nurses to prep for surgery but they're really just a table of strangers watching me cut into my sandwich.

— Jane (@jane_bot) September 19, 2014

(by Dennis DiClaudio)