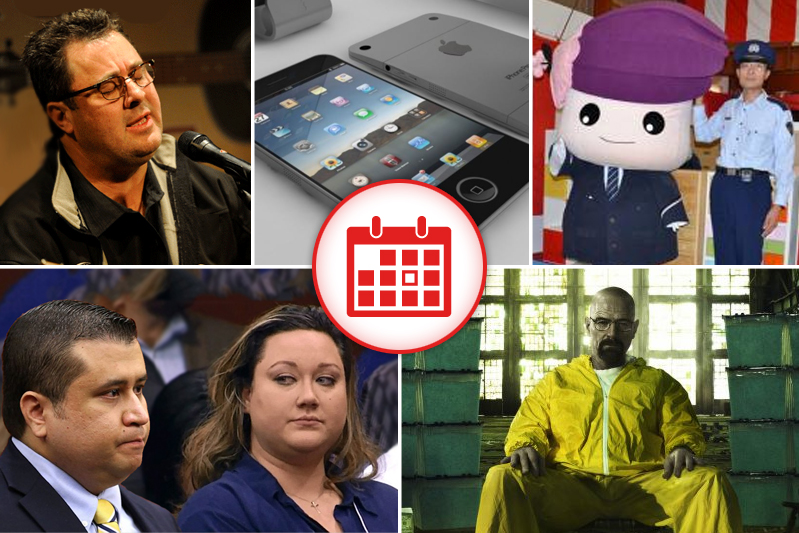 1. Florida Skips Inevitably Fruitless George Zimmerman Trial By Not Even Bothering To Charge Him In Alleged Domestic Dispute
Nobody even bothered to go through the motions of pretending like George Zimmerman would actually be held accountable for allegedly threatening his estranged wife and her father with a gun yesterday. Though the gun-factory-visiting vigilante was briefly detained after police responded to a 911 call from Sherrie Zimmerman, who filed for divorced last week, no charges were actually filed, because what would be the point?
It's like we let a guy off for cold-blooded murder & suddenly he thinks he can do whatever he wants. #GeorgeZimmerman

— Kumail Nanjiani (@kumailn) September 9, 2013

2. World Quivers In Anticipation Of Slightly Different New iPhones Being Revealed Today
People everywhere are freaking the eff out over Apple Inc.'s invitation-only event later today, during which they are expected to unveil a new iPhone which is pretty much like the old iPhone, but with a more colorful plastic back cover, and a cheaper iPhone, which still won't be all that cheap. To find out exactly when the big announcement is made, be anywhere doing anything and you'll know within seconds.

3. Vince Gill Calls WBC Protester "Big Dipshit," Thus Giving WBC The Publicity They Were Seeking
Country singer Vince Gill had a run-in with barrel-scraping Westboro Baptist Church members on Sunday who were seeking publicity and attention by protesting the fact that Gill divorced and remarried or something. The popular performer was caught on tape calling one protester a "big dipshit" and making a vague threat of physical violence against another, though he fell short of actually throwing a punch, which is what the litigious church members were clearly hoping for.
I'm worried I'll never do anything valuable enough in my life to get my funeral picketed by Westboro Baptist.

— Adam Carl (@AdamWearsPants) June 29, 2013

4. Japanese Prison's Adorable New Mascot Highlight's Friendly Side Of Forced Anal Sex
Asahikawa prison in Japan recently unveiled its new mascot, Katakkuri-chan, a 6½-foot purple-flower-headed thing that looks exactly like the kind of adorable character that would likely get brutally-sodomized in your average manga comic or anime children's program. 
In Japan, the idea of 27 monster tentacles working together to rape a baby-eyed woman isn't weird — it's just great teamwork.

— Ahm (@Ahm76) August 20, 2013

5. Breaking Bad Fan Who Apparently Doesn't Know How To Stream TV for Free, Sues Apple For Making Him Pay For Both Halves of Season 5
Apple is being sued by a customer who is one of the maybe 37 people who actually bought the season pass for Breaking Bad's fifth season through iTunes instead of downloading it for free from one of the billions of extra-legal avenues available online. The plaintiff discovered that his purchase only covered the episodes that aired last year and not the current episodes, which are officially a continuation of the fifth season, in which we will all learn why it is against a person's best interests to operate outside the scope of the law.
Looking for some legal representation to help me sue Vince Gilligan for the eight heart attacks I endured over this episode of Breaking Bad.

— Paul Gulyas (@paulgulyas) September 9, 2013