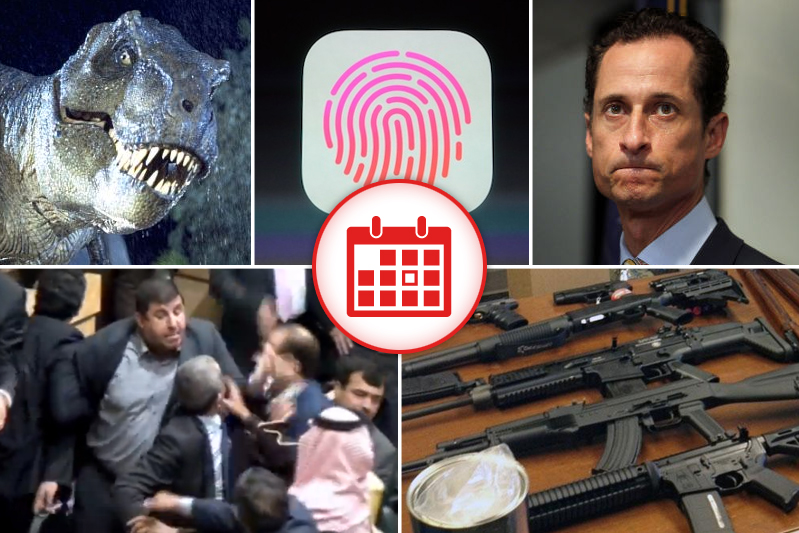 1. Anthony Weiner Loses NYC Mayoral Race To Bill De Blasio And Every Other Candidate… Then Gets Chased Away By Sydney Leathers
Once a frontrunner to replace Michael Bloomberg as mayor of New York City, Anthony Weiner ended last night's primary election with only 5% of the vote, losing the nomination to Bill de Blassio, who finished the night with 40%. Just in case he was wondering how he could have fallen so low, the answer showed up at his campaign party in a low cut red dress to remind him. 
Sydney Leathers — the now-porn star whose revelations about their sexting relationship ran a sharp knife across the jugular of his political aspirations — stood vigil with a mob of journalists outside the door of the restaurant where he was delivering his concession speech last night to confront him and gain herself just a tad more publicity before she falls back into irrelevancy. She then chased him through a nearby McDonald's and into his car, where he was last seen flipping off reporters.
*Anthony Weiner plops down on couch, sighs loudly, lowers pants, snaps photo of penis*

— Dan Amira (@DanAmira) September 11, 2013

2. Jordanian Politician Attempts To Settle Parliamentary Dispute With The Old "I'll Murder You With My AK-47" Argument
Talal al Sharif, a member of Jordan's parliament, allegedly opened fire with his AK-47 inside the nation's parliament building after a political dispute over budgetary issues and apparently not the need for more stringent gun control measures. After returning from his car to get his assault rifle, Sharif was stopped before he could re-enter the chamber and only managed to get a few shots off into the ceiling and wall of the hallway. So, apparently, he lost that argument.
The Jordanian MP who shot an AK47 in parliament has been dismissed from his job. It's political correctness gone mad.

— Karl Sharro (@KarlreMarks) September 10, 2013

3. Missouri Bill Aims To Void Federal Law And Give The Country What It Needs: More Midwesterners With Machine Guns 
The Missouri state legislature is attempting to override a gubernatorial veto and pass a law that would void federal law and allow residents to own machine guns while and empowering state police to arrest federal agents should they try to take them away. So, if you've been wondering where the first literal shots would be fired in the battle of states rights vs. federal rights, the answer is: in some shithole little town somewhere outside St. Louis.
You'll get my gun when you pry it from my 5-yr-old son's cold, accidentally dead hands.

— Jason Mustian (@jasonmustian) October 5, 2012
4. iPhone 5S To Come With Special Feature That Compels Muggers To Cut Off Your Thumbs
At yesterday's Apple event in Cupertino, California, it was revealed that the next generation iPhone 5s will come with a new feature that will effectively make its owner's thumbprint the password to operate the device. At many separate events happing everywhere all over the world in the coming weeks, muggers will be settling on the easiest, quickest way to sever a human thumb.
But when are they going to make an iPhone you can break in half after a drug deal?

— Josh Gondelman (@joshgondelman) September 10, 2013

5. 'Jurassic Park' Franchise Being Brought Back From Extinction
The Jurassic Park series of films, — which were naturally-selected out of existence in the early 2000's due to a suffocating lack of creative inspiration and disinterest from movie-goers — is being brought back to life through the use of modern 3D animation and a staggering amount of desperation. Jurassic World, to be directed by Colin Trevorrow and produced by Steven Spielberg, is set to be released into worldwide theaters in June 2015.
I'll wait until JURASSIC GALAXY and dinosaur spaceships.

— Matt Goldberg (@MattGoldberg) September 11, 2013