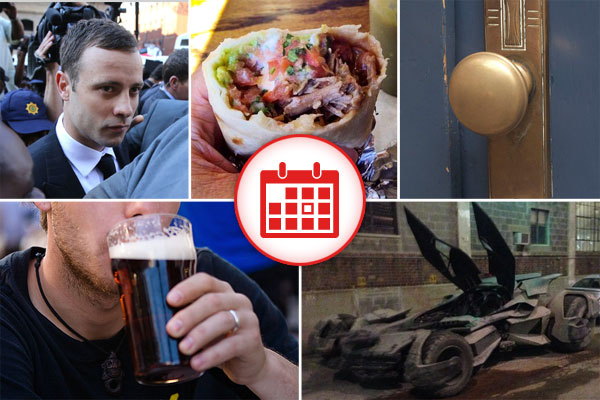 1. Oscar Pistorius Found Not Guilty Of Murder — Might Still Be Guilty Of Being Dangerously Dumb 
Olympic runner Oscar Pistorius has been found not guilty by a South African judge of murdering his girlfriend Reeva Steenkamp on Valentine's Day last year. However, he still may be found guilty of "culpable homicide," meaning that his actions that night were criminally dumb.
Pistorius suspended for 0 games.

— Miles Kahn (@mileskahn) September 11, 2014

2. One Thing That Still Brings Us Happiness About To Get More Expensive — Bad Barley Crop Could Lead To Increase In Beer Prices
After heavy August rains ruined a large portion of Idaho and Montana's unharvested barley crops, it appears that consumers who just need a drink at the end of a long and frustrating day will be forced to endure a marked price increase in their precious, precious beer. "We've been told to expect major price increases for malt," Tim Mohr of Angry Hank's Brewery told the Billings Gazette. "Our prices are stable until January, but beer prices are going up." 
Maybe it's the beer talking, but I love you all. Well, I love some of you... Okay, I love three of you... Fine, I love one parody account.

— Mark Leggett (@markleggett) September 9, 2014

3. Math Nerds Determine The Best Burrito In All Of America
The statistics-obsessed Poindexters over at Nate Silver's FiveThirtyEight website have spent the past several months painstakingly eating burritos from around the country and narrowing them down with a brackets-style rankings system. Finally, after hundreds of thousands of calories and countless dollops of guacamole, they have determined that the best burrito in the United States is the Carnitas Burrito from La Taqueria in San Francisco. Finally, we have some closure on this matter of mucha importancia.
The burrito I ate for lunch today just sent me a push notification.

— rob delaney (@robdelaney) September 3, 2014

4. Movie Fans Finally Get Frustratingly Awful First Images Of The New Batmobile
Yesterday, after a photo of the Batmobile—as it will appear in the upcoming film Batman v. Superman: Dawn of Justice—was leaked on Instagram, giving fans a grainy but full view of the iconic vehicle, the film's director Zach Snyder released an official photo with much higher resolution, but too tight to really make out the proportions. But it's definitely black and has guns.
Here's a real picture of the #Batmobile. http://t.co/47beaZqr6f pic.twitter.com/Ez1ILa8JeE

— ZackSnyder (@ZackSnyder) September 11, 2014
Man, that new Batmobile is going to look so cool in tie-in commercials where Batman is driving fast for reasons pertaining to Sprite.

— Daniel Kibblesmith (@kibblesmith) May 15, 2014

5. Is Your Doorknob Trying To Infect You With A Deadly Pathogen? Probably!
Researchers from the University of Arizona have discovered that a building's doorknob, used by a person with a communicable virus, is capable of infecting 60 percent of that building's occupants within just a few hours. Extrapolating from that, we can assume that within a few days, it could infect up to 200 percent of occupants, which is so terrifying, it doesn't even make sense. 
Is it just me, or are germs looking like the team to beat?

— Dan Cronin (@croninwhocares) July 24, 2014

(by Dennis DiClaudio)