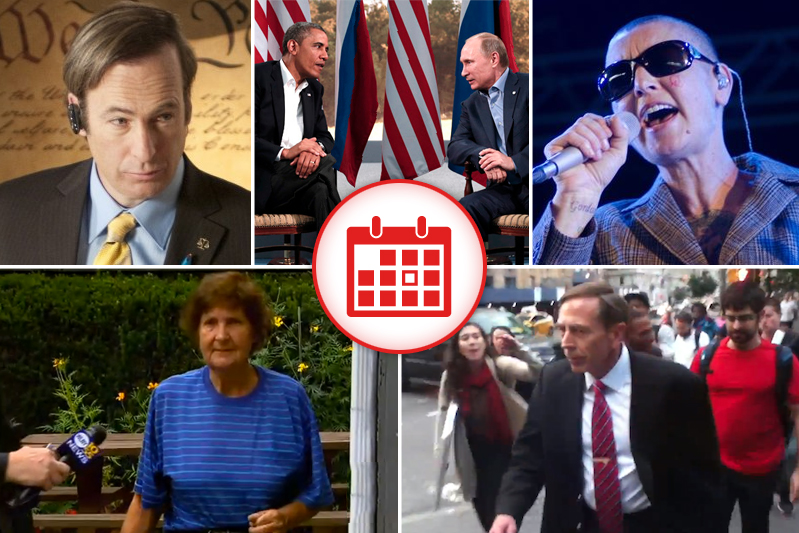 1. Saul Goodman Getting His Own Show After Breaking Bad "Takes A Trip To Belize"
The long-speculated Breaking Bad spin-off featuring Saul Goodman — the amoral shyster lawyer who helped Walter White poison a little boy and has become the most sympathetic character on the show — is officially happening. AMC announced that Better Call Saul will star Bob Odenkirk and take place before before the events of Breaking Bad, focusing on how Goodman becomes the man who will eventually represent the meth-king of Albuquerque.
2. Some 73-Year-Young Punk Got Herself Arrested For Keying Cars
73-year-old Greenwich, Connecticut resident Janina Slomiana was arrested and charged with six counts of criminal mischief after she allegedly scraped "some sort of metal screw or chunk of metal" across a bunch of neighbors' cars over the weekend. Police are looking into her possible involvement in 20 other vandalism cases nearby. Grandparents these days! With their car-keyings and their shooting sprees!
Warning: if your vanity license plate is some weird jumble of letters that makes me feel stupid, I'm keying your car.

— Tractor_Shartner (@Blarebare) March 21, 2013

3. David Petraeus' First Day At CUNY Probably Could Have Been Better, Less Angry Mob-ish
Retired Gen. David Petraeus began his first day of teaching at the City University of New York Monday by stoically attempting to ignore a group of angry students who were following him across the campus and yelling a bunch of obnoxious shit at him like the college-aged adults that they are. By all accounts, his Tuesday and Wednesday went somewhat better.
4. Putin Launches Op-Ed Attack Against Obama's Syria Plans in New York Times
Russian President Vladimir Putin brought his opposition to military intervention in Syria to the New York Times's op-ed today in an attempt to stop the White House from committing what he referred to as an "act of aggression" that would "unleash a new wave of terrorism" and "throw the entire system of international law and order out of balance." Either that, or he just wanted to embarrass Obama after his big speech last night. One of the two.
The joke's on Putin. Americans don't read anything over 140 characters.

— Tim Siedell (@badbanana) September 12, 2013

5. Sinéad O'Connor Gets Two Face Tattoos To Remind Everyone That She Still Has Over-Sharing Issues
While performing in England on Friday, Irish singer-songwriter and anal-sex enthusiast Sinéad O'Connor unveiled two new face tattoos, a red "B" and "Q," which apparently stand for "Brendan Quinlan," whoever that is. By way of explanation, she wrote on her website, "There's a bottle of Agent Provocateur in someone's room that belongs to me." So, that clears things up pretty good, right?
Cheaper than a face tattoo is uploading a picture of yourself hugging a bong.

— Uncle Dynamite (@UncleDynamite) July 30, 2013
I have a recurring nightmare in which I accidentally get a face tattoo of Yosemite Sam.

— Dan Wilbur (@DanWilbur) August 10, 2013