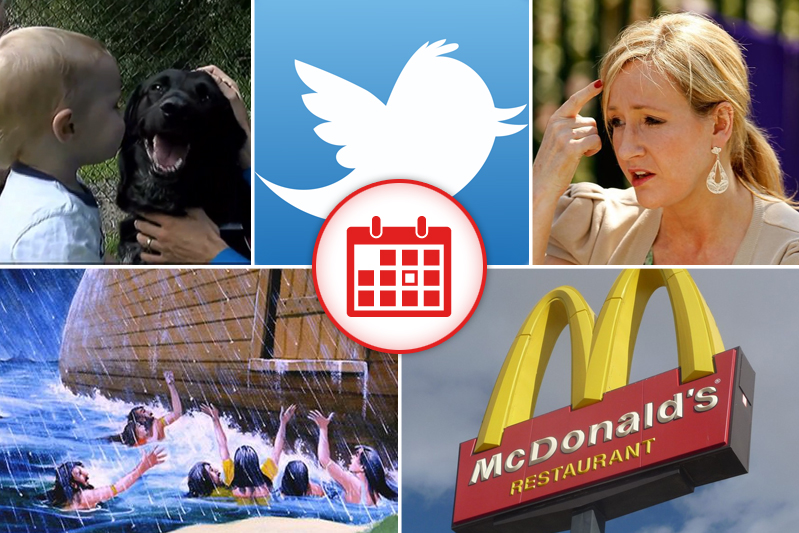 1. Soon You Will Be Able To Own A Small Piece Of The Mediocre Jokes And Flagrant Racism On Twitter, Company Going Public
 
Twitter announced yesterday that they are filing with the Securities and Exchange Commission for an initial public offering of stock to take advantage of the the new Jumpstart Our Business Startups Act for smaller business. Or, to make that more Twitter friendly: @Twitter FYI'ed that it's filing w/ SEC for an IPO because JOBS. #goingpublic
Twitter has filed for an IPO. It's very important that everyone keep tweeting great content during this important valuation period.

— pourmecoffee (@pourmecoffee) September 12, 2013
 
2. J.K. Rowling Not Done Milking The Harry Potter Teet, Working On Spinoff Movie
 
Author J.K. Rowling has decided to return to the wizarding world she created in her immensely popular Harry Potter books and their underwhelming film adaptations. The new series, set several decades before the birth of Potter, will jump right over the publication of the books and get directly into the disappointing films.
Thank goodness JK Rowling is doing a Harry Potter spin-off otherwise she'd have to stop showering in vintage Champagne 200 years from now.

— Susie Felber (@susiefelber) September 12, 2013
 
3. National Weather Service Warns Of "Biblical Rainfall," Possibly To Annoy First Amendment Enthusiasts
 
While warning Colorado residents of particularly heavy rain and potential flooding, the National Weather Service — a taxpayer-funded arm of the federal government — showed utter contempt for the Establishment Clause of the First Amendment by warning of "Biblical Rainfall," despite the fact that many state residents are unfamiliar with the stories of the Abrahamic holy books. And that is exactly how your overly-enthusiastically atheist friend would have explained that story.
The NWS warns of "biblical rainfall" for Colorado. I find that shocking. Had no idea homophobia even came in liquid form.

— Dennis DiClaudio (@dennisdiclaudio) September 13, 2013
 
4. McDonald's Manager Discovers Key To Making Real Money In Fast Food Industry: Robs Your Own Store At Gunpoint
 
A California man was arrested earlier this week after robbing two McDonald's restaurants, including one for which he served as manager. According to reports, 42-year-old Felix Gonzalez-Becerra brandished a replica handgun and climbed in through the drive-through window while wearing a mask and forced employees into the freezer before making another employee open the store safe and hand over an undisclosed amount of money. And then he did the same thing at a second location nearby, because with McDonald's you can't get by with just one job.
The McDonald's I worked at for seven years just closed. Does that mean I won?

— Mike Lawrence (@TheMikeLawrence) August 26, 2013

5. Babysitter Would Have Gotten Away With Abusing Kid If It Wasn't For That Meddling, Tattletale Dog
 
A 22-year-old South Carolina babysitter was sentenced to three years in prison after being caught physically abusing the infant child she was hired to watch, after the family dog's hostility toward her prompted the parents to hide a phone under the couch and record audio evidence of her behavior. Alexis Khan was required to register with the child abuse registry, and the dog was given a Milk-Bone.